Don't Believe Ivanka: Trump Doesn't Fight For Gender Equality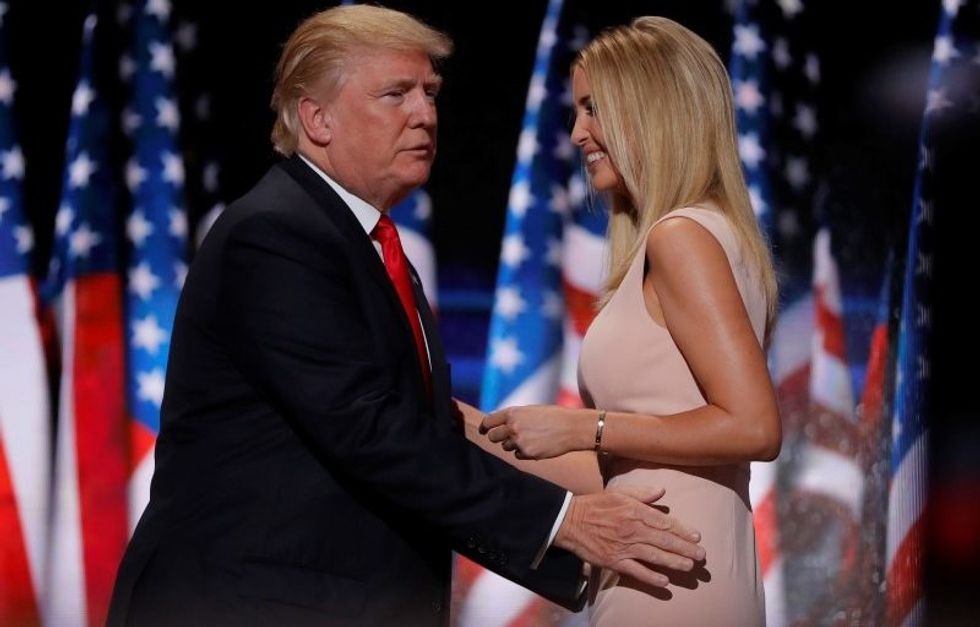 While Ivanka Trump introduced her father on Thursday as a "gender-neutral" candidate who champions women's equality in the workplace, the Republican nominee's campaign operations, platform, and stated political beliefs tell a different story.
"As president, my father will change the labor laws that were put in place at a time when women were not a significant portion of the workforce," Ivanka said during her speech at the final night of the Republican National Convention. "He will fight for equal pay for equal work."
Contrary to her comments, though, the party platform passed earlier this week with Trump's approval — and under the observation of his advisors — does little to combat issues like wage inequality or family leave. In fact, it doesn't mention either one of those topics at all.
Instead, much of the language on gender issues in the Republican platform looks to "affirm the dignity of women" by opposing abortion, a practice that it rejects as a health care measure.
More specifically, the GOP opposes using government funds to perform or promote abortion, including funding Planned Parenthood and similar organizations — who, according to the RNC, "sell fetal body parts rather than [providing] health care." That comment is a sly reference to a video hoax which purported to show Planned Parenthood officials discussing fetal tissue prices.
It's not just abortion that Republicans find dangerous, though: According to the document, certain over-the-counter contraceptives (not named by the platform) are also a threat to women's health.
And the only workplace the platform mentions with regard to gender equality is the military, though Republicans in fact want to keep enlisted women from performing the same work as men; they oppose "unnecessary policy changes" that would make women eligible for the draft and keep them away from the front lines of combat — a shift that was approved by Defense Secretary Ashton Carter in March.
While the platform is officially the expression of the Republican Party and not its presidential nominee, it still reflects on Trump and his priorities. His campaign added aggressively protectionist trade policies (to the point that many in the GOP aren't on board) — it also took a decidedly hands-off approach on social issues.
Besides calling for the appointment of judges who oppose abortion, the Republican platform stands against the U.N. Convention on Women's Rights, a historic document ratified by 189 countries (but not yet the U.S.) that looks to secure political, economic, social and marriage rights for women.
During Ivanka's Thursday RNC speech, she also hailed her father for promoting gender equality in his own business, declaring that wage equality has been "a practice at his company throughout his entire career."
Though statistics aren't public about the Trump empire itself, his campaign operations don't match up with Ivanka's claim.
A Boston Globe investigation in April found that men in Trump's campaign made on average $1600 more than women per month, or 35 percent more — that's larger than the national gender pay gap. (For comparison, the gender pay gap between men and women in Hillary Clinton's campaign is an average of $70.)
Ivanka claimed that more women than men are executives in Trump's businesses, but, again, that doesn't apply when it comes to his campaign: Just two of the highest-paid officials in his campaign for the month of April were women.
The Globe's numbers are consistent, however, with Trump's rare public comments on the issue.
Last July, he hinted on MSNBC's "Morning Joe," that he opposes adjusting women's pay in order to achieve equal pay.
"When you have to categorize men and women into a particular group and a particular pay scale, it gets very — because people do different jobs," he said. "It's very hard to say what is the same job. It's a very, very tricky question."  By fighting to remove gender from the picture, rather than fighting for women's rights, his views only seem to perpetuate gender inequality.
On paid family leave, he's expressed a similar hesitation towards actually pushing for a change to the established, but unfair, system. "I think we have to keep our country very competitive, so you have to be careful of it," he said on Fox News in October.
But both the platform and his own campaign lack any specific policies on these issues. It's difficult to see a President Trump achieving anything approaching an equal workplace for women.
Photo: Republican U.S. presidential nominee Donald Trump greets his daughter Ivanka as he arrives to speak during the final session  at the Republican National Convention in Cleveland, Ohio, U.S. July 21, 2016. REUTERS/Brian Snyder