Ivanka Trump: The Feminist Façade Of Donald's Campaign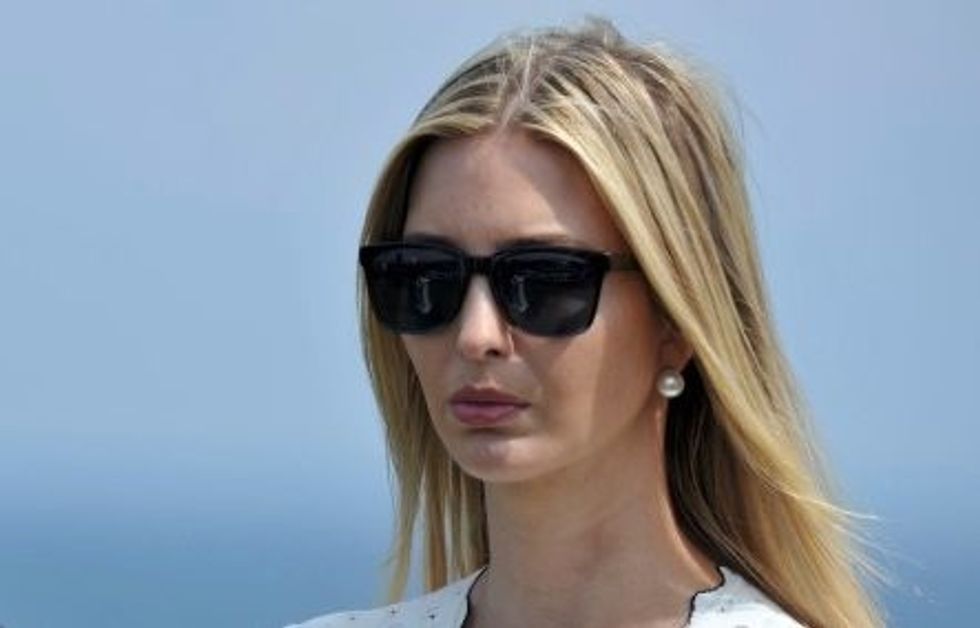 From the moment he announced his presidential ambitions, Trump has given pundits a hard time. They've called him a tyrant, a madman, a racist — all reasonably. This week, however, the candidate's daughter Ivanka added a new term to the list: feminist.
Speaking with London's The Sunday Times, Ivanka touted her father as a champion of women everywhere. She said Donald's progressive views were "a big reason why I am the woman I am today," in large part because he provided her with strong female role models ever since her childhood.
Good news, everyone — Donald Trump is leading the fight against sexism! At least, that's what his Ivanka would have us believe. The notion is ridiculous, but make no mistake: These are not the thoughtless remarks of another bimbo heiress. Rather, Ivanka's interview was another strategic maneuver carried out by one of the most important members of the Trump campaign.
Quite simply, Ivanka Trump can almost make it appear as if Donald Trump cares about women. She is always at Donald's side, cheering him on at rallies and advising him behind closed doors. Undeniably intelligent and confident, Ivanka radiates the integrity that her father never had. As an independent woman who stands out in a movement for and by (white) men, Ivanka makes the Trump brand more palatable for party regulars.
She's his feminist "beard," the ostensible voice of compassion dedicated to toning down her father's vicious machismo, if only on the surface.
Her presence is especially vital given Donald's weak polling numbers among women. According to a July 5th USA Today/Suffolk University poll, a mere 38 percent of women nationwide supported him. Democratic rival Hillary Clinton boasts a commanding 50 percent.
Of course, as with most facts, Donald Trump prefers to believe that these numbers don't exist. In his mind, women — whether female contestants on The Apprentice or ceiling-shattering construction workers — love him.
While there's no proof that Donald Trump has made any contributions toward gender equality in the workplace, Ivanka has certainly established herself as a key player in the Trump Organization.
Aside from serving as the Executive Vice President of Development and Acquisitions for her father, she has spearheaded the #WomenWhoWork initiative since 2014. The website encourages women to pursue their career passions and helps them manage work-life balance with articles about cute spring prints and office hacks. Ivanka promotes it constantly, establishing an implicit link between the Trump name and quasi-progressive gender politics.
Beyond her pro-women message, Ivanka's public persona is surprisingly apolitical, making her the ideal spokesperson for her father's presidential bid.
Ivanka introduced her father when he declared his candidacy last June. Amid his long list of virtues, Ivanka professed, "My father is the opposite of politically correct. He says what he means, and he means what he says." You don't say.
She's also accompanied her father on the campaign trail, nearly matching his frantic pace. While very pregnant, she spoke to crowds before the Iowa, New Hampshire, and South Carolina primaries. In a sense, she was almost stepping in as Donald's surrogate wife — not that Donald has any qualms about sexualizing his daughters. Ivanka drew all attention away from her father's three marriages and countless rumors of his outside affairs.
Perhaps Ivanka's most valuable contribution has been doing damage control for her father's most disgusting outbursts. Last August, The Donald blasted Fox News host Megyn Kelly as a lightweight and sputtered, "You could see there was blood coming out of her eyes, blood coming out of her…wherever." Ivanka publicly dismissed the outcry that followed as just another example of sensationalized television.
More recently, multiple women — most notably 1997 Miss USA Temple Taggart — have come forward with stories of Trump attempting to kiss and grope them. As soon as the accusations began to pick up steam, Ivanka made her way on CBS This Morning to stifle them. "He's not a groper," she promised, adding that Donald has "total respect for women."
Ivanka has always been an apologist for her father's misogyny — even when she's the subject of it. Back in 2006, she was a guest on The View with her father, when he made the infamous crack, "Perhaps if Ivanka weren't my daughter, I'd be dating her."
Ivanka laughed along with everyone else on the set, beaming and shaking her head as if her dad had just told some corny joke. Still, her composure in the face of his paternal flirtation is remarkable. At the very least, you would expect a Caroline Cruz-esque flinch.
So what's next for Ivanka? Well, her brother Eric appeared on this Thursday's episode of Fox and Friends and said that Ivanka would make a "brilliant" vice president for their father. Of course, shortly after that statement, he had to refute accusations of anti-Semitism against the Trump campaign.
Just another day in the life of a Trump-spawn. Fortunately, Ivanka converted to Orthodox Judaism in 2009, which apparently makes the allegations "ridiculous." Another disturbing glimpse at a Trump White House, another effortless dismal of concerns of white nationalism. If you listen to her for long enough, it might seem possible that Trump's America really is great.