As Japan Marks WWII Surrender, Abe Avoids Controversial Shrine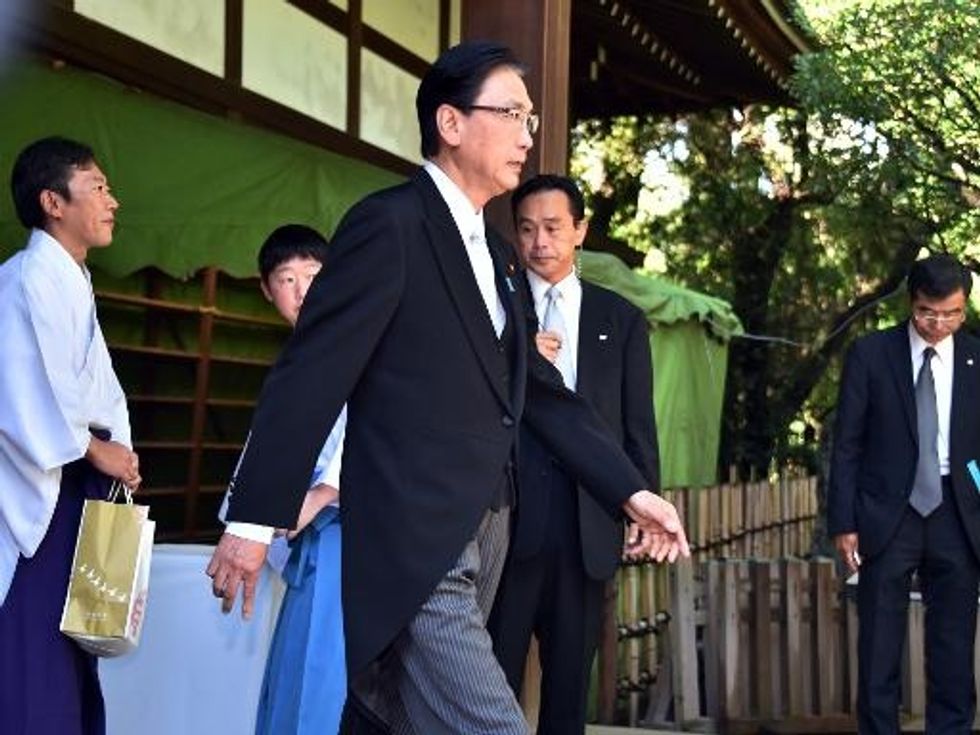 By Julie Makinen, Los Angeles Times
Two Japanese Cabinet members and a group of lawmakers marked the 69th anniversary of Japan's surrender in World War II on Friday by visiting a Tokyo shrine that China and South Korea regard as a totem to Japan's militarist past. But Prime Minister Shinzo Abe — whose last trip to the site sparked a downturn in Japan's relations with Beijing and Seoul — stayed away.
Abe's decision to refrain from joining the visit could be interpreted as a bid to avoid stoking further tensions with China ahead of a possible one-on-one meeting with Chinese President Xi Jinping in November, when Beijing will host an Asia-Pacific Economic Cooperation forum of regional leaders.
Abe instead attended a ceremony at a Tokyo sports arena along with Emperor Akihito, Empress Michiko, and thousands of relatives of Japan's war dead.
On Aug. 15, 1945, following the U.S. bombings of Hiroshima and Nagasaki, Akihito's father, Emperor Hirohito, announced Tokyo's surrender on the radio. It the first time the Japanese public had ever heard the voice of the emperor, who until then was treated as a divinity.
"Here, before the souls of those who fell on the battlefields thinking of their homeland and concerned about their families, as well as the souls of those who perished amidst the destruction of the war, and those who lost their lives in remote foreign countries … I offer my heartfelt prayers for the repose of their souls," Abe said.
"The peace and prosperity that we now enjoy have been built upon the precious sacrifices of the war dead. … Today is a day on which we renew that pledge toward peace," he added. "We will carve out the future of this country … facing history with humility and engraving its lessons deeply into our hearts. We will make contributions to lasting world peace."
Japanese politicians' pilgrimages to Tokyo's Yasukuni shrine have long been a sore point with China and South Korea. Among the nearly 2.5 million war dead memorialized at the site are more than 1,000 designated war criminals, and Beijing and Seoul say the visits by officials indicate a lack of full contrition for Japan's wartime brutality and occupation.
Yoshitaka Shindo, Japan's internal affairs minister, and Keiji Furuya, chairman of Japan's National Public Safety Commission, were the Cabinet members who visited Yasukuni on Friday.
Although Abe avoided the shrine, he did send a ritual offering, a move that drew predictable denunciations from the foreign ministries of China and South Korea.
South Korea "cannot but deplore" Abe's offering and the visits by the Cabinet members and lawmakers, the Foreign Ministry in Seoul said in a statement.
"Japanese politicians should be aware that only when they renounce historical revisionist moves and demonstrate genuine remorse through action, will the relations between (South Korea) and Japan move stably forward as wished by the peoples of the two countries," the statement added.
Chinese Foreign Ministry spokeswoman Hua Chunying echoed that criticism, saying the visits "once again demonstrate the Japanese government's wrongful attitude toward historical issues."
"The core of all the issues surrounding the Yasukuni shrine is whether the Japanese government can adopt a correct understanding of and attitude toward its history of aggression, whether it can respect the feelings of the people in the victimized Asian countries," she said. "We solemnly urge the Japanese side to … win back the trust of its Asian neighbors and the international community with concrete actions."
Abe, who became Japan's prime minister in 2012, has yet to hold a one-on-one summit with either Xi or South Korean President Park Geun-hye, both of whom took office in early 2013.
Park, however, has met Xi several times, most recently hosting him at a summit in Seoul this summer.
The warming relations between Seoul and Beijing and simultaneous cooling of Tokyo-Seoul ties has troubled Washington. U.S. officials want strong relations between South Korea and Japan, two of its closest Asian allies, as China's economic and military might increase.
In addition to the shrine visits, relations among Japan, South Korea, and China have been strained by territorial disputes and Abe's push to revise Japan's pacifist postwar constitution.
Abe has said he wants to give Japan's self-defense forces more latitude to come to the aid of allies under attack and that the move is not an attempt to "remilitarize" the country as some critics have charged.
The bid to revise Japan's constitution comes as China's military capabilities are growing and Beijing has made increasingly assertive maritime claims, irking neighbors including Vietnam and the Philippines.
But Abe has slowed down his timeline for pushing forward with the revisions, as his administration is facing growing opposition at home over issues ranging from the constitutional changes to economic policy. A recent opinion poll showed the Cabinet's approval rating dropped 1.1 percentage point in August to just 43.5 percent.
AFP Photo/Yoshikazu Tsuno
Interested in world news? Sign up for our daily email newsletter!