Japan Premier Calls Election, Puts Off Tax Hike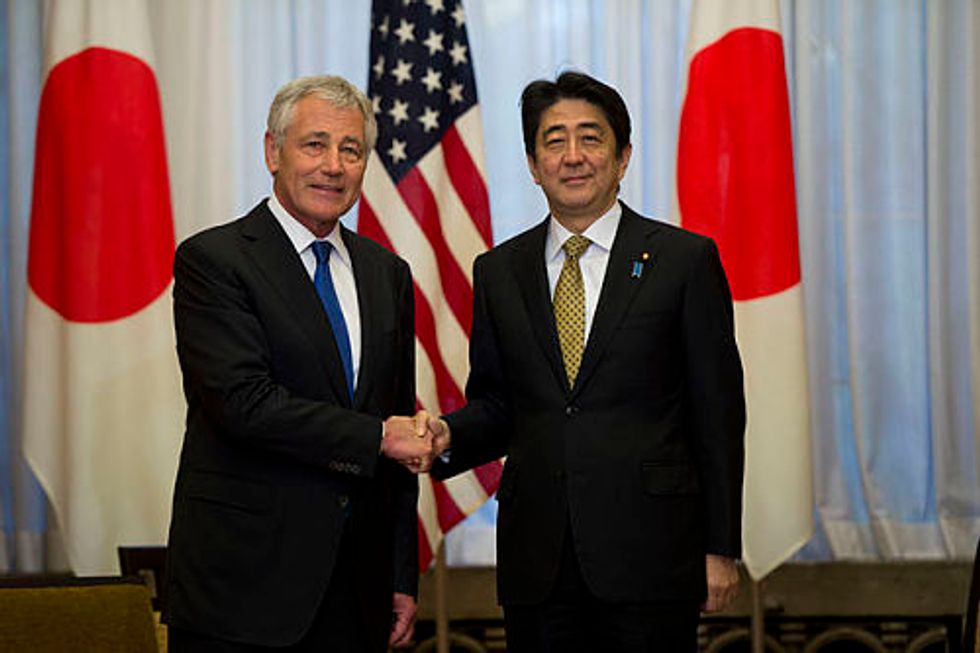 By Takehiko Kambayashi and Lars Nicolaysen, dpa (TNS)
TOKYO — Japanese Prime Minister Shinzo Abe on Tuesday called snap elections and postponed a planned sales tax hike after the economy unexpectedly slipped into recession for the third time in four years.
The premier said he would dissolve parliament on Friday, ahead of elections scheduled for December 14. Official campaigning is to start on December 2, the premier told leaders of his ruling Liberal Democratic Party (LDP) and junior coalition partner New Komeito, the Kyodo News agency reported.
Analysts say Abe's LDP hopes to make big gains by taking advantage of the weakness and fragmentation of opposition parties.
"I will resign if the ruling coalition fails to secure a majority" in the powerful lower house, the premier told a news conference.
Of the 480 seats in the outgoing lower house, the LDP holds 294 while New Komeito controls 31. The opposition Democratic Party of Japan (DPJ) has 54 seats and the Innovation Party 42. Other small parties and independents share the rest.
Abe was elected with a popular mandate in December 2012 and vowed to revive the world's third-largest economy, which his drastic measures have so far failed to do.
The premier's announcement came after official figures showed Monday that the economy had shrank at an annualized rate of 1.6 percent in the July-to-September period. The data was far worse than an average market forecast of a 2-percent expansion.
The latest contraction followed the introduction of a controversial sales tax increase in April, from 5 to 8 percent.
Abe said an additional tax increase to 10 percent, originally scheduled for next year, will be put off until April 2017.
The Japanese economy "has yet to return to a recovery track," the premier said.
Implementing the tax hike as scheduled would likely "threaten the exit from deflation," he added.
Economic Revitalization Minister Akira Amari has conceded that the impact of the tax hike on the economy was bigger than expected.
Abe's much-heralded economic policies, a so-called "Abenomics" mix of fiscal stimulus, monetary easing and structural reforms, have failed to produce the intended results.
On Tuesday, Abe also pledged to craft a supplementary budget for the current financial year through March 2015 to prop up the economy.
Opposition parties have wasted no time in criticizing the premier after the release of the data.
"The limit of Abenomics has been shown once again," Yukio Edano, secretary general of the main opposition party DPJ, said.
On Sunday, a Tokyo-backed incumbent suffered a crushing defeat in the gubernatorial election on the southern island of Okinawa, dealing a serious blow to Abe's government.
Tokyo wants to proceeds with a plan to build a replacement facility for a key U.S. military base on the island.
Photo: Secretary of Defense Chuck Hagel greets Japanese Prime Minister Shinzo Abe, at the Prime Ministers official residence Sori Daijin Kantei in Tokyo, Japan April 5, 2014. Hagel and the Prime Minister met to discuss issues of mutual importance. (Via Wikimedia Commons)