Jared Kushner Is Giving Himself Ample Room To Lie To Congress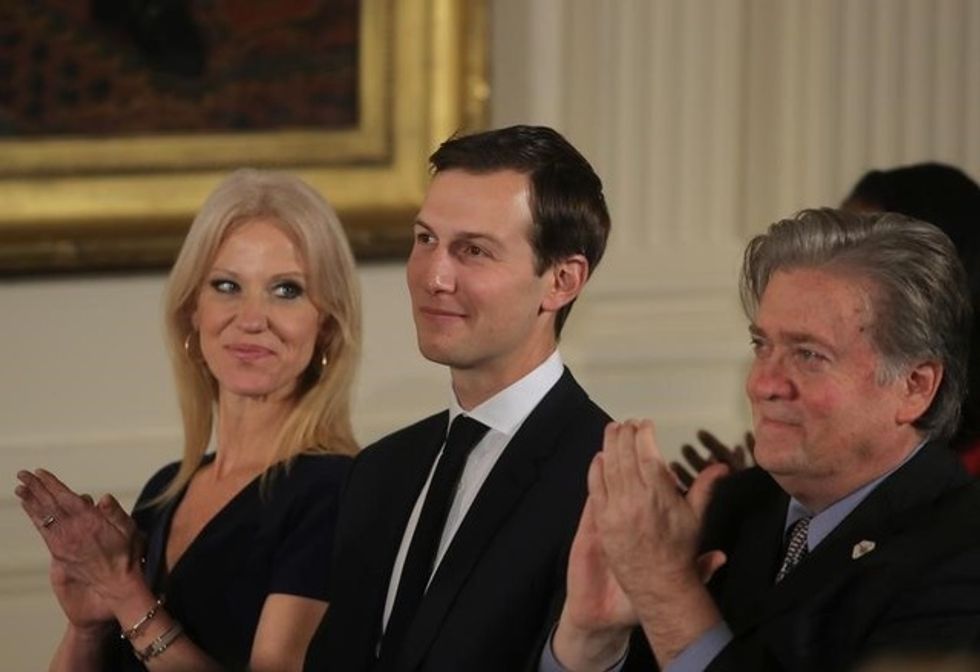 Reprinted with permission from AlterNet.
"I did not collude," says Jared Kushner, President Trump's embattled son-in-law. Facing questions about a June 9, 2016, meeting with a Russian government attorney, Kushner has released an 11-page statement notable for its slippery claims and veiled admissions.
Kushner has voluntarily agreed to testify to the Senate and House Intelligence Committees this week, as part of their investigations of Russian interference in the 2016 election and contacts between Russian officials and the Trump campaign.
Kushner's unsworn statement is what was known in the Watergate era as "a modified limited hangout," the Nixonian term for a belated admission that seeks to distract attention from the most serious evidence of wrongdoing.
Kushner will not testify under oath, which protects him from possible legal repercussions if he dissembles. Before the disclosure of the June 9 meeting, his father-in-law and a White House spokesman repeatedly asserted—falsely—that the Trump campaign had no contacts with Russian officials, and Kushner said nothing.
In other words, by his own admission, he allowed his father and White House colleagues to make liars of themselves while leaving himself open to being compromised by the Russian intelligence service, which has almost certainly known the truth all along. (Natalia Veselnitskaya, the Russian government attorney who met with Kushner, Donald Trump Jr. and campaign manager Paul Manafort, represented an office of the Russian intelligence service in legal proceedings, according to legal filings unearthed by the Associated Press.)
Now that Trump Jr.'s emails confirm the meeting took place and that Kushner attended, Kushner's legal problems are multiplying. His statement seems mostly designed to mitigate these problems as opposed to telling the truth.
Security clearance: Kushner's failure to report the meeting on forms required to obtain a security clearance is sufficient cause for revoking the clearance. Any other government official who failed to report contacts with a foreign government would have lost his security clearance, notes Ned Price, a former CIA officer. Says Price, "If he weren't the president's son-in-law, he'd have been frogmarched out of the White House long ago. Why does he still have access to America's biggest secrets?"
Criminal liability: Some say the actions of Kushner, Trump Jr. and Manafort amount to treason, although legal experts differ. Michel Paradis, a law professor at Georgetown, makes the case that Kushner et al. may have violated the Espionage Act by accepting a plastic folder of incriminating material on Hillary Clinton that the Russians brought to the meeting. "If the confab at Trump Tower feels to you like treason," Paradis writes, "that is probably because it may actually be espionage."
Kushner's new account doesn't mention the folder and stresses that he left the meeting early, leaving his brother-in-law and Manafort to defend themselves from the espionage charge.
The back channel: Kushner's statement, prefaced with the claim "I have nothing to hide," contains a significant admission: he hoped to help the Russians keep intelligence from the U.S. government.
In May, the Washington Post reported on conversations between Kushner and Russian ambassador Sergey Kislyak about establishing a secret communications channel. Kushner now claims the proposed channel was for the purpose of hearing information from Russian "generals" about the situation in Syria.
"I did not suggest a 'secret back channel,'" he writes. "I did not suggest an ongoing secret form of communication for then or for when the administration took office."
Whether or not Kushner envisioned "an ongoing secret form of communication," he admits proposing a temporary secret form of communication at Russian requests to protect Russian secrets from U.S. intelligence agencies. And if investigators discover there was more than one occasion, well, his unsworn statement can't be used against him.
Campaign collusion: In protesting his innocence, Kushner admits that others were having "a dialogue" with the Russians.
"The fact that I was asking about ways to start a dialogue after Election Day should of course be viewed as strong evidence that I was not aware of one that existed before Election Day," he writes.
Again, Kushner has separated himself from others in the administration. In pleading ignorance about the campaign's "dialogue" with the Russians, he confirms that others were engaged in communication all along. Again, the most likely suspects, besides himself, are the people who responded positively to the Russians' offer, namely Donald Trump Jr. and Paul Manafort.
Kushner's denial is under investigation. According to McClatchy News, congressional investigators and the special prosecutor are examining whether the Trump campaign's digital operation—overseen by Kushner—helped guide Russia's sophisticated voter targeting and fake news attacks on Hillary Clinton in 2016. The investigators are "focusing on whether Trump's campaign pointed Russian cyber operatives to certain voting jurisdictions in key states—areas where Trump's digital team and Republican operatives were spotting unexpected weakness in voter support for Hillary Clinton, according to several people familiar with the parallel inquiries."
If Kushner's firm was in dialogue with the Russians, his self-serving statement cannot be used against him.
Kushner says he has nothing to hide while "mixing partial admissions with misinformation and resistance to further investigation"—the very definition of the modified limited hangout.