Trump's Ohio Senate Candidate Vance In Trouble Over Ukraine Remarks
@alexvhenderson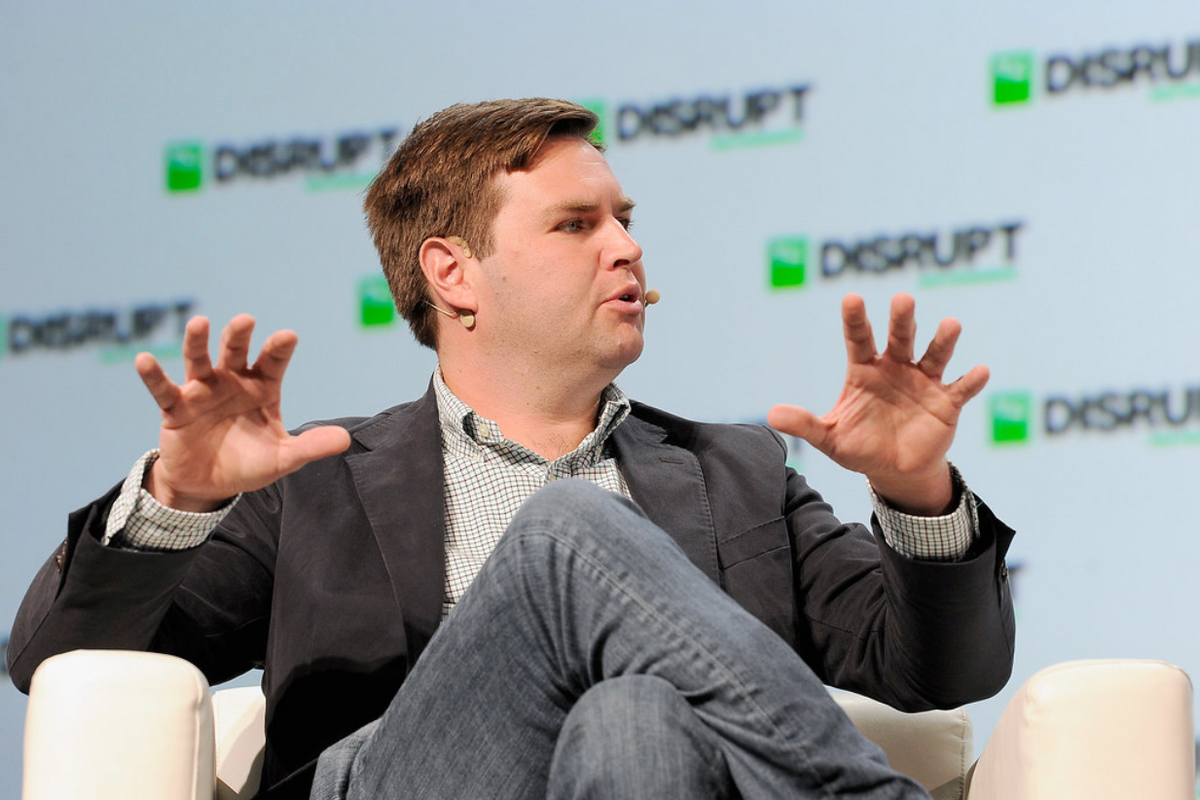 On Friday, April 15, former President Donald Trump endorsed Hillbilly Elegy author J.D. Vance in Ohio's 2022 GOP U.S. primary — much to the chagrin of former State Treasurer Josh Mandel and his supporters, who had been imploring Trump not to make that endorsement.
Vance, Mandel, former Ohio GOP Chair Jane Timken, and businessman Mike Gibbons have been engaged in a bitter, mudslinging battle to show who is the most MAGA, and the tensions between Vance and Mandel have been especially ugly. Vance has been drawing a great deal of criticism for his comments about Ukraine, and journalist Joshua Jamerson — in an article published by the Wall Street Journal on April 16 — reports that Russia's invasion of Ukraine continues to be a topic in the Ohio U.S. Senate race.
In mid-February — prior to the invasion that Russia forces launched on February 24 — Vance told "War Room" host Steve Bannon, "I got to be honest with you, I don't really care what happens to Ukraine one way or the other." Since then, thousands of people have been killed in that war; millions of Ukrainians have fled their country. And Vance, according to Jamerson, has tweaked his messaging on Ukraine a bit by trying to sound more sympathetic to Ukrainians while maintaining an "America First" tone.
Vance, Jamerson notes, has described recent images of the violence in Ukraine as "disgusting" but is also describing the crisis as a distraction.
When Vance was campaigning in Troy, Ohio, a voter asked him if he thought Ukraine was a "smokescreen to cover the disasters" in the United States — and he responded, "So, I do actually." And in a Columbus suburb, the Hillbilly Elegy author said, "At the end of the day, the tragedies that we have to care most about as policy makers…. is not what's going on 6000 miles away."
Then, at a campaign stop in Troy, Ohio, Vance declared, "I think it is a huge — a catastrophic — mistake for us to get more and more involved in what's going on in Russia and Ukraine, especially when we have our own problems right here at home."
Republican voters in Ohio, however, aren't necessarily indifferent to the war in Ukraine. North Canton, Ohio resident Dee Braden, who is supporting Timken in the primary, told the Journal, "America has to continue to be a leader in supporting democracy and freedom." And Shannon Wannemacher, a Republican voter in Lima, Ohio who is undecided in the primary, told the Journal, "Of course we need to be involved…. I wish we would do more. I wish we were seen as more of a leader. I'm concerned about Russia's presence in the world."
Ohio State Sen. Matt Dolan, another Republican who is running against Vance in Ohio's GOP U.S. Senate primary, has been vehemently critical of Vance's comments about Ukraine — saying, "I asked him to apologize on a human level because there's so many Ukrainians who live in the state.
"Vance, Mandel, Dolan, Timken, and Gibbons are competing for the U.S. Senate seat presently held by Sen. Rob Portman, who is not seeking reelection. The GOP primary election will be held on May 3.
The fact that Trump has endorsed Vance over Mandel and the other candidates is ironic in light of how critical Vance was of him in 2016. Vance was vehemently critical of Trump during the 2016 election, calling him a racist and warning that he would be terrible for the U.S. if elected president. But Vance has since flip-flopped and now fully embraces the MAGA movement.
Published with permission from Alternet.