Jeb Bush Accuses Obama Of 'Getting Us Into A Quagmire' In Middle East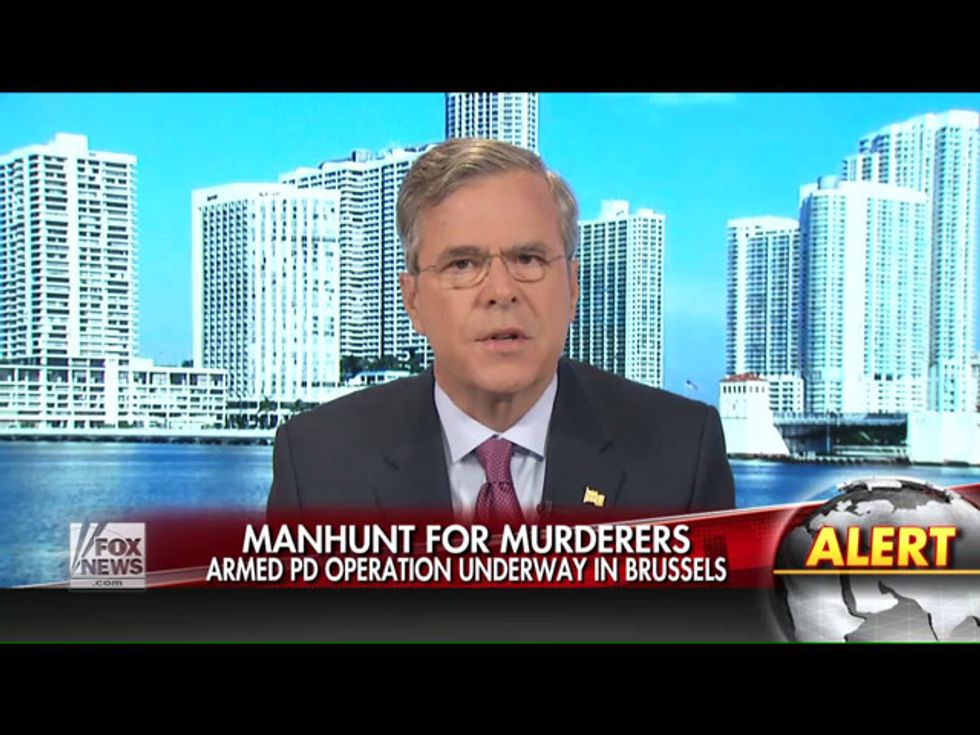 GOP presidential candidate Jeb Bush offered up his strategy for dealing with ISIS in the wake of Friday's attacks in Paris — and declared, with no apparent sense of irony, that President Obama is creating a mess in the Middle East.
"What I would do is […] what I proposed at the Reagan Library two months ago — which is to defeat ISIS, and to defeat Assad, to bring stability because it's in our national security interests to do it," Bush said Monday morning on Fox & Friends. "That requires a no-fly zone, safe zones. It requires arming directly the Kurdish forces in Iraq. It means reengaging with the Sunni tribal leaders that were successful in fighting with us, side-by-side, with the surge.
"It means a strategy — we don't have a strategy right now. This president is incrementally getting us into a quagmire, without having a strategy to defeat ISIS. This is a threat to Western civilization, a threat to our own country. We need to be merciless in this effort."
Co-host Elisabeth Hasselbeck also offered this question to Jeb — and like the former Florida governor, she apparently showed no sense of irony about the impact of the Iraq War: "Governor, can you reconcile this equation for me: less troops, no strategy, a dose of denial — and yet still offering to accept 10,000 Syrian refugees into our land right here?"
Bush's response was that this was indeed a "bad formula" — that instead of taking in refugees here, the goal should be to create "safe zones" in the region itself so that people would not have to leave. He did say, however, that he would have "compassion for people that are not part of this fight," by taking in Christian refugees.
And while calling for a no-fly zone, Bush also criticized the idea of the Obama administration talking to Russia (who are, of course, currently flying inside Syria). "Look, I think it's always good to talk to people. But we need to be talking to them from a position of strength, not weakness. And that's exactly where we are today as it relates to our role in the Middle East — a position of complete weakness."