The 'Jeb Bush Doctrine' Makes Debut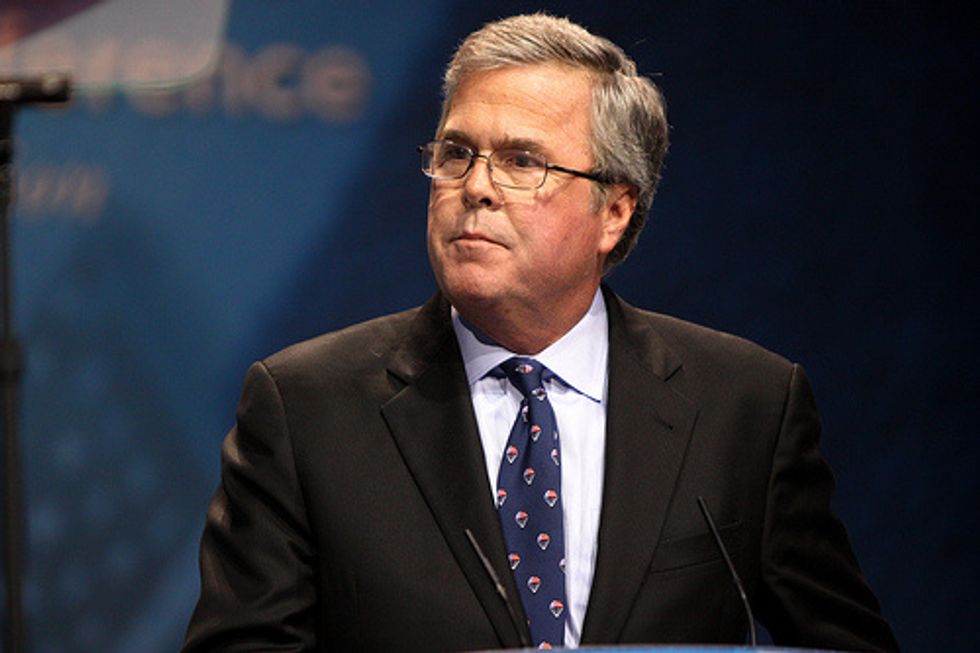 By Marc Caputo, Miami Herald (TNS)
The Bush Doctrine is on the verge of making a comeback.
As Jeb Bush weighs a presidential bid, the former Florida governor on Tuesday laid out his foreign policy precepts, which closely mirror that of his brother, former President George W. Bush.
Bush detailed seven points in all during a speech to the U.S. Cuba Democracy PAC at the Biltmore Hotel in Coral Gables, where he told the crowd that the United States shouldn't back away from engaging its friends or enemies anywhere in the world.
For Bush, that starts 90 miles from U.S. shores, with the Cuban embargo and travel policy.
"I would argue that, instead of lifting the embargo, we should consider strengthening it," Bush said, calling for free elections, free trade and the release of political prisoners on the communist island.
The crowd of donors, the backbone of Cuba's exiled elite, applauded loudly.
Bush called for more military and cybersecurity spending, strengthening international alliances, robustly criticizing enemies and expanding free trade. He sounded notes of concern with nearly every quarter of the world: Russia, China, Cuba, Venezuela, Nicaragua, Iran, Iraq, Afghanistan and Israel.
Bush's speech doubled as a campaign trial balloon and as payback against President Obama, who successfully campaigned in 2008 against George W. Bush's foreign policy. Obama promised to withdraw from Iraq and generally called for a less muscular overseas engagement.
Jeb Bush inverted those criticisms of Obama, pointing to the chaos in Syria and the rise of the terrorist group ISIS there and in Iraq.
"In this unstable and uncertain world, the United States has actually played a part in creating greater instability and greater unraveling," Bush said, adding that the United States, "because we've retrenched," now has "worse relations than what we had before."
Bush's foreign-policy speech came a day after he outlined domestic policy points at the Wall Street Journal's CEO Council gathering in Washington. Many of those who attended Tuesday's event said Bush's back-to-back policy addresses were the clearest sign yet that he intends to run for president.
Bush's remarks drew a rebuke from Democratic National Committee Chairwoman Debbie Wasserman Schultz, a fellow South Floridian, who accused the former governor of trying to "put America down."
"I'll put the Obama record of foreign policy leadership against the Bush record any day of the week," she said in a written statement. "Under President Obama's leadership, the U.S. has prioritized combating climate change by working with China and other partners, keeping America safe by killing Osama bin Laden and leading a coalition to defeat ISIS, and restoring our standing with our allies after the disastrous foreign policy blunders of the George W. Bush administration."
Wasserman Schultz's criticisms highlight what will likely be a recurring theme on the campaign trail if Bush announces his candidacy. Democrats plan to tie him as closely as possible to his unpopular brother.
But Republicans believe Obama will be even less well-liked in 2016 and that the Democrats' frontrunner, Hillary Clinton, will have a tough time criticizing the Bush Doctrine when she voted to authorize the Iraq War when she served in the U.S. Senate.
Bush said relatively little about his brother or his father in the speech. He spent far more time talking about President Obama. Bush said the current president violated his first foreign-policy precept: to lead both the United States and the world.
"We are not an equal partner in this so-called community of nations. We are a leader among equals," Bush said. "First, I think the United States needs to lead. Lead with humility. Lead with respect. But lead."
In calling for a foreign policy laced with "humility," Bush echoed his brother's call in 2000 to have a "humble" foreign policy. A year later, the United States became far more interventionist after the 9/11 attacks, which ultimately helped lead the nation into invading Afghanistan and Iraq.
To those who listened to the speech, Bush spoke with his own voice and not his brother's. Jeb Bush has more of a reputation as a cerebral, technocratic politician. George W. Bush was known as warmer, more hands-on and prone to making personal connections.
"I don't think this was George W. Bush's foreign policy," said Carlos Curbelo, a Miami-Dade School Board member and incoming Republican congressman who was backed by Jeb Bush in the November elections. "This is Jeb Bush's foreign policy. So it's the Jeb Bush Doctrine, or the Jeb Doctrine."
The phrase "Bush Doctrine" was likely coined in 2001 by conservative columnist Charles Krauthammer and morphed over the years to describe George W. Bush's aggressive and sometimes unilateral foreign policy moves.
Curbelo pointed out that the points Jeb Bush made Tuesday are well within the Republican mainstream and echo many of the ideas advanced by Republican presidential candidate Mitt Romney in 2012. Romney, for instance, voiced concerns with Vladimir Putin's Russia, which Obama mocked as a Cold War relic.
But after Russia invaded Crimea and Ukraine, Republicans cast Obama as too naive about Putin.
One of Bush's precepts was more of a slogan: "Words matter." He said that time and again, Obama has made threats or promises and then failed to act.
"Presidents need to set United States aspirations and intentions where there is little gap between words and deeds," Bush said. "Think of the 'Russian reset.' Think of the 'Syrian red line.' Think of the 'pivot to Asia.' Think of taking out ISIS."
Bush said Obama failed to accomplish any of these goals.
"It undermines our credibility in the world. Our allies don't trust us. And our enemies don't fear us. There is no situation worse for stability and peace than that," Bush said. "The iron rule of superpower deterrent is 'mean it when you say it.' And it has been broken by this president."
Photo: Gage Skidmore via Flickr