Jeb Bush Keeps Clarifying: He Wants To Replace Medicare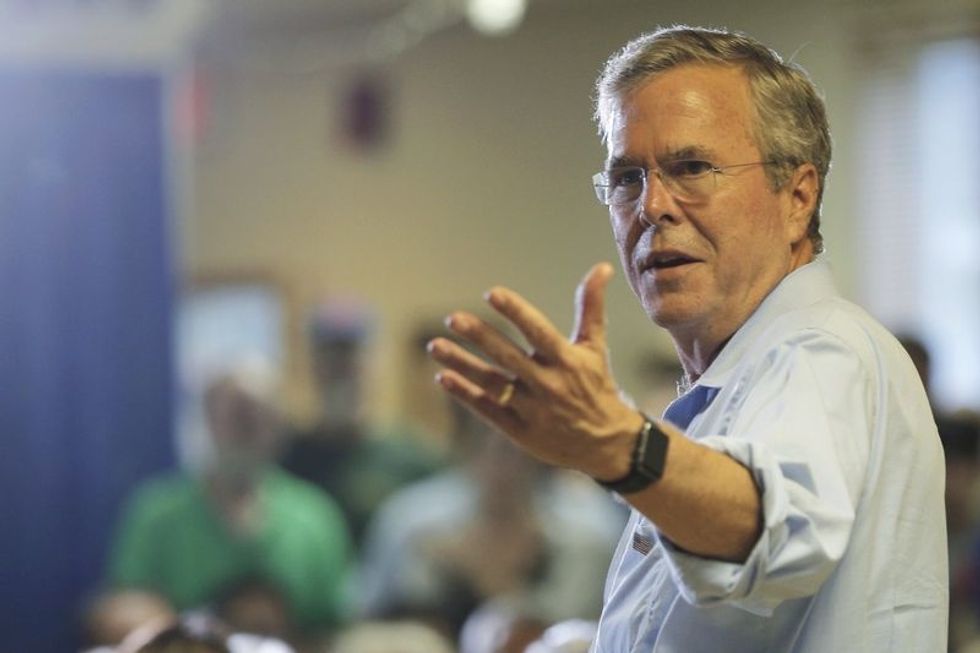 At an event sponsored by Americans for Prosperity on Wednesday night, Republican presidential candidate Jeb Bush said the U.S. government should find a way to "phase out" Medicare, the federal health insurance program for Americans aged 65+ and some disabled people, and "move to a new system."
In a back-and-forth with an audience member at a New Hampshire town hall event on Thursday, Bush attempted to clarify his remarks, saying the government needs to "reform our entitlement system," Politico reports.
"It's an actuarially unsound health care system," Bush told the audience member.
"The people that are receiving these benefits, I don't think that we should touch that; but your children and grandchildren are not going to get the benefit of this that they believe they're going to get, or that you think they're going to get, because the amount of money put in compared to the amount of money the system costs is wrong."
Repeating himself, Bush reiterated a talking point about social spending that some question. "Despite recent evidence that the program's finances are secure, the former Florida governor suggested that Medicare isn't solvent," ThinkProgress reports.
At the event on Wednesday, speaking about Medicare, Bush said, "I think a lot of people recognize that we need to make sure we fulfill the commitment to people that have already received the benefits, that are receiving the benefits. But that we need to figure out a way to phase out this program for others and move to a new system that allows them to have something — because they're not going to have anything."
As usual, Jeb Bush means what he originally said. But this point actually does bear repeating, as Kevin Drum at Mother Jonesreported this week: Medicare "spending is projected to slow down around 2040, and reaches only 6 percent of GDP by 2090." Sounds like the entitlement program may be more stable than Bush cares to admit.
Photo: Republican presidential candidate Jeb Bush answers a question from the audience during a town hall campaign stop at the VFW Post in Hudson, New Hampshire, July 8, 2015. REUTERS/Brian Snyder