Jeb Bush On Refugees: 'I Think You Can Prove' You're A Christian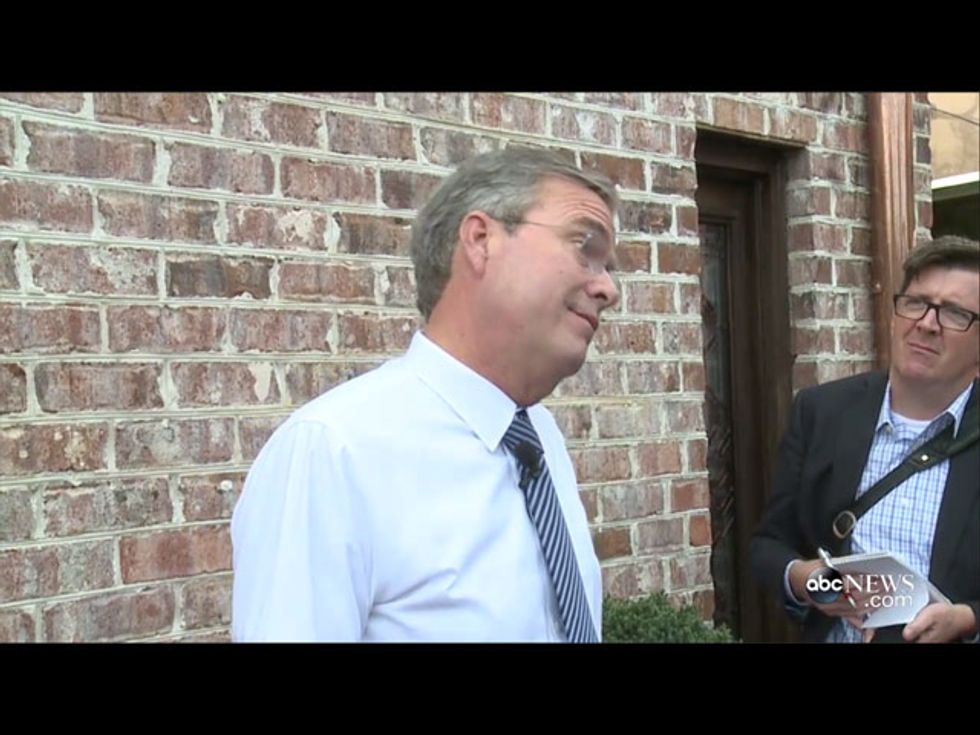 Jeb Bush on Tuesday dug in further on his position that the United States should prioritize bringing in Christians from among the refugees of the Syrian civil war — and he insisted that people can even prove that they're Christians.
"Well you're a Christian," Bush started off saying to reporters. "You can prove you're a Christian. It's—"
"How?" a reporter asked.
Bush gave a shrug: "I think you can prove it — if you can't prove it then, you know, you err on the side of caution."
The conversation with reporters then turned to his example of Nora Barre, a Syrian-American woman in New Hampshire who supports him. However, as ABC News also uncovered, Barre herself is not specifically identifying her religion, and says she has both Christian and Muslim relatives, and there should be help for both:
"We're a secular country," she said. "I don't think religion should be a filter. These are human beings. People should be vetted no matter what we are. Can you imagine that if in World War II, this country said that you had to be Christian to come?"
"A family like Nora's, or anybody that is in ISIS-related territory that is a Christian, they will be persecuted," Bush said — to which reporters then reminded him that not all of Barre's family are Christians.
"They should be thoroughly vetted," Bush said. "They should be thoroughly vetted, and we should do everything we can to provide safe havens in the region. And that's exactly what I've proposed."
Bush also appeared on Bloomberg Politics' With All Due Respect, where his positions on refugees were a little all over the place.
Co-host John Heilemann asked about President Obama's denunciation of a religious preference for accepting Christian refugees as "not American." "You've said that we should focus on Christian refugees from Syria," said Heilemann. "Did you take President Obama's comments personally? Did you take that as a direct shot at you?"
"Well, he didn't mention by name But yeah, I've had this view for a long while that religious minorities in the Middle East and around the world are deserving of our support. Because, but for us, who?"
Heilemann also asked about the bills being offered in Congress, such as from rival candidate Sen. Ted Cruz (R-TX), to ban Muslim refugees.
"I haven't seen the bill — and I think people are legitimately concerned about the efficiency, the competency of the Obama administration as it relates to screening processes," said Bush — but he noted there are indeed vetting processes in place.
"If there is any kind of concern, we shouldn't allow people in. But I don't think we should eliminate our support for refugees — it's been a noble tradition in our country for many years."
"Including Muslim refugees? You don't want to ban Muslim refugees from coming in"
"I don't. But I think the answer to this, though, is not to ban people from coming. The answer is to lead, to resolve the problem in Syria. That's the ultimate answer, and that's my focus."