Jeb Bush Tweets Post-9/11 Photo Of George W.: 'He Kept Us Safe'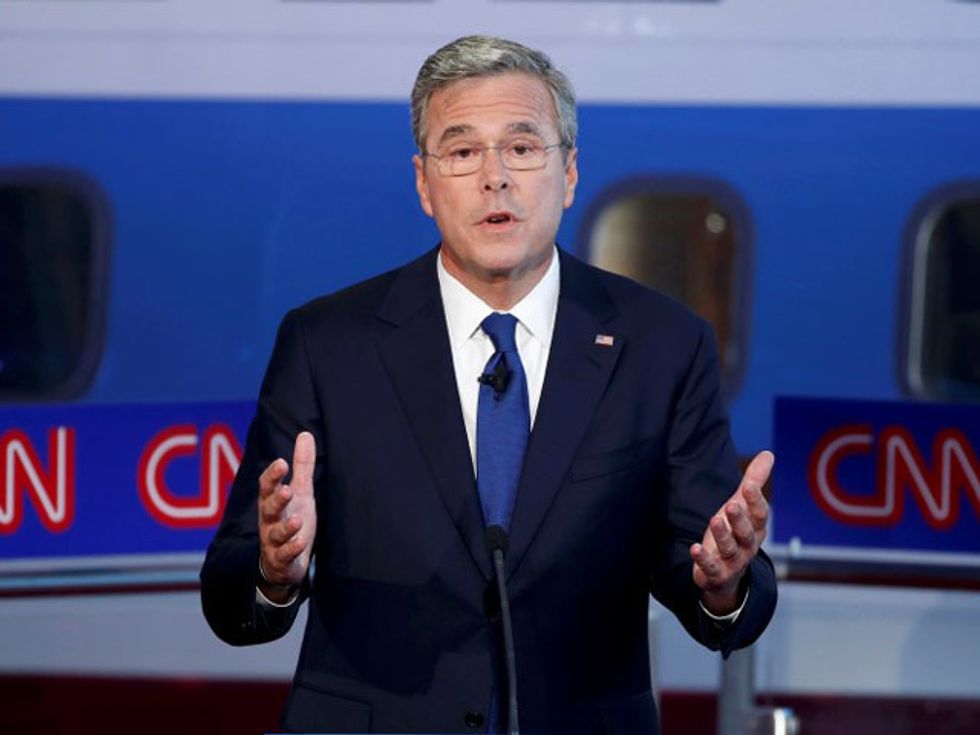 Say this for Jeb Bush: He doesn't run away from his political liabilities.
On Thursday afternoon, the Jeb campaign posted this image to Twitter, showing a photo from then-President George W. Bush's speech to rescue workers at the World Trade Center site three days after 9/11. The text is drawn from remarks Jeb made at Wednesday night's debate, praising his brother: "He kept us safe."
Numerous comments have already emerged on Twitter about the basic problem with Jeb's tweet: The photo is a depiction of a time when George W. Bush categorically failed to keep America safe.
For Republican audiences, however, the line was actually a high point in the debate for Jeb, as he was responding forcefully to criticism from Donald Trump, who had criticized Jeb's brother. "He sent a clear signal that the United States would be strong and fight Islamic terrorism — and he did keep us safe," Bush said.
One can also raise an important point by remembering the actual words that then-President Bush said in that famous speech:
I can hear you. I can hear you. The rest of the world hears you. And the people who knocked these buildings down will hear all of us soon.
But how exactly did they hear from us? Of course, the Bush administration failed to apprehend Osama bin Laden in Afghanistan, and quickly switched its focus toward pursuing an unrelated war in Iraq. Indeed, six months later Bush was even publicly boasting that he didn't think much about bin Laden anymore.
Osama bin Laden eventually did hear from America, of course — when he was found and killed in Pakistan by American forces in 2011, during the first term of President Barack Obama.
Photo: Republican U.S. presidential candidate and former Florida governor Jeb Bush speaks during the second official Republican presidential candidates debate of the 2016 U.S. presidential campaign at the Ronald Reagan Presidential Library in Simi Valley, California, United States, September 16, 2015. REUTERS/Lucy Nicholson