Jeff Miller: Questions about NHL and the Olympics asked, and unanswered — again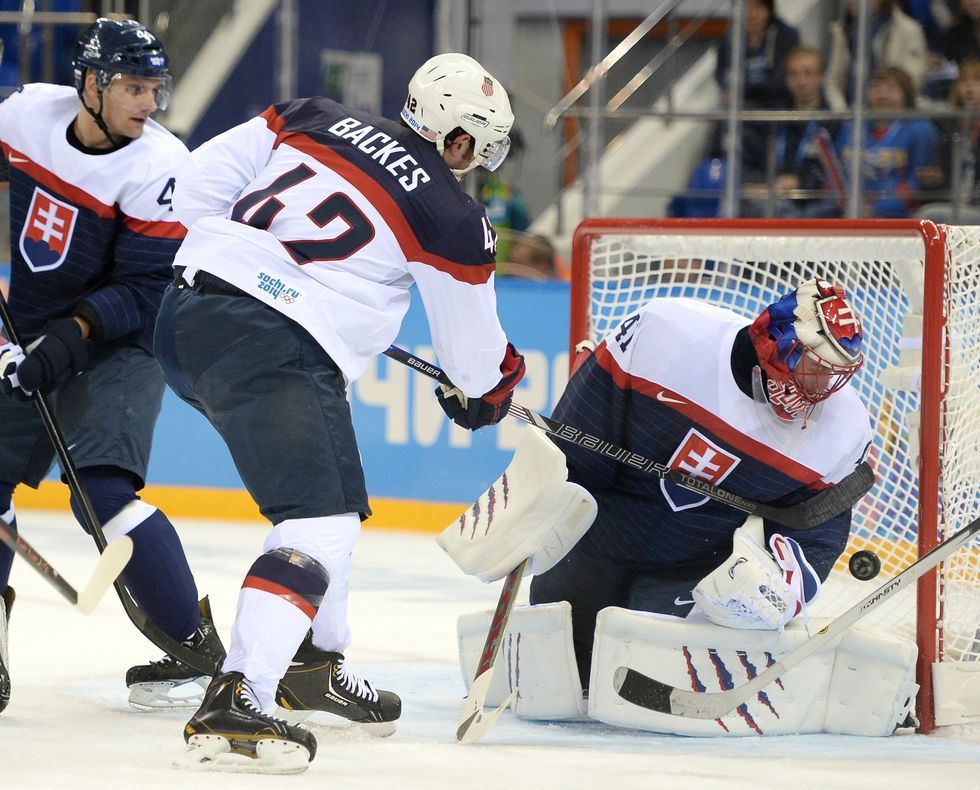 By Jeff Miller, The Orange County Register
ADLER, Russia — He arrived here Tuesday, just in time, reminding us of everything that is great about sports.
And everything that isn't.
"There are constituencies that not each of us control," he explained, "that we have to rely on others to determine."
Who knew it was possible to perform a double Axel with your tongue?
In a Winter Olympics that gained instant fame for everything it lacked — shower curtains, gay rights, winter — among the things Sochi 2014 didn't need now was Gary Bettman.
Or Donald Fehr, the man who once helped put a bullet into something as beloved as the World Series.
But there they were, the commissioner of the NHL and the head of NHL players union, a pair of lawyers, using the exciting start of the elimination portion of the Olympic hockey tournament to bore the life out of everyone. Death by dull.
Thankfully, those of us in the business of writing a sports column still have the U.S. speedskating team providing fodder too rich and ridiculous to ignore. Hey everyone, we just figured out what's wrong with the Lakers! Their uniforms are holding them back!
To be fair, Bettman and Fehr didn't have to make themselves available to reporters at all. And it was an unending, inane barrage of media questions that can't really be answered at the moment that forced their joint news conference to go splat worse than even Jeremy Abbott did.
See, the only thing reporters wanted to talk about was the NHL's future participation in the Olympics, a subject Bettman attempted to defuse by answering the first query, "We're all focused on what should be a terrific tournament (here), period."
Forty-five minutes later, he was still not answering the same question, which by now had been posed 10,000 different ways — or 18,000 using the metric system they employ here — by everyone, including, we think, one of Sochi's famous stray dogs.
Since we know how painful those 45 minutes were and since we really want to get to those speedskaters, we'll save you the time and torture by providing a quick update:
Neither Bettman nor Fehr is certain if NHL players will be part of the 2018 Games, but they hope to have an answer as soon as possible.
Beyond that, Fehr began one of his answers with "From our standpoint, we have a process that we go through…" Bettman used the word "myriad" so often we'd have to call it a myriad of times someone seriously asked about the NHL participating in the 2022 Games.
Yes, it was both unending and inane, a headlong foray into standing completely still.
There also was a moment when they started discussing the importance of women's hockey in the Olympics and someone suggested the possibility of starting a professional women's league in North America and I better stop writing about all this right now or face the same treatment Richard Petty is getting these days.
OK, about our speedskaters. In case you're unaware, they have done nothing more here than literally go around in circles, blame their poor showing on their clothes and be characterized as incurable head cases.

More than anything, what they haven't done is win a medal, putting the team in position to have the worst U.S. Olympic showing in the sport in 30 years.
The Americans arrived with what they thought was a secret weapon, an Under Armour racing suit that was promoted as a feat of aerodynamic brilliance developed with the help of a defense contractor.
Just a thought: Shouldn't defense contractors have more important things to do right now than make spandex sports apparel?
According to reports, reinforced fiberglass mannequins were built and dressed in the suits, researchers testing the dummies in a high-speed wind tunnel for more than 300 hours, and — just picture that image for a second — why isn't that an Olympic sport?
Couldn't be any stranger than curling, which offers almost no chance of a reinforced fiberglass mannequin coming loose and being launched into space.
Yet, the so-called Mach 39 soon became the Mocked 39, the Americans either convinced the suits were slowing them down or so worried about the possibility that it became a mental hurdle none of them could clear.
They eventually trashed the Mocked 39s in favor of their old suits, and maybe someone should have noticed sooner that, instead of a hood, Under Armour had equipped the outfits with an anvil.
OK, that's just a joke, but so is being so desperate for an excuse that you start blaming your tailor. Come on, it's not like Under Armour issued them tuxedos.
Maybe the Americans should go back to the old Olympic ways and compete in the nude.
What, they couldn't do any worse, right? Although being naked on an icy oval might not be the best option for a team that's fallen and can't get up.
McClatchy Photo/Chuck Myers