Jeff Zucker's CNN Legacy: Selling Drama Over News
@EricBoehlert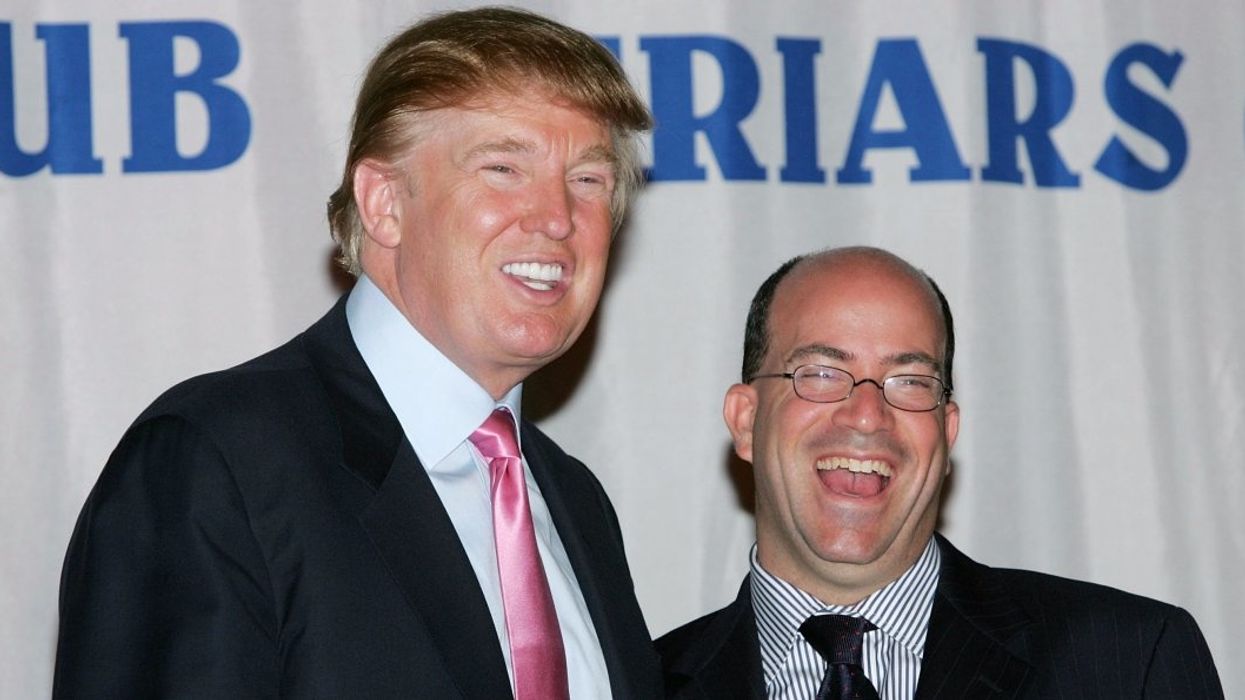 News that Jeff Zucker, CNN's longtime, larger-than-life chief, has been forced out for failing to disclose a consensual relationship he was having with a colleague, signals the end of an era for the all-news channel. One of the most celebrated TV programmers of his generation — he was Today's executive producer at age 26 — Zucker leaves an indelible mark on CNN. He exits as the network struggles through a steep, post-Trump ratings slump, while desperately trying to manufacture Biden-era theater by relentlessly hyping "crisis" coverage. (Afghanistan! Inflation!)
His messy departure gives CNN executives a chance to review the network's addiction to selling drama over news — to manufacturing storylines for the sake of viewer continuity.
Zucker is a storyteller first and foremost, a newsman second. Learning a key lesson from Roger Ailes at Fox News, Zucker preferred that there be running storylines with easily identifiable characters that ran for weeks and months on end, which made it easy for viewers to follow along the moment they tuned in because they already knew the plot line and the main characters. Why do you think this week Fox News is back pushing the phony story that Hillary Clinton is going to run for president again? Because for the Fox audience, Clinton serves as a popular, instantly recognizable villain.
Under Trump, it was easy for CNN to execute that strategy because his presidency was a long-running drama, often with unbelievable plots twists driven by an array of outlandish characters. The most important thing to understand about CNN and Trump is that the network's profits doubled after he became president. Doubled.
CNN famously helped Trump get elected and then treated him as a reality TV star. According to a leaked phone call from the height of the Republican primary season, Zucker buttered up Trump's longtime attorney Michael Cohen: "You guys have had great instincts, great guts, and great understanding of everything." (I guarantee you Zucker was not having similar phone calls with Hillary Clinton's campaign.)
Zucker stressed how "fond" he was of Trump, wished he could talk to him "every day," and then floated the idea of giving Trump a "weekly show" on CNN during the campaign. The whole thing was inconceivable, unless you view American elections as nothing more that entertainment, and your job as the head of CNN is to secure pleasing content. (Zucker turned Trump into an Apprentice TV star a decade earlier when he oversaw NBC.)These were some of the questions put to Trump by Anderson Cooper during a CNN campaign town hall:
•"What do you eat when you roll up at a McDonald's, what does - what does Donald Trump order?"
•"What's your favorite kind of music?"
•"How many hours a night do you sleep?"
•"What kind of a parent are you?"
•"What is one thing you wish you didn't do?"
In an unprecedented campaign move, CNN aired endless Trump rallies live and in their entirety. No explanation was ever given why the events were covered as "news," while no other candidates' rallies received that kind of uninterrupted airtime. "I like Donald," Zucker told the New York Times in 2017. "He's affable. He's funny."
During his presidency, CNN refused to pull the plug on Trump no matter how outrageous and dangerous his behavior became, like after one of the most bizarre televised performances by a sitting president. That planned rant from April 2020 featured a campaign-style commercial that aired in the White House briefing room and attacked the media as well as Trump's critics. Immediately following the meltdown, CNN anchor John King admitted, "That was propaganda aired at taxpayer expense in the White House briefing room."
So why did CNN keep airing Trump briefings? Because the network saw it as a compelling storyline — it was dramatic.
Also, why did CNN keep hiring congenital liars who were paid by the network to fabricate nonsense in the name of defending Trump?
In 2019, the network hired Sean Duffy as a commentator to blindly defend Trump during his first impeachment. The former Republican congressman quickly created problems by constantly fabricating facts and spreading reckless and dangerous conspiracy theories.
That same year, CNN for weeks stood by its inexplicable decision to hire as its national political editor Sarah Isgur Flores, who spent her career flacking for Republicans such as Ted Cruz, Mitt Romney, and Carly Fiorina. Flores had absolutely no journalism experience. As Norman Ornstein succinctly put it, "Time after time, to curry favor with the right, Jeff Zucker and CNN soil themselves."
Addicted to that drama and the Breaking News culture of the Trump years, CNN has desperately tried to recreate that frenzy under President Joe Biden, even though his administration represents the antithesis of the chaotic, criminal enterprise that Trump oversaw.
During the Afghanistan troop withdrawal, CNN's Kabul reporter famously announced the U.S. would never be able to airlift 50,000 people out of the country ("it can't happen"), and the network claimed the U.S. was inflicting "moral injury" by "abandoning" allies. Yet the U.S. ended up evacuating 130,000 people, in the most successful post-war operation of its kind. CNN also claimed that Biden's long-expected troop withdrawal meant the U.S. was "walking away from the world stage" and "leaving Europe exposed." Fact: Most European troops left Afghanistan eight years ago.
On and on it went as CNN insisted on injecting hysteria into an already compelling event, all in the name of chasing ratings and selling drama over news.
Reprinted with permission from PressRun