Jim Jordan Cries 'Fake News' As Ninth Abuse Victim Steps Forward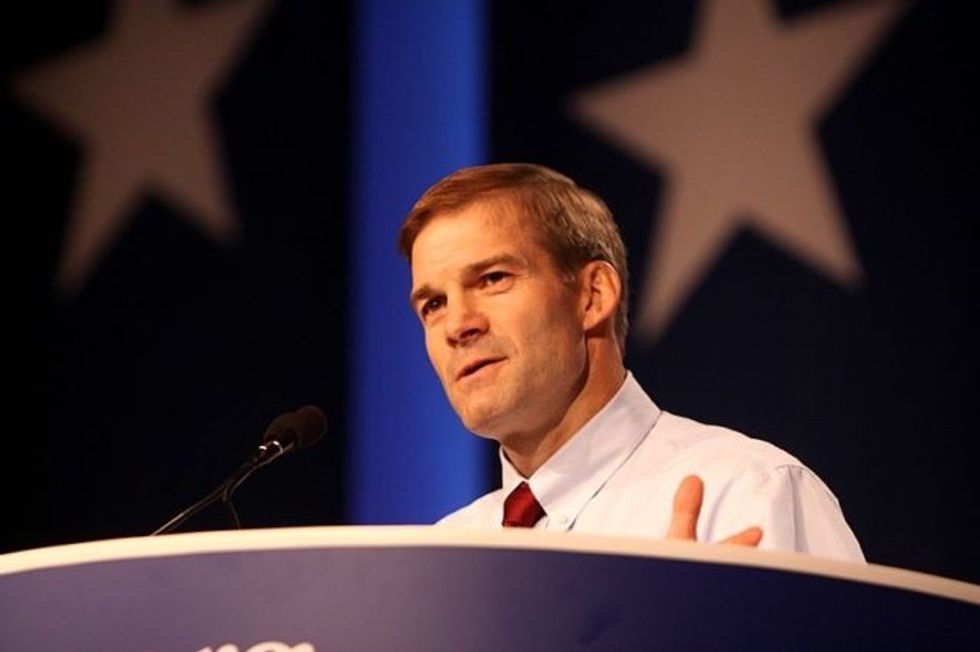 Reprinted with permission from Shareblue.
A ninth wrestler has come forward to accuse Rep. Jim Jordan (R-OH) of turning a blind eye to serial sexual abuse while he was a wrestling coach at Ohio State University.
In response, Jordan ranted online about "fake news" as reporters continue to ask questions he won't answer.
The ninth former wrestler to come forward told CNN that Jordan is denying his role in covering up the abuse "because obviously it would be political suicide for him." He added, "He's still denying it. Jim Jordan knew. He didn't do anything about it."
The former student athletes have accused the congressman of knowing about — and doing nothing to stop — the widespread, decades-long abuse by Dr. Richard Strauss, the team doctor.
On Twitter, Jordan ranted, "Now @CNN is contacting all 100+ of our former staff and interns asking for dirt on me. Getting desperate! How can you ever trust such #fakenews?"
The "fake news" attack echoes Jordan's ally and defender Trump, who often uses the term to defend himself from unflattering news stories that uncover his abuses or instances of corruption.
The comment is part of a public relations offensive to push back on the damaging story. This week, Jordan hired the conservative crisis management firm Shirley & Banister Public Affairs, and he's been lashing out ever since.
He even claimed, rather absurdly, that his smear attacks on various government agencies proves he would protect the athletes in his care.
"I'm telling the truth," Jordan said. "Look, I stood up to the speaker of the house from my home state, I stood up to the IRS and I've stood up to the FBI. To think that I would not stand up for my athletes is ridiculous."
Jordan was apparently referring to the House Republican effort he's leading to undermine the ongoing FBI investigation into the Trump campaign's affiliation with Russian operatives, and the Republican campaign to target the Obama-era IRS as an occasion where he "stood up to the IRS" and on principle.
Despite the growing list of accusers, the Republican establishment is rallying around him.
Speaker Paul Ryan hailed Jordan as "a friend of mine" and described him as "a man of honesty, and a man of integrity."
House Majority Whip Steve Scalise defended Jordan in a statement earlier this week.
"I have always known Jim Jordan to be honest, and I'm confident he would stand up for his athletes, just like he's always stood up for what's right," he said.
Meanwhile, the ultra-conservative House Freedom Caucus, which Jordan co-founded, voted to support him.
Republicans have a pattern of circling the wagons over sexual abuse. They backed alleged pedophile Roy Moore in Alabama. Despite that effort, pushed from Trump at the top, Moore lost his election and Alabama is now represented by Democratic Sen. Doug Jones.
Then there is Trump, the head of the party and an admitted sexual predator. Republicans have continued to back him wholeheartedly, despite allegations against him and his very own words.
As they rally around Jordan, it seems this is the model for how the Republican Party will deal with abuse. No matter how serious the allegations or strong the evidence, if it's one of their own, they'll simply close ranks and smear the victims.
Published with permission of The American Independent.