Jindal Vs. The Republicans At The Undercard Debate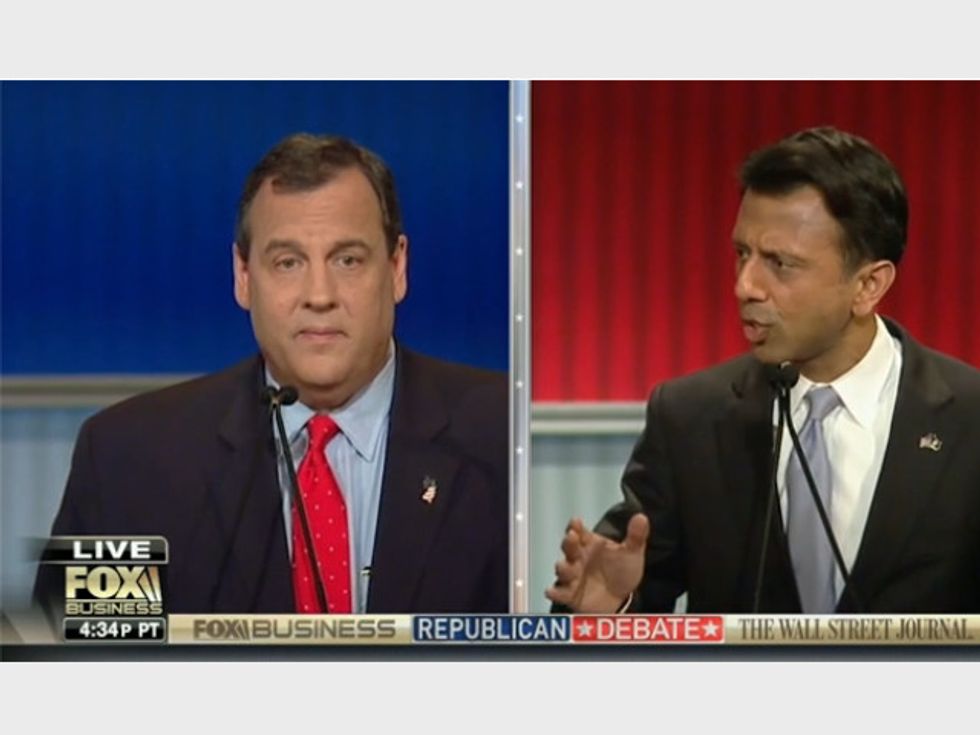 Most GOP candidates are content to reserve their most emphatic attacks for Hillary Clinton and Barack Obama.
Not Bobby Jindal.
In recent months, the Louisiana governor's stump speech has calcified around a pitch that "it's not enough to elect just any conservative — we've seen that."
In Jindal's now-familiar narrative, his party lost the last two presidential elections because each time it nominated a "fake conservative," and the GOP itself in general is in danger of becoming a "second liberal party."
"We try to be cheaper versions of the Democratic party," Jindal protested, admonishing that the party should "embrace our own principles," and by extension, nominate him — the only candidate, he claimed, whose conservative record may not have made him "electable" in any conventional sense, but that that was a good thing.
(Rick Santorum, the former U.S. senator from Pennsylvania — who had a memorably Jindal-esque moment where he shouted so loudly it temporarily distorted his microphone — said that at least Democrats fight for what they believe in, unlike, presumably, his own party.)
Jindal was the "only candidate" (his persistent self-elevating refrain) who effectively cut his state budget by 26 percent — much of which came from his decision to privatize the state's charity hospital system, the loss of funds for Hurricane Katrina relief, which were set to expire anyway, and the gutting of the state's educational system.
He was the "only candidate" who had reduced the government economy while growing the private economy. This, despite the fact that Louisiana's private-sector employment growth has lagged behind the the national average, and since 2009 his state's annual GDP growth has averaged 0.5 percent (compared with a national average annual growth rate of 1.9 percent). Jindal took office in January 2008.
Other candidates, he said, proffered a lot of "hot air" — among them, specifically, New Jersey governor Chris Christie. And the undercard debate which aired Tuesday night on Fox Business Network contracted to a clash between authentic conservatism and actual electability, as embodied by these two governors.
While Jindal challenged voters to elect "not just any Republican" but to elect one who would "take on the establishment," Christie spoke of the need to elevate the debate above intra-GOP squabbling and for Republican candidates to direct their rancor where it belonged — at Hillary Clinton.
In fact, Jindal's premise — that by nominating so-called moderates, Republicans had failed to draw out "real" conservative turnout — is not borne out by exit polls in 2012, and his rejection of the notion of "electability" seemed to be informed by attitudes of the far-right after the 2012 loss, like those of RedState founder Erick Erickson, who commented that "the most electable usually aren't."
Christie — who, along with former Arkansas governor Mike Huckabee, until recently had stood at a podium on the top-tier debate — touted his gubernatorial victory in a heavily Democratic state as a weathervane of his value as a candidate for general election — the very thing that made him such a target for Jindal.
"Let's not pretend that out-of-control government spending is only a Democratic problem," Jindal said — a remark directed pointedly at Christie and his record as governor of New Jersey
Chris Christie reminded audiences that when asked what enemy she was most proud to have, Clinton answered: "Republicans."
Clinton's comment was meant in jest. But on that at least, she and Jindal might agree.