Joan Rivers Riles Young Hollywood, But She's Got Youth On Her Side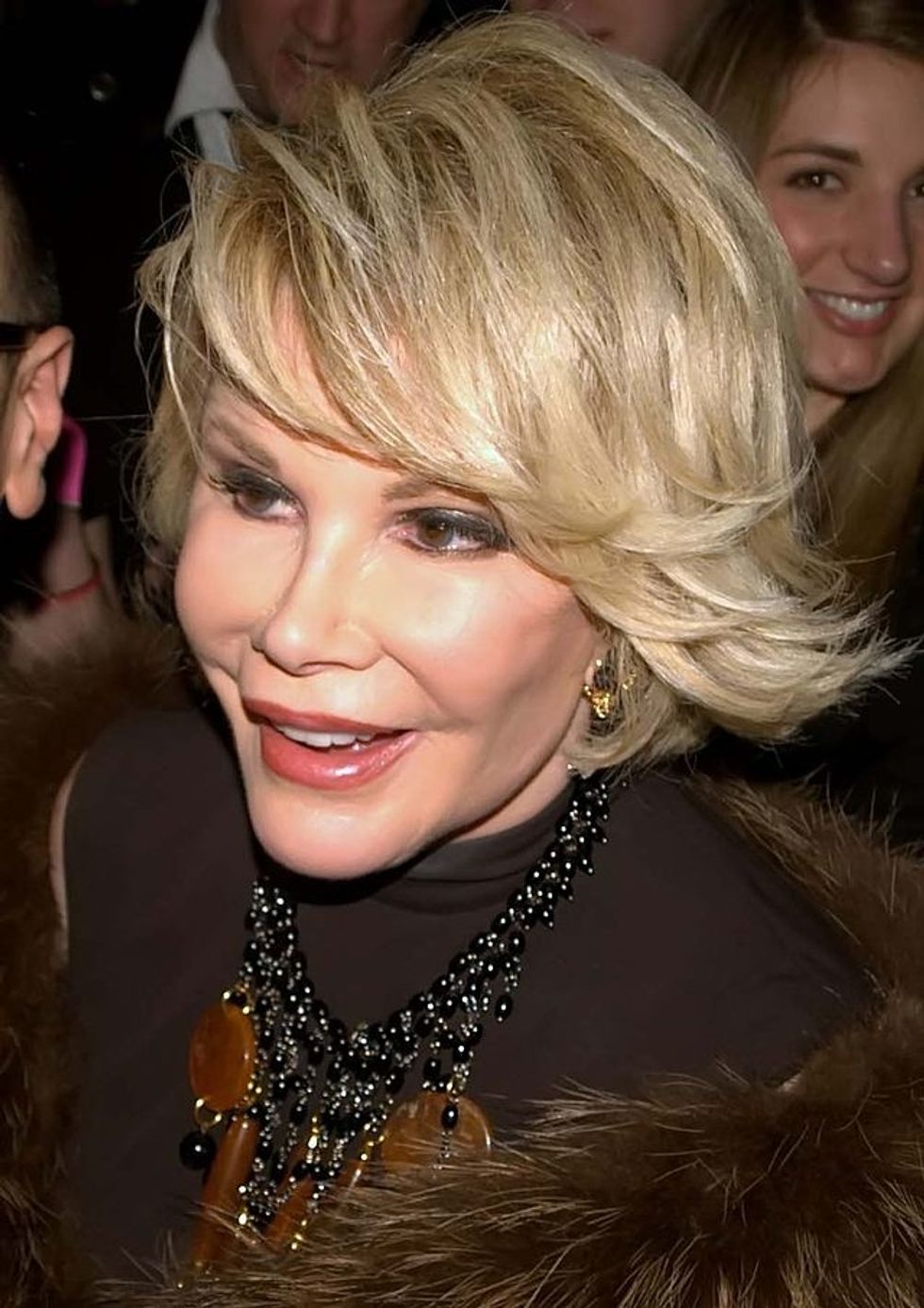 By Amy Kaufman, Los Angeles Times
The moment Joan Rivers stormed out of a CNN interview earlier this month, she thought she might be losing her mind.
"I was worried," she said, "because the first sign of Alzheimer's is that you get crankier. I swear to you."
But at 9 a.m. during a recent July taping of her E! series "Fashion Police" in L.A., she'd already been awake for five hours and showed no signs of crankiness.
"Take two or three pieces," she said, offering audience members a basket of candy to pass around. "Whatever you want. Does anyone want to take a picture?"
You'd never know that only days before, the 81-year-old walked away from a nationally televised interview after CNN anchor Fredricka Whitfield called her fashion critiques "mean." It was uncharacteristic for the comedian, who during her five decades in the business has never been one to avoid controversy. But she's drowning in it lately.
TMZ caught her calling Michelle Obama a "tranny" this month. Several of her show's writers have been on strike since last year. And her new book, "Diary of a Mad Diva," has incited the rancor of a few Hollywood millennial tastemakers.
When Rivers wrote she'd like to "charge HBO with crimes against humanity" if she saw Lena Dunham naked one more time, the "Girls" creator tweeted: "Joan Rivers is truly the only rivalry I would entertain starting, but she'd enjoy it too much." A lewd joke in the book about Kristen Stewart prompted the "Twilight" star's lawyer to complain.
When she became a regular on "The Tonight Show Starring Johnny Carson" through the early 1980s, Rivers' candor had a unique kind of shock value. And later on the red carpet with her daughter, Melissa, celebrities came to expect sharp jabs about their dresses. But in 2014, her sense of humor is sometimes at odds with the Young Hollywood set. Jennifer Lawrence has publicly lamented how "Fashion Police" teaches the young "that it's OK to point at people and call them ugly and call them fat."
And yet it is the young who most embrace Rivers: Her agent said that the average age of her fans is 22.7.
"Older people go, 'What about Carson?'" Rivers said. "And you wanna go, 'Who cares?' Enough. Over! Done! Let's talk about Rihanna!"
At the "Fashion Police" taping, the three dozen audience members gathered to see her judge the week's celebrity fashions were nearly all males under the age of 30. And they adored her vicious streak.
She's definitely feisty, but watching her at work it's difficult to imagine Rivers being mean off-stage. All of the celebrity guests who appear on "Fashion Police" sit on her lap while posing for pictures with her. Everyone is "darling." Kelly Osbourne, one of her co-hosts on the show, calls her "Grandma J."
"One of my best friends is Joan Rivers," Osbourne, 29, said. "Whenever I have a problem and can't get a hold of my mom, I call her about guys, work, what should I wear? And if she knows she's hurt someone's feelings, she goes out of her way to make sure they know it was never intended that way."
But Rivers rarely makes public apologies.
"Calm down," she said, swatting her hands dismissively when Dunham's tweet is brought up. "You're making what, $5 million a year? You've got a No. 1 hit show. Everything is going well for you — I will not say 'I think you're beautiful.' I don't think you're beautiful naked. I don't want to see you naked."
And she doesn't want to hear about how hard it is for women in Hollywood. She burned her bra. She stood side by side with Gloria Steinem. "So don't talk to me about women's lib," she said. "Stop it. We've won. They won't hire a woman comedy writer? Let me tell you something, if you're funny, they'd hire Hitler. If my dog Teegan came in with six jokes he would be writing for Jimmy Fallon."
Photo via WikiCommons
Interested in entertainment news? Sign up for our daily email newsletter!