Rogan Dragged By Right-Wing Media For Racial Slur Apology
@JasonSCampbell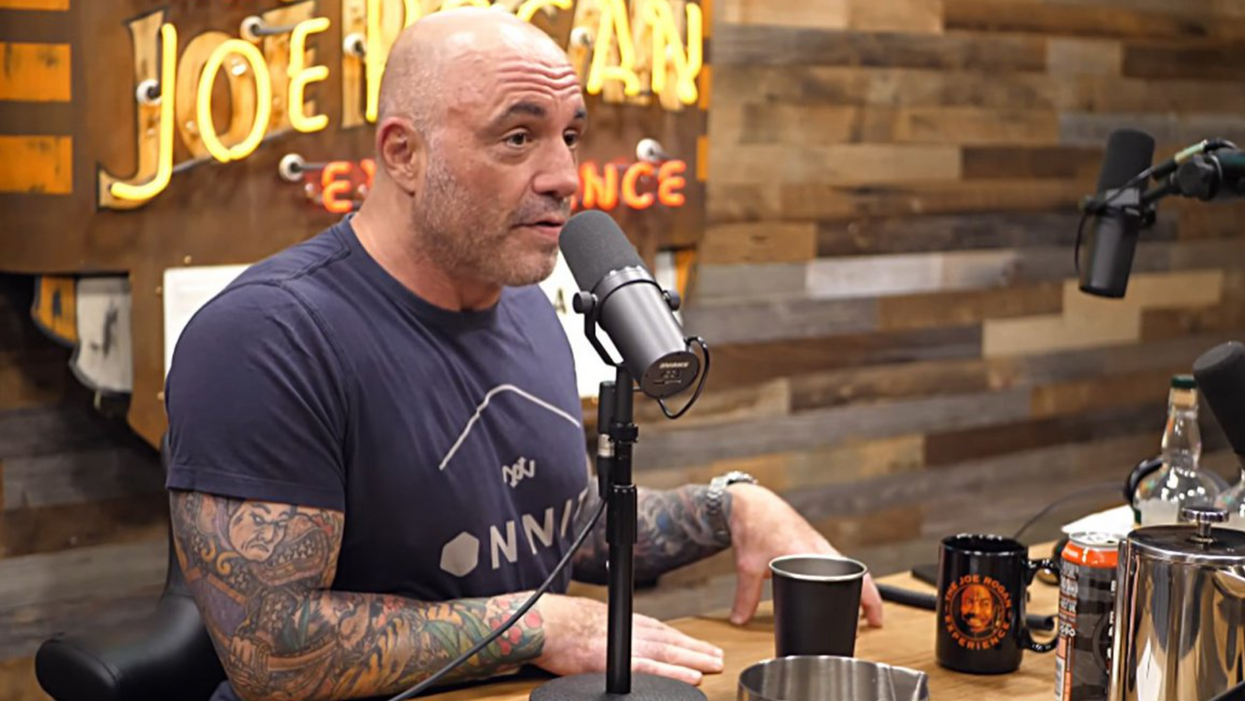 On February 5, podcast host Joe Rogan issued an apology for his past use of a racial slur. The apology came after a compilation video circulated featuring Rogan's repeated use of the n-word. Rogan, who has a $100 million contract with Spotify, was already under intense criticism for using the platform to spread misinformation regarding COVID-19 and vaccines.
Support for Rogan tends to run high in conservative media. The Daily Wire's Ben Shapiro tweeted that Rogan was "laughing" at those who called for outreach to be mitigated. YouTuber Steven Crowder called Rogan a "great guy" and defended his misinformation about the COVID-19 vaccine. And Fox News host Tucker Carlson praised Rogan for being "strong" under pressure.
After Rogan apologized for repeatedly using a racial slur, however, some in the conservative media turned on him. The Daily Wire's Matt Walsh said Rogan should've "laughed" at his critics, adding, "Spit in their face. It's the only way." Commentator John Cardillo, who spreads misinformation regarding the COVID-19 vaccine, said Rogan "never should have given a millimeter" and he should "be more savage than they are." And The Post Millennial columnist Blaire White said "The only thing Joe Rogan did wrong was apologize."
Crowder, who has repeatedly been suspended from YouTube for misinformation and hate speech, said he was "angry" and "upset" with Rogan for issuing an apology, saying, "He caved a little bit." Crowder went on to call it "ill-advised" and something he "strongly disagreed" with.
STEVEN CROWDER (HOST): I'm not going to lie, I was upset. I was angry -- no -- with Joe as well. And I'll explain why. I was more angry with the people who tried to -- I hate the term cancel culture -- but the people who tried to destroy his life and his livelihood. Now, Joe Rogan is bigger than them so good for him. It shouldn't affect him. I hope he understands the power that he has. Unfortunately, he's caved a little bit, and I just -- it makes it harder for everybody else.
...
Now, Joe Rogan issued an apology, with which I strongly disagree. And I'll explain to you why. I think it was very thoughtful, though, and I think the way he delivered the apology was as well delivered as an ill-advised apology like this could be delivered.
Misinformation kingpin and former Trump administration adviser Steven Bannon told Rogan to "man up" and not to "grovel" or "kowtow" to "these people."
STEVE BANNON (HOST): Note to Joe Rogan: the more you grovel, the more episodes they'll take down. The more you grovel, the more you kowtow, the more you appease these people -- you must fight these people. You must fight the power. So man up, right? Show some resolve.
Glenn Beck, who has spread misinformation regarding the COVID-19 vaccine, told Rogan to "never apologize" to "these people."
Reprinted with permission from Media Matters