John Boehner Calling Ted Cruz 'Lucifer In The Flesh' Is Hardly The Worst Thing Someone Has Said About Ted Cruz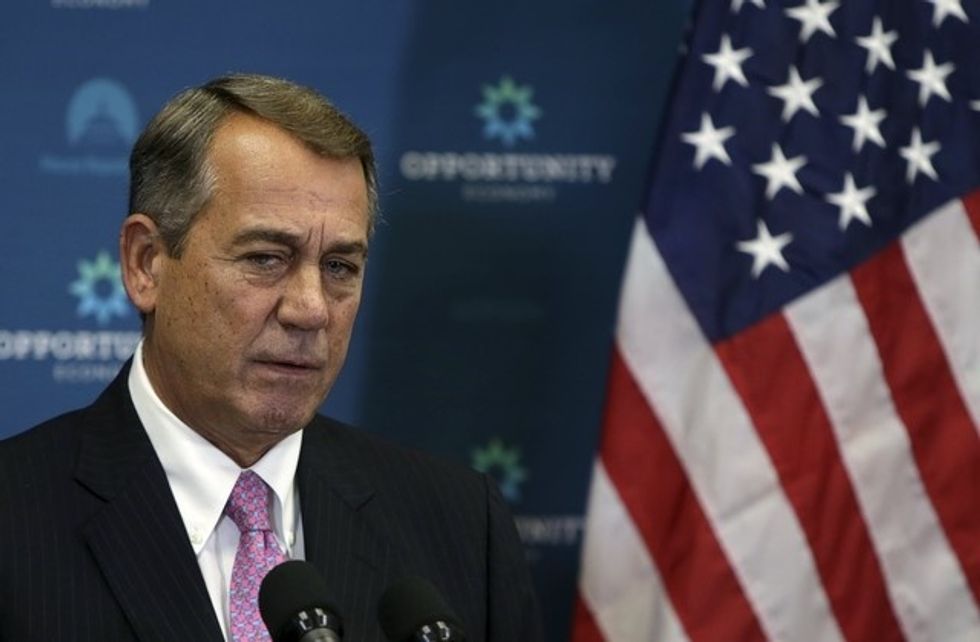 Former House Speaker John Boehner called Ted Cruz "Lucifer in the flesh" Wednesday, and made clear he would never vote for the presidential candidate in a general election.
Boehner has never hidden his deep dislike of Cruz, but his comments at a Stanford University gathering went farther than any he has made before about the Texas Senator.
"Lucifer in the flesh," Boehner said, according to an article in the Stanford Daily. "I have Democrat friends and Republican friends. I get along with almost anyone, but I have never worked with a more miserable son of a bitch in my life."
In response, Cruz told reporters Thursday Boehner "allowed his inner Trump to come out."
"The interesting thing is I've never worked with John Boehner, I don't know the man," Cruz said. "Indeed, during the government shut down, I reached out to John Boehner, to work with him to get something meaningful done. He said, 'I have no interest in talking to you.'"
The former speaker is only one of many, ranging from his congressional colleagues to former Princeton roommates, who have spoken ill of Cruz, widely regarded as one of the most disliked members of Congress.
Sen. Lindsey Graham, Republican of South Carolina, said in a televised broadcast earlier this year that if "you killed Ted Cruz on the floor of the Senate, and the trial was in the Senate, nobody would convict you."
Rep. Peter King of New York said Thursday on CNN that maybe Boehner "gives Lucifer a bad name by comparing him to Ted Cruz."
"Listen, what John Boehner was most concerned about was Ted Cruz perpetrated a fraud and a hoax when he brought about the shutdown of the government on some kind of a vague promise that he was gonna be able to take Obamacare out of the budget or to end Obamacare," Rep. King said.
Cruz's former Princeton roommate, screenwriter Craig Mazin, regularly tweets about the year he shared a room with Cruz, none of it flattering. One tweet described Cruz as a "nightmare of a human being.
Mazin told the Daily Beast in 2013 he would "rather have anybody else be the President of the United States."
Boehner's dislike, even hatred, of Cruz can be traced to the Texas Senator's two attempts to shut down the government, first in 2013 over Obamacare, then again last year over cutting off federal funding for Planned Parenthood.
Cruz led those pushing for a shutdown, mostly members of the Tea Party-oriented House Freedom Caucus. Boehner described them in his talk with history professor David M. Kennedy as "knuckleheads" and "goofballs." Boehner's office confirmed the authenticity of the report and quotes.
Boehner was encouraged to speak frankly as he was assured the talk was not going to be filmed or broadcast.
The former speaker vowed he would not vote for Cruz in November, and that he will vote for Trump if he is the Republican nominee.
During the talk, hosted by Stanford in Government (SIG) and the Stanford Speakers Bureau, Boehner also spoke of Hillary Clinton, initially in somewhat disparaging terms.
Boehner is reported to have mimicked Clinton and is quoted as saying, "Oh I'm a woman, vote for me." He then praised her as accomplished and smart.
He told the crowd not to be shocked if they saw "Joe Biden parachuting in" should Clinton's emails became a larger scandal ahead of the Democratic National Convention.
"Don't be shocked … if two weeks before the convention, here comes Joe Biden parachuting in and Barack Obama fanning the flames to make it all happen," Boehner said.
House Speaker John Boehner (R-OH) and House Majority leader Kevin McCarthy (R-CA) (not pictured) speak to reporters at a news conference on Capitol Hill in Washington October 7, 2015. REUTERS/Gary Cameron