The Corruption That John Durham Ignores In His Own Backyard
@ChandraBozelko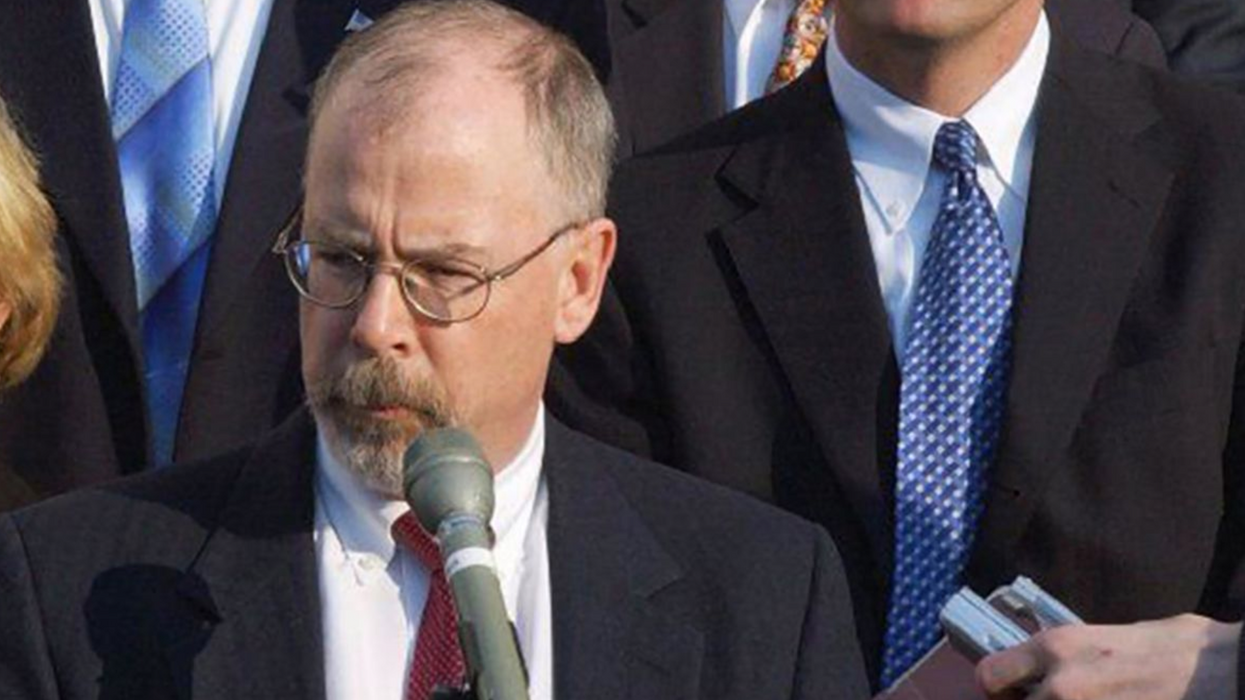 The way land records work is pretty simple. Owners file a deed in the city, county or town's clerk's office and the deed states that the first owner, or grantor, is conveying the property to the new owner or grantee. Usually the new deed lists the page and volume number of the first owner's deed. The deeds form a chain, connecting one to another in a way that can be tracked.
Except in East Haven, there's a small piece of property, 105 McLay Avenue, where the land records offer two chains of title. One owner has a chain going back to 1924. The other owner doesn't. That second owner's chain starts in 2005 where the Town of East Haven simply appears as the owner of 105 McLay Avenue and conveys the property to a Connecticut corporation.There's no deed conveying the property to the town and yet the town went and granted it — for unknown consideration — to a local business. It's almost like the Town of East Haven stole the land.
Indeed, something is rotten in the Town of East Haven. I know; I've watched it unfold because one of the owners of 105 McLay Avenue is my father.
My father reported these problems to then-United States Attorney for the District of Connecticut, John Durham. Connecticut's Assistant Attorney General, Sandra Arenas, and also referred the matter to Durham's office by letter. No one from Durham's office ever contacted my father.
People who don't live in Connecticut already know who Durham is. He's the special counsel secretly appointed to "investigate matters related to intelligence activities and investigations arising out of the 2016 presidential campaigns" by former Attorney General William P. Barr in October 2020. The first trial in that investigation against Michael Sussman, an attorney for Hillary Clinton's 2016 presidential campaign, ended when a jury acquitted Sussman of lying to the FBI on May 31.
Even with that special counsel assignment, Durham had time to take action here in Connecticut; he learned about problems in East Haven in October 2019; he didn't resign from his Connecticut post until February 2021.
For context on the Sussmann acquittal and how easy it would have been for Durham to win if he actually had a case, only two percent of defendants in federal criminal cases insist on a trial. Of that two percent, only one percent prevail and are found not guilty.
It appears Durham would rather tilt at Trump's windmills than look into corruption in his former home district.
The FBI would be the agency to investigate for the US Attorney's office and it doesn't confirm whether an investigation is ongoing or not, so it's possible that the United States Attorneys office and/or the FBI are looking into this situation.
But inquiries like this don't take that long or run into he-said-she-said forks in the investigative path; it's not an issue of credibility. Public land records contain all the evidence and in East Haven they're available online. A federal prosecutor could decide whether there's a case or not sitting in his pajamas at home.
It's not like Durham's office was or is unaware of problems that plague East Haven; the town is known for corruption and chaos. In 2009, then-Mayor April Capone and her assistant were arrested for interfering with police. Neither was convicted.
In 2020, three town employees were arrested for "double-dipping" — collecting pandemic unemployment assistance while still being paid their salaries. One of the accused is former Mayor Joseph Maturo's daughter and the former mayor has been noted for allegedly trying to influence the investigation into his child.
An East Haven School Board member was charged with fraud. His wife was removed from her post as the director of the preschool program amid a federal probe and she was cited for allegedly shoplifting $150 worth of goods from a local supermarket.
And that's just the chicanery outside real estate and property matters.
East Haven land records have been the subject of investigation before. A local zoning officer was placed on paid administrative leave in September 2020 and resigned a few months later and no one's provided a reason why. In 2015, East Haven zoning official Frank Biancur was charged with extorting money from a resident, telling him he would make the resident tear down an addition on his house if he didn't pay.
Michael Milici, while serving as the town's tax assessor, was placed on administrative leave last year for allegedly not paying employees overtime; Milici himself brought this issue to town officials. He retired soon after, but he had worked as the assessor for 31 years and oversaw the tax records related to 105 McLay Avenue. Milici was sued in 2004 when he was a member of the neighboring town of Branford's Board of Assessment Appeals. Plaintiffs claimed Milici inflated the value of their house and received a reduced valuation on his own home in the town.
The entities that ended up with 105 McLay Avenue are Statewide Construction, Inc. and Connecticut contractor Robert Pesapane, a man who paid for an attorney to represent the assistant to former East Haven mayor Joseph Maturo to sue Maturo for sexual harassment. Maturo had blocked one of Pesapane's construction projects.
Yet, even with this history of pandemonium, Durham's office has done nothing.
To be fair, there are other people who could have intervened and corrected this situation. For one, Durham had attorneys working for him. The courts have consistently sided with the town but their findings don't make sense; the trial court found that the two competing chains of title were "the same" even though one has three deeds and the other eleven. More litigation is planned.
Joseph Carfora, the mayor of East Haven, is aware of the matter. He received a certified letter about it in May 2020 that he never answered. His office didn't respond to a request for comment.
I emailed the FBI's then-Community Liaison Charlie Grady and asked for assistance with the matter. Grady's response was that he wasn't sure how the tip line worked but I should continue to use it. He ended his answer with "Good luck!"
Luck is what East Haven homeowners need if no one from the U.S. Attorney's office will step in.
By itself, deed fraud isn't a crime. But when it's done by a town employee, it indicates corruption. Deed fraud is also one of the most underreported thefts, according to former FBI agent Arthur Pfizenmeyer in an interview with Law.com.
But deed fraud is enough of a problem in Connecticut that the Connecticut General Assembly passed a law in 2017 making the filing of false deeds actionable in a very specific way.
While there's no testimony on record supporting the bill and there was no opposition to it — it was placed on what's called a consent calendar which means that it was combined with other bills that wouldn't require debate — false deeds must be a problem in Connecticut in places other than East Haven. After all, three state representatives and two state senators didn't draft a bill and see it through to passage for no reason.
The law also classified filing a false deed as a Class D felony, which means that what's happening is in fact a criminal matter involving the town, an issue of potential public corruption, landing it right in Durham's and the FBI's wheelhouse.
The problems that can arise from these deeds extend beyond criminal investigation. According to Connecticut's Marketable Record Title Act, if a party doesn't have an unbroken chain of title to their property, they're technically not the owner of it. That means that sales of certain real property may not be possible unless this is stopped. In fact, it may even invalidate certain deeds, meaning people could lose their homes.
Trump's effect on real estate extends beyond New York. His obsession with Hillary Clinton distracted Justice Department officials and seduced Durham into pursuing these popcorn fart cases instead of dealing with crimes right in front of him in Connecticut.
Durham's got another trial scheduled for October 2022, against Igor Danchenko, over lies Danchenko supposedly uttered to FBI agents over the Steele dossier. Durham's priorities are clear; he'd prefer to chase phantom charges against Trump's enemies than protect the residents of the district he once oversaw as the chief federal prosecutor.
Chandra Bozelko did time in a maximum-security facility in Connecticut. While inside she became the first incarcerated person with a regular byline in a publication outside of the facility. Her "Prison Diaries" column ran in The New Haven Independent, and she later established a blog under the same name that earned several professional awards. Her columns now appear regularly in The National Memo.