Durham Probe's Failure Debunks 'Deep State' Mythology (And Barr's Reputation)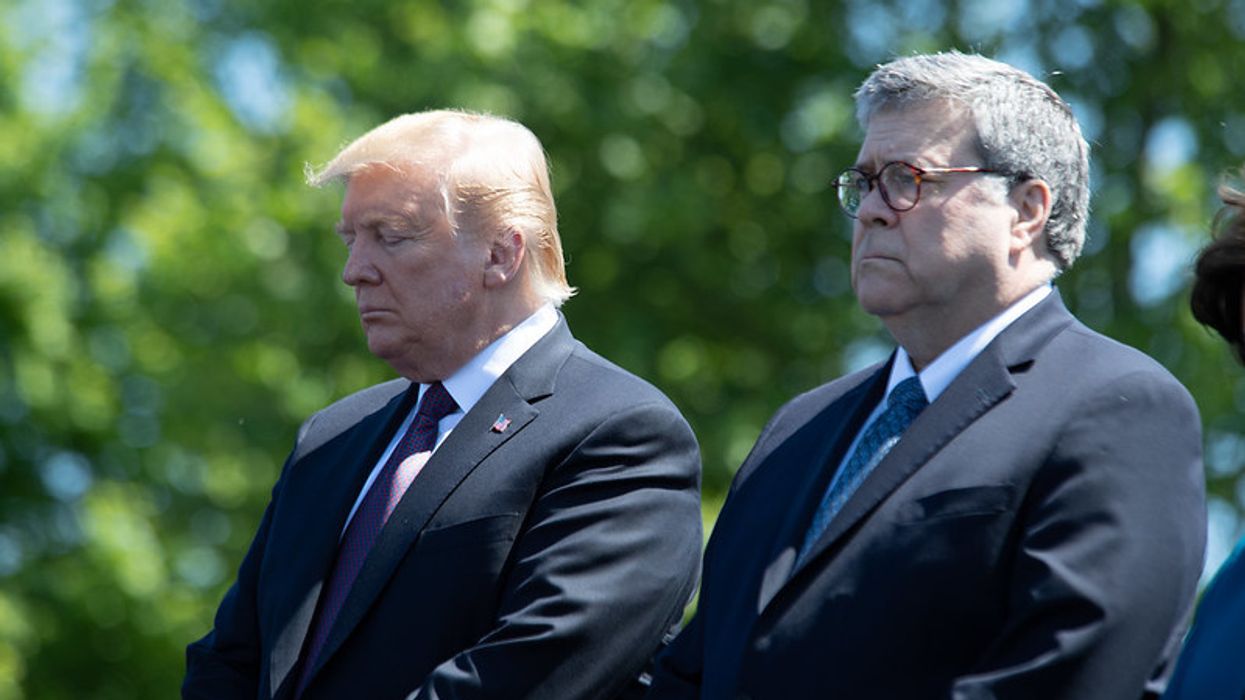 The two most common themes of MAGA sorehead emails I received last year were the inevitability of an anti-Biden landslide in 2022, and the certainty of Hillary Clinton's prosecution by "independent counsel" John Durham supposedly for falsifying evidence against Donald Trump during the "Russia, Russia, Russia hoax," as Trump styles it.
Almost needless to say, neither happened. What has taken place instead is the total collapse of Durham's ballyhooed probe along with his reputation for probity and competence. Along with that of former Attorney General Bill Barr, who comes off looking like…
Well, have these two jokers never heard of Kenneth Starr, another would-be Republican Torquemada, 15th century mastermind of the Spanish Inquisition? For a time, Starr managed to preserve the appearance of probity among his adoring fans among the Beltway media.
How many times did we see the soft-handed house-husband dutifully taking out the trash on TV and assuring reporters "our job is to do our job"?
Until, that is, the public reaction to his prurient, porn-accented report on the dalliance between Bill Clinton and Monica Lewinsky. (Written by Supreme Court Justice Brett Kavanaugh.) This unfortunate document sent the eminent Judge Starr off to Baylor University, where as college president he took to wearing cheerleader costumes and helping cover up sexual assaults by football players, resulting in his firing.
Lawyers who work for Donald Trump, of course, are rarely paid and often end up facing disbarment—Michael Cohen, Rudy Giuliani, John Eastman, Sidney Powell, etc. William Barr, a veteran GOP operative, should have known better.
But then he and his running buddy Durham are True Believers, seemingly falling into the most seductive of traps: believing their own bullshit, to use one of Barr's favorite words. This has long been Barr's calling card; he's the kind of idealogue who's often in error, never in doubt. A blowhard who makes a great show of his Catholic piety.
Durham's motives appear similar. A recent detailed New York Times expose depicts the pair as making a mockery of the "independent" part of "independent counsel," drinking and dining together regularly, and jointly embarking to Europe on a futile quest to prove an imaginary "Deep State" conspiracy against Trump.
Instead, Italian authorities presented them with evidence of financial crimes by Trump himself, prompting a criminal investigation that should never have been entrusted to Durham. The Times and other news outlets erroneously reported that Durham's review of the Trump-Russia probe had morphed into a criminal investigation. Fox News flogged it like the Second Coming. Neither Barr nor Durham did anything to correct the record. Hence the excitement among my MAGA correspondents.
What the Italian allegations consisted of or what Durham's investigation concluded remains unknown. How current Attorney General Merrick Garland can allow Durham to persist in his role, given the revelations in the Times's voluminous article is similarly mysterious.
Former Attorney General Barr, of course, has cunningly attempted to salvage his own reputation by turning against Trump—dismissing his claims of election fraud as "bullshit" and telling the January 6 committee and pretty much anybody who will listen about the former president's intellectual, temperamental and moral unfitness for office. Geez, you think?
Would it surprise you to learn that Trump's domineering Attorney General has never prosecuted a court case? Durham has, but appears to have succumbed entirely to partisan zeal.
After Justice Department Inspector General Michael Horowitz issued a report concluding that FBI investigators had properly opened an probe of the Trump campaign after an Australian diplomat tipped them that a Trump aide revealed advance knowledge that Russian spies had Hillary Clinton's emails, Barr and Durham did all they could to debunk it.
"But as Mr. Durham's inquiry proceeded," The Times reports "he never presented any evidence contradicting Mr. Horowitz's factual findings about the basis on which F.B.I. officials opened the investigation." Then, after independent counsel Robert Mueller's report revealed "numerous links between the Russian government and the Trump campaign and detailed both how hard Moscow worked to elect Trump, and how eagerly wanted their help," Barr composed a weasel-worded summary that distracted public attention.
Robert Mueller didn't indict Trump but he convicted both his campaign manager Paul Manafort, who owed millions to close Putin ally Oleg Deripaska, and also his dirty tricks chieftain Roger Stone.
John Durham convicted nobody. Over the resignations of career prosecutors who objected to his bullying methods, he charged two Democratic operatives for allegedly lying to the FBI. "The two cases," Josh Marshall writes "were mainly vehicles for airing tendentious conspiracy theories he couldn't prove and had no real evidence for. The actual cases were laughed out of court with speedy acquittals."
So now we have the GOP House's so-called "weaponization" committee which will put on a great show of trying to prove what Durham and Barr could not about the mythical "Deep State."
Look for it to blow up in Republican faces.