'Bombshell' Report: Durham Probed Trump Finances On Tip From Italian Authorities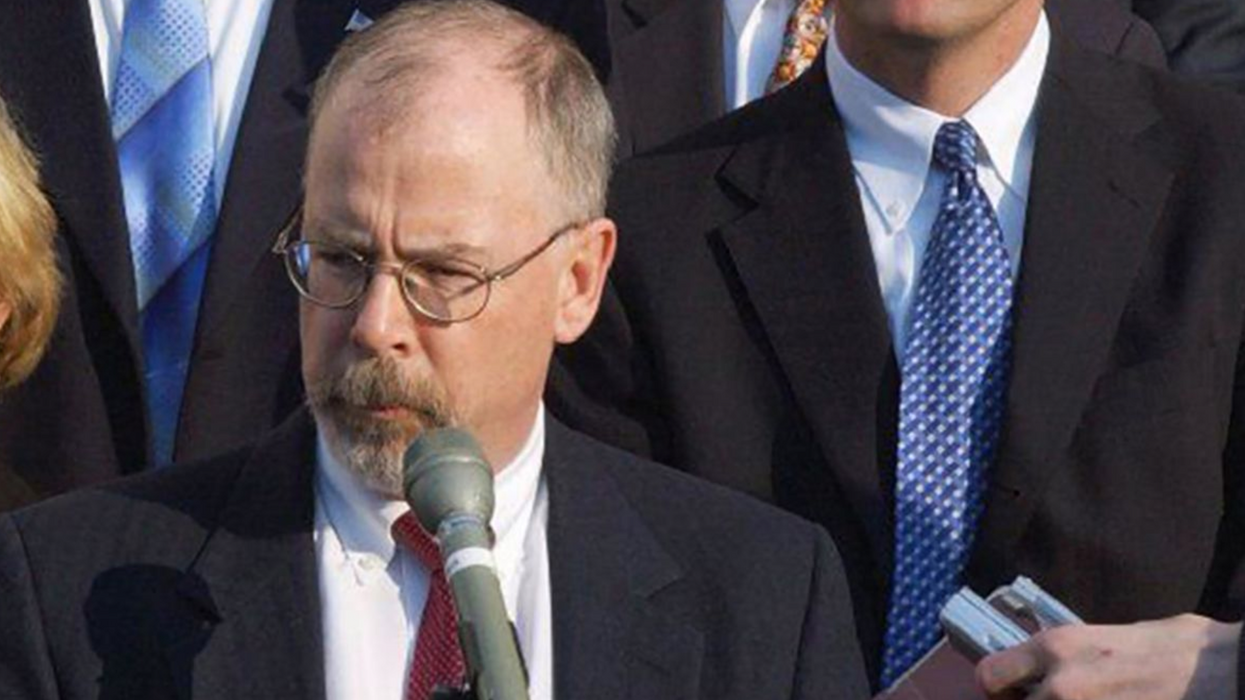 John Durham
Special Counsel John Durham, appointed by then-Attorney General Bill Barr, uncovered possible financial crimes by Donald Trump but made no attempt to prosecute them, The New York Timesrevealed in a massive, bombshell report published Thursday after a months-long investigation.
"Mr. Barr and Mr. Durham never disclosed that their inquiry expanded in the fall of 2019, based on a tip from Italian officials, to include a criminal investigation into suspicious financial dealings related to Mr. Trump. The specifics of the tip and how they handled the investigation remain unclear, but Mr. Durham brought no charges over it," the Times' Charlie Savage, Adam Goldman, and Katie Benner report.
The "potentially explosive tip linking Mr. Trump to certain suspected financial crimes" came during a trip Barr and Durham, his special counsel, took together. They "decided that the tip was too serious and credible to ignore."
But,"Mr. Durham never filed charges, and it remains unclear what level of an investigation it was, what steps he took, what he learned and whether anyone at the White House ever found out. The extraordinary fact that Mr. Durham opened a criminal investigation that included scrutinizing Mr. Trump has remained secret."
That's just one aspect of the Times' extensive and disturbing report.
It also reveals that there was little justification for Barr to install Durham as a special counsel to investigate what Trump wrongly maintained was an unjustifiable investigation into his ties to Russia.
In fact, the Times "found that the main thrust of the Durham inquiry was marked by some of the very same flaws — including a strained justification for opening it and its role in fueling partisan conspiracy theories that would never be charged in court — that Trump allies claim characterized the Russia investigation."
In another shocking revelation, the Times reports Durham "used Russian intelligence memos — suspected by other U.S. officials of containing disinformation — to gain access to emails of an aide to George Soros, the financier and philanthropist who is a favorite target of the American right and Russian state media."
The Times does not explain how Durham obtained the Russian disinformation.
"Mr. Durham used grand jury powers to keep pursuing the emails even after a judge twice rejected his request for access to them. The emails yielded no evidence that Mr. Durham has cited in any case he pursued."
Attorneys on Durham's team apparently had significant qualms with his actions, leading at least two to resign.
"There were deeper internal fractures on the Durham team than previously known," the Times reports. "The publicly unexplained resignation in 2020 of his No. 2 and longtime aide, Nora R. Dannehy, was the culmination of a series of disputes between them over prosecutorial ethics. A year later, two more prosecutors strongly objected to plans to indict a lawyer with ties to Hillary Clinton's 2016 campaign based on evidence they warned was too flimsy, and one left the team in protest of Mr. Durham's decision to proceed anyway. (A jury swiftly acquitted the lawyer.)"
BARR THREATENED NSA
The Times also reports that Attorney General Barr bought into Trump's false claims that there had been "no collusion" between the Trump camp and Russia.
Importantly, the Times states point-blank that the Mueller Report "detailed 'numerous links between the Russian government and the Trump campaign,' and it established both how Moscow had worked to help Mr. Trump win and how his campaign had expected to benefit from the foreign interference."
According to the Times' account, "soon after giving Mr. Durham his assignment," in May of 2019, "Mr. Barr summoned the head of the National Security Agency, Paul M. Nakasone, to his office. In front of several aides, Mr. Barr demanded that the N.S.A. cooperate with the Durham inquiry."
The NSA is a wholly separate entity from the Justice Department. It is an agency under the Defense Department and reports to the powerful Director of National Intelligence (DNI).
Barr apparently did not care, and, "repeating a sexual vulgarity, he warned that if the N.S.A. wronged him by not doing all it could to help Mr. Durham, Mr. Barr would do the same to the agency."
"Mr. Durham's team spent long hours combing the C.I.A.'s files but found no way to support the allegation" that the investigation into Trump and Russia was the result of some anti-Trump deep state operation.
Barr and Durham actually "traveled abroad together to press British and Italian officials to reveal everything their agencies had gleaned about the Trump campaign and relayed to the United States, but both allied governments denied they had done any such thing. Top British intelligence officials expressed indignation to their U.S. counterparts about the accusation, three former U.S. officials said."
The Justice Department's Inspector General's investigation found there was, in fact, sufficient cause for the department to have opened the Trump-Russia investigation, contrary to Barr's personal beliefs.
So he tried to have that finding removed from the final report.
The Times reports that "the broader findings contradicted Mr. Trump's accusations and the rationale for Mr. Durham's inquiry," which should have shut down what ultimately became Durham's four-year long investigation that netted almost nothing.
The DOJ Inspector General, Michael Horowitz, "found no evidence that F.B.I. actions were politically motivated. And he concluded that the investigation's basis — an Australian diplomat's tip that a Trump campaign adviser had seemed to disclose advance knowledge that Russia would release hacked Democratic emails — had been sufficient to lawfully open it."
So Barr tried to discredit Horowitz's report.
"Minutes before the inspector general's report went online, Mr. Barr issued a statement contradicting Mr. Horowitz's major finding, declaring that the F.B.I. opened the investigation "on the thinnest of suspicions that, in my view, were insufficient." He would later tell Fox News that the investigation began "without any basis," as if the diplomat's tip never happened."
Read the entire Times report here.
Reprinted with permission from Alternet.