Don Jr. Touts Populist Cred Because He Once Tended Bar In Aspen (VIDEO)
@next2godwin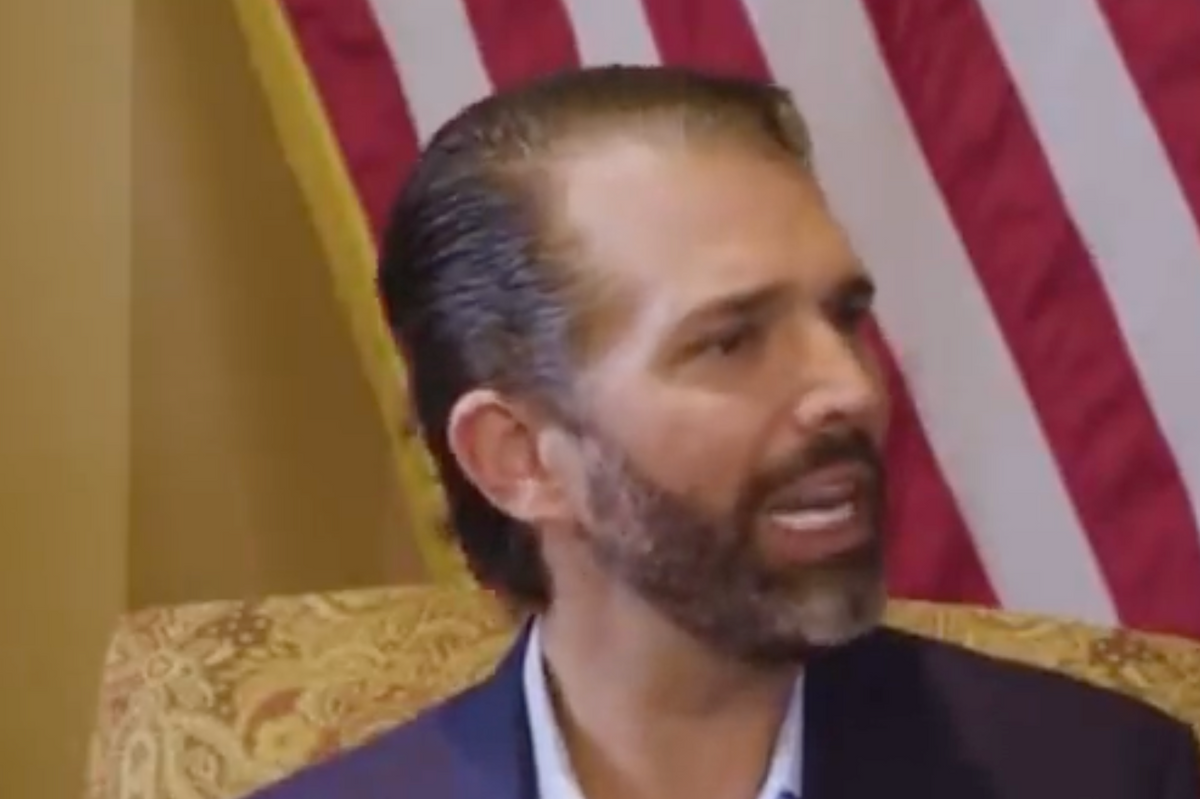 Donald Trump Jr., the first son of billionaire ex-President Donald Trump, suggests that he is more average American than political elite because he had worked minimum wage jobs — an experience he said could teach lawmakers the "hustle" culture.
In last week's second — and arguably most embarrassing — episode of the nascent far-right podcast Triggered With Don Jr., Trump Jr. sat down with House Speaker Kevin McCarthy (R-CA) to discuss a panoply of right-wing talking points, spread alt-right misinformation and conspiracy theories, and attack Democrats.
In a cringy portion of the show, the Trump Organization executive sought to validate his fear-mongering by claiming a connection with everyday Americans and their hustle, saying he once worked for tips.
"I understand where I come from and my background — I get it. But my father made sure I worked minimum wage jobs… I also worked for tips, which is something that's really important that everybody should understand," Trump Jr. told McCarthy, according to Newsweek.
Seeking to distance himself from the political elite in Congress by citing his supposed work experience, Trump Jr. added, "They've never actually had that hustle."

Trump Jr. has often brought up his bartender gig in Aspen, Colorado, in sit-downs with media outlets, recalling that he lived in a truck at the time.
According to Politico Magazine, though, the Trump son — who grew up in the ostentatious 53-room penthouse atop Trump tower, cared for by nannies and protected by bodyguards — moved to Aspen as a raging alcoholic "to keep the party going" and returned to New York a year later after "he grew tired of the mindless high life in Aspen."
The news outlet also reported that Trump Jr. had, during summers, tended to boats as a dock attendant in Atlantic City, New Jersey, and worked at Trump Organization construction sites while in high school.
Trump Jr. suggested that many in Congress can't connect with the constituents who elect them because the lawmakers lacked "so much" of the work experience he'd had.
"No one's ever had to make payroll. No one's signed the front of a check, as opposed to the back," Trump Jr., a millionaire, told McCarthy. "You always come to expect that not to exist in these offices."
Trump Jr., a culture war troll on Twitter, has repeatedly assailed Alexandria Ocasio-Cortez (D-NY) for her political views and frequently made fun of the Democrat's stint as a once-struggling bartender, portraying as suspicious her eventual rise to the People's House.
While McCarthy and Trump Jr. performatively recited right-wing lies on the podcast, the speaker suggested that impeaching Biden is on agenda for House Republicans, possibly in retaliation for Trump's impeachments for extorting Ukraine and inciting an insurrection on January 6, 2021.
"After watching what they did to your father about impeachment, using it politically, I'll never send use it politically, but that doesn't mean we won't use," McCarthy said. "We're going to investigate 'why is the border like that,' which could lead to an impeachment inquiry."
Twitter users ridiculed the Trump spawn for peddling populist commentary and offering faux menial job experience as his connection to the struggles of regular Americans and for repeatedly talking over at a point during the show in which both men struggled to outdo each other in praising Trump.