Johnson: U.S. To 'Stem Tide' Of Child Migrants
@AFP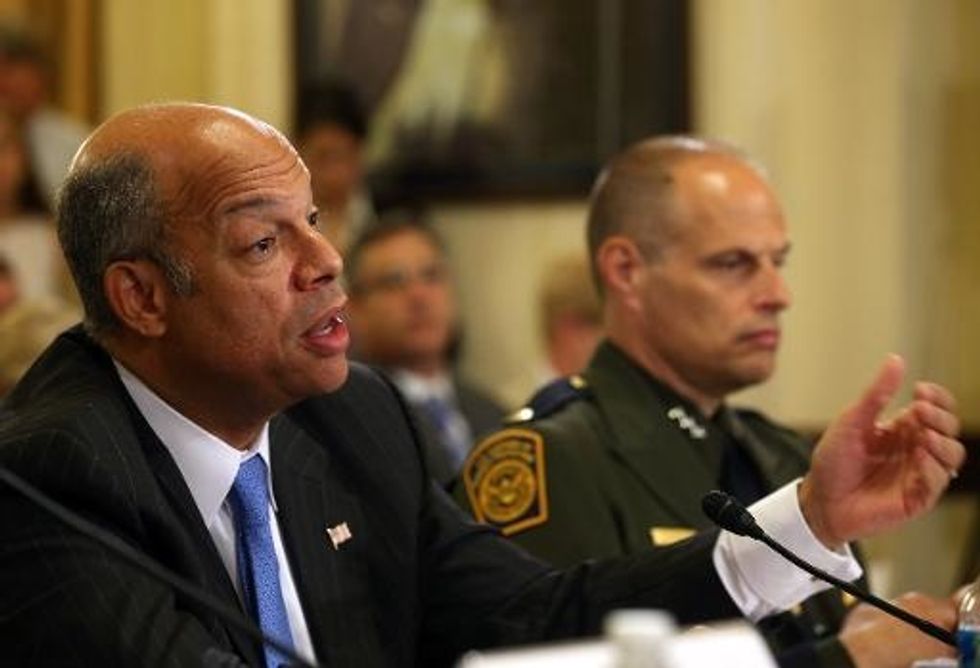 Washington (AFP) – U.S. authorities are increasing deportations of illegal migrants along the U.S. border, as a top Obama administration official defended the White House's handling of a flood of undocumented children.
Secretary of Homeland Security Jeh Johnson told NBC television's Meet the Press that officials have reduced the "turnaround times" for migrants illegally entering the country along the Mexican border.
"I believe we're going to stem this tide," said Johnson, who added that President Barack Obama's administration is also intensifying efforts to discourage migrants, including thousands of unaccompanied children, from making the dangerous and difficult overland journey to the United States.
"There are no free passes once you get here" for those entering the U.S. without authorization, Johnson warned.
"Our message to those who come here illegally: our border is not open to illegal migration. There is a deportation proceeding that has commenced against illegal migrants — including children," the domestic security chief said.
The immigration issue has gained new urgency in the United States after 52,000 unaccompanied minors crossed illegally into the U.S. via America's southern border since October.
President Barack Obama is due to travel to Texas later this week, but Johnson would not say whether a visit to the state's border areas is on his agenda.
Meanwhile, Guatemala, El Salvador and Honduras — from which most of the child influx is coming — agreed to launch a multimedia and church-centered campaign against youths migrating illegally to the United States, a Salvadoran foreign ministry spokesman said.
And Mexican President Enrique Pena Nieto and his Guatemalan counterpart Otto Perez said they will launch a program on Monday aimed at tightening control over Central American migrants, getting people of all ages moving through Mexico in the federal system.
Evasion is currently rampant.
Representative Henry Cuellar said holes in U.S. law were to blame for the massive influx of migrants into his state of Texas, especially from Central America.
"If you're a Mexican, you get sent back — mother, kids, adults, you're sent back," the Democratic lawmaker said.
"But if you're a noncontiguous country like the Central American countries, then the law says that you are going to be held by (the Department of) Health and Human Services, and they're going to place you," Cuellar told CNN's State of the Union.
"That's the law that we need to change right now."
Cuellar accused the White House of being caught flat-footed by the crisis.
"It's not the first time we have seen a surge," Cuellar said. "The administration should have been ready."
Obama's Republican foes said the administration's policies encouraged the influx.
"What has to be addressed is the security of the border. You know that. I know that. The president of the United States knows that," said Texas Governor Rick Perry, speaking to ABC television's This Week.
"I don't believe he particularly cares whether or not the border of the United states is secure. And that's the reason there's been this lack of effort, this lack of focus, this lack of resources."
Senator Lindsey Graham said the administration was guilty of sending the wrong signals to migrants in Central America.
"This is a specific problem created by the impression that if you get to America, you can stay," said Graham.
"We've got to turn that impression around, send these children back home, and tell the countries in question if you don't keep them, we're going to cut all aid off."
Overwhelmed by the massive waves of mostly lone child migrants crossing from Mexico into Texas and Arizona, the U.S. government has been forced to transfer some of them to detention centers elsewhere, including in California.
The tense debate took a contentious turn in recent days, when residents of a California town refused to allow three busloads of undocumented migrants from Texas to relocate there.
AFP Photo/Mark WIlson