Conspiracist Alex Jones Tries To Scrub Pizzagate Content From Infowars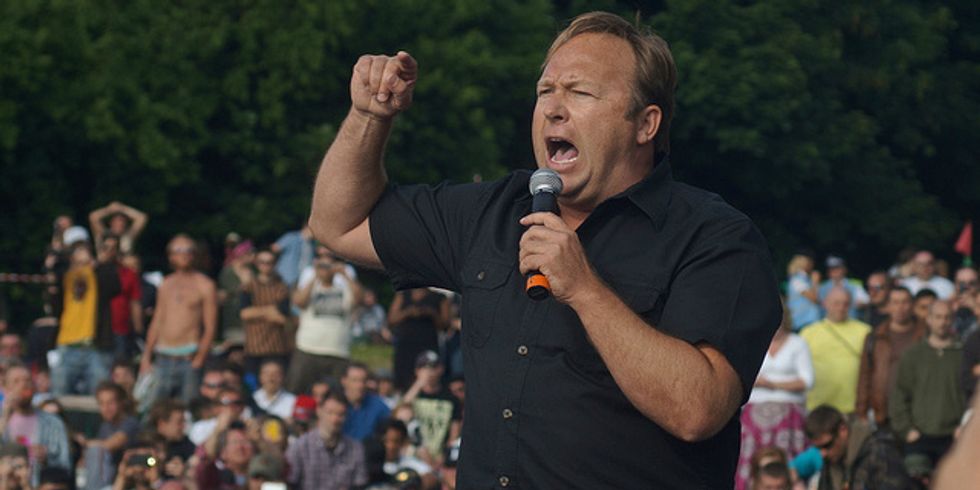 Reprinted with permission from Media Matters. 
Conspiracy theorist Alex Jones is scrubbing online content pushing the false and dangerous conspiracy theory that Hillary Clinton's campaign trafficked children through a D.C. pizzeria. A man who recently entered the pizzeria with a rifle and fired shots reportedly shared a piece of Jones' content before the shooting; the video he shared is still on the website.
Jones is a radio host who has claimed that the government perpetrated the 9/11 attacks and the tragedies at Columbine, Oklahoma City, Sandy Hook, and the Boston Marathon. Jones has also repeatedly accused the Clintons of murder. He has been elevated from the fringes to the mainstream by President-elect Donald Trump, who appeared on his show and praised his "amazing" reputation. Trump adviser Roger Stone is also a regular Jones guest and contributor.
Jones and his Infowars website have promoted the false conspiracy theory dubbed "Pizzagate," which alleges that top Clinton associates such as campaign manager John Podesta are trafficking children through the Comet Ping Pong restaurant.
The false claims took a dangerous turn when Edgar Maddison Welch fired an assault rifle inside the pizzeria because he was trying to "self-investigate" the conspiracy theory. FBI special agent Justin Holgate stated in a criminal complaint that Welch said he sent a video on the night of December 1 with the message "Watch PIZZAGATE: The Bigger Picture on YouTube" to a friend before the shooting:
"Pizzagate: The Bigger Picture" is the headline Infowars used for a December 1 article — still online — promoting a video from Infowars producer Jon Bowne that pushes the Pizzagate conspiracy theory. Jones tweeted the headline on December 1. The headline was also used on YouTube by a non-Infowars account to promote the Infowars video.
Welch also toldThe New York Times that he listens to Jones, and he reportedly liked Infowars on Facebook.
Jones and Infowars appear to be scrubbing commentary about Pizzagate. Jones' YouTube channel posted a November 23 video headlined "Pizzagate Is Real: Something Is Going On, But What?" The video has since "been removed by the user," though it's not clear when.
The video has been re-uploaded or re-upped by other toxic conspiracy theorists (some of whom speculated about why Jones deleted it). During the video, Jon Bowne states that Clinton allies are "using a code to communicate child sex trafficking as casually as ordering a pizza." The video then states that Comet Ping Pong "may be competing for the lucrative Washington, D.C., pedophile market right out in the open."
Jones promoted the video on his Facebook account but has since deleted the post. Infowars also deleted a November 27 article by Bowne that promoted the video.
While Jones has removed content related to pizzagate, his website still contains false articles promoting the conspiracy theory. For instance, Kit Daniels posted a November 5 piece headlined "Law Enforcement Begs World: Read Hillary Emails To Find Child Rape Evidence; Hillary Linked To Child Sex Ring, Emails Suggest." The article suggested that John Podesta was potentially involved in "child molestation" and "child pornography" because his hacked email account contained "strange" references to "pizza":
Jones has been attempting to distance himself from his clear promotions of pizzagate. Yet Jones' own content — scrubbed or otherwise — proves that he can't run away from it.