Chef Andrés Mobilizing Relief For Ida And Afghan Evacuees
@TUSK81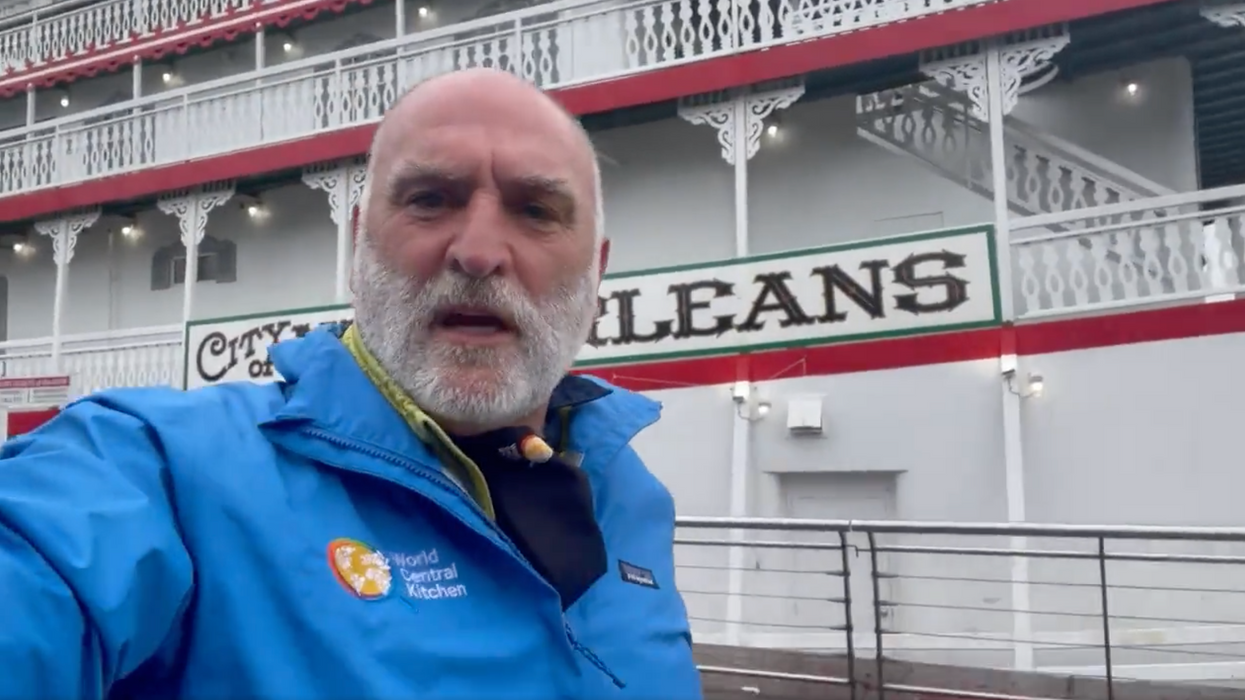 Screenshot from José ndrés' Twitter (@chefjoseandres)
Reprinted with permission from Daily Kos
World-famous chef and humanitarian José Andrés says that his World Central Kitchen organization has three kitchens set up in Louisiana and is prepared to distribute 100,000 meals in Ida's aftermath. The hurricane—one of the strongest to ever hit the mainland U.S.—has left more than one million residents without power.
"Tomorrow morning as soon as it is safe our teams will go out, will start making meals, will start delivering to the different places that will be in need to do that," the chef told CNN on Sunday evening. "But more important: we need to be planning ahead, not only for days, but for weeks." The chef said a focus of World Central Kitchen would be to ensure both residents in New Orleans and across the state are fed.
A tweet from World Central Kitchen early Sunday morning showed relief workers and volunteers preparing hundreds of sandwiches at the New Orleans Culinary & Hospitality Institute. "Entering the storm with more supplies," replied Kyle Pounders, chef and owner of Excaliburger in Arkansas. That same morning, José Andrés said that "after the storm passes, we can do what we always do: go to other cities and very quickly fire up the kitchens that we have in position there."
The chef traveled to New Orleans following humanitarian efforts in Haiti, where an Aug. 14 earthquake killed 2,000 people and left thousands more homeless. "WCK's roots began in Haiti in 2010," the group's website said. "In January of that year, the country was hit with an absolutely devastating earthquake that killed hundreds of thousands of people—and a decade later communities in Haiti are still recovering."
Much of that sentence could have easily have been written today, as the nation struggles to recover from both political instability following President Jovenel Moïse's assassination in July, and the 7.2 earthquake last month. "With a team already in Haiti, additional WCK relief workers began arriving in the country the day after the quake," the Miami Herald reports. A kitchen set up in Les Cayes has been feeding more than 10,000 people daily. The report said the organization hopes to soon double that number.
"This is really tough; it's tough in a different way than from the 2010 earthquake, which caused such massive devastation in Port-au-Prince," World Central Kitchen CEO Nate Mook told the Miami Herald. "Here, the impact is spread so far out in these rural communities that are very hard to reach with small pockets of people in need … But we are going to be here as long as we're needed."
World Central Kitchen has also been providing meals to newly arrived Afghan refugees at Dulles Airport in Virginia. Mook told WJLA on Friday that some refugees evacuated from Afghanistan haven't eaten for as long as two days. "It's a very long journey as they've gone from a number of bases, getting processed and then finally arriving at Dulles Airport," he said in the report. In a tweet, José Andrés said that "[w]hat's happening in Afghanistan breaks my heart … but the outpouring of support from people across America helps glue it back."