As Journalists, Let Us Not Tiptoe Around Trump, The Nominee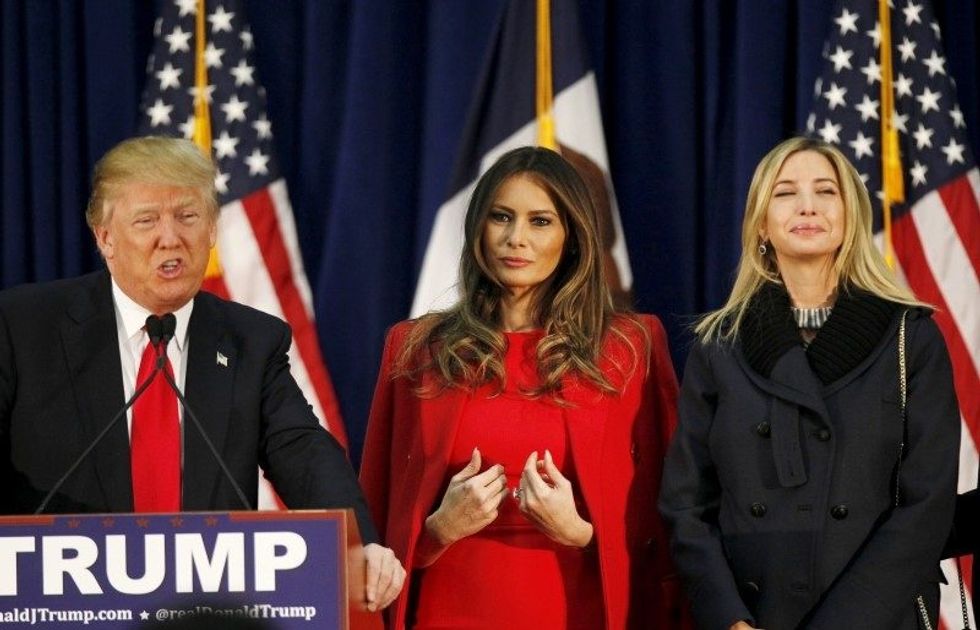 Donald Trump is the presumptive Republican nominee for president, and now journalists must decide how to cover him.
How do we reconcile the carnival act he's been with the seriousness of what is now at stake?
Do we cast him as a man equal to the gravitas of the position he seeks instead of the guy, for example, who proudly harangued President Barack Obama for proof that he was born in Hawaii?
Do we cover him as the contender with a suddenly measured tone without also reminding voters of his long habit of misogynist commentary? For another example, commentary such as this about Rosie O'Donnell: "I'd look her right in that fat, ugly face of hers, I'd say, 'Rosie, you're fired.'" Or this, about Megyn Kelly after she dared remind him during the first Republican debate that he has called women he doesn't like "fat pigs," "dogs," "slobs" and "disgusting animals": Kelly had "blood coming out of her wherever."
"Women," Trump has said, "you have to treat them like sh-t."
Yes, I've written about this before. And yes, I will continue to write about it. How can we possibly pretend Trump never said stuff like this — that it doesn't really matter — and expect any thinking American to take us seriously?
I'm going to watch this coverage with the fierce focus of a hound on the hunt, and I am confident that I will not be the only columnist or the only woman to do so. As I've written a number of times in recent months, this is not the misogyny of the 2008 campaign, but only because so many of us women are older now and we are so done with this.
This morning, by the way, I listened as several male panelists on MSNBC's "Morning Joe" talked about how Hillary Clinton is so unlikable compared with garrulous Trump. I heard this on satellite radio as I drove to work. I don't recommend doing that if you want to have any faith in Beltway punditry or if you have an interest in driving within the lines. To quote my friend Joanna Kuebler, it's as if they start their day with a heaping bowl of testosteroni.
It is one thing to cover Trump as the Republican nominee. It is quite another to pretend that he isn't the same man who has repeatedly used the language of misogyny — and racism and xenophobia, too. He refused to rebuke an endorsement from former Ku Klux Klan grand wizard David Duke. He told MSNBC's Chris Matthews that women should "face some sort of punishment" for getting legal abortions. He said Muslims should be banned from entering our country. He has a history, this man, this billionaire reality TV star, and it must follow him every day of this presidential race.
As I pointed out in a public post on Facebook earlier this week, I understand the challenges of reporting about Trump, one of which is to avoid appearing as if we're punishing him for hating us. He openly disdains the media and enjoys inciting crowds to mock journalists at his rallies. We tread a fine line in describing his behavior without looking as if we are taking it personally.
Add to that problem some editors who can be too quick to temper their reporters' coverage to avoid another avalanche of outrage from Trump fans. This tentativeness chips away at the sharp edges of journalism while accomplishing nothing in the way of placating our critics. A person who loves Trump has no use for us anyway. Why are we worried about defending the truth to people who've decided they're so over that?
I ask that we journalists not tiptoe around the obvious hallmarks of who Donald Trump is. He may attempt to dial back the rhetoric, but that doesn't change who we know him to be.
Connie Schultz is a Pulitzer Prize-winning columnist and professional in residence at Kent State University's school of journalism. She is the author of two books, including "…and His Lovely Wife," which chronicled the successful race of her husband, Sherrod Brown, for the U.S. Senate. To find out more about Connie Schultz (con.schultz@yahoo.com) and read her past columns, please visit the Creators Syndicate Web page at www.creators.com.
COPYRIGHT 2016 CREATORS.COM
Photo: U.S. Republican presidential candidate Donald Trump speaks as his wife Melania (C) and daughter Ivanka listen at a campaign rally on caucus day in Waterloo, Iowa February 1, 2016.   REUTERS/Rick Wilking