Judge Blocks Obama Policy To Defer Deportation Of Millions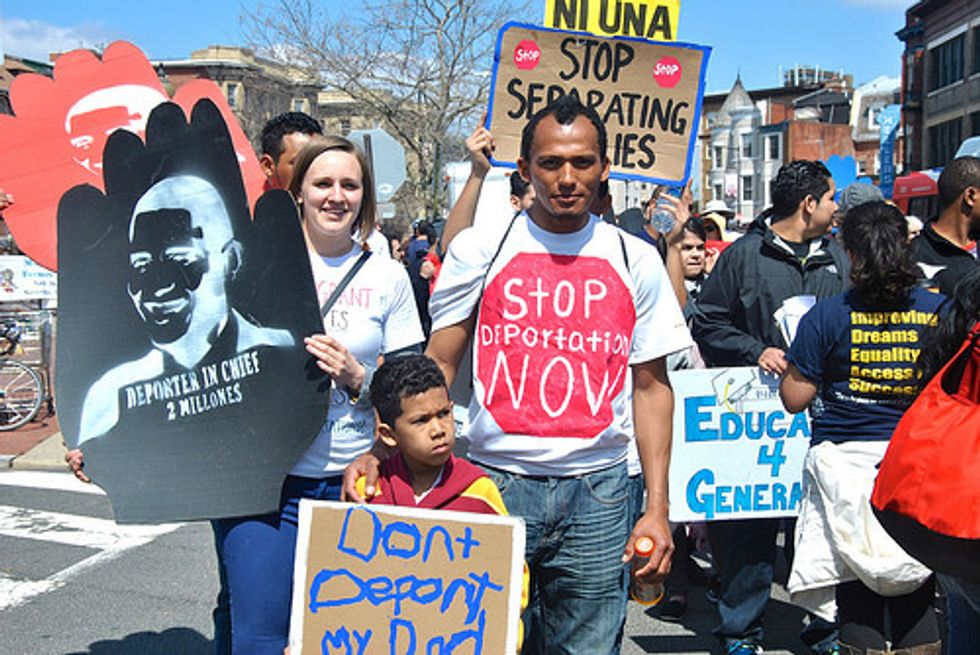 By Molly Hennessy-Fiske and Christine Mai-Duc, Los Angeles Times (TNS)
HOUSTON — A federal judge in South Texas issued an injunction Monday temporarily blocking a program President Barack Obama announced in November that would defer deportation for about 5 million immigrants living in the United States illegally.
The injunction and an accompanying 123-page order issued by U.S. District Judge Andrew S. Hanen in Brownsville bar federal immigration officials from implementing the deferred action program for parents of lawful permanent residents, or DAPA, and expansions to the deferred action for childhood arrivals, or DACA.
Republican Texas Governor Greg Abbott tweeted praise for the order late Monday night, saying it "stops the president's overreach in its tracks."
"We live in a nation governed by a system of checks and balances, and the president's attempt to bypass the will of the American people was successfully checked today," Abbott wrote.
After the White House and the GOP couldn't reach agreement on comprehensive immigration reform, Obama announced that he would act on his own and used his executive authority to defer deportation for about 4.7 million immigrants illegally in the United States.
DAPA includes more than 4 million who have lived in the United States for at least five years and are the parents of U.S. citizens or legal permanent residents.
Obama also expanded DACA, which allows young people brought into the United States as children to apply for deportation deferrals and work permits.
The White House did not immediately respond to requests for comment that were made after midnight.
Led by Texas, a coalition of 26 states promptly sued, arguing that Obama had overstepped his constitutional authority by acting without congressional approval. The coalition is composed mostly of southern and Midwestern states, including Alabama, Georgia, Idaho and Indiana.
The administration has argued that Obama acted within his constitutional powers, a position supported by four lawyers who formerly served as general counsel to the immigration agency.
"This injunction makes it clear that the President is not a law unto himself, and must work with our elected leaders in Congress and satisfy the courts in a fashion our Founding Fathers envisioned," Texas Attorney General Ken Paxton said in a statement late Monday.
Don Reay, executive director of the Texas Border Sheriffs Coalition, called it "a very good decision."
"This is something that should be handled legislatively — it's too big of an issue for one person to dictate it," Reay said, adding that he hopes the decision will "make Congress realize they need to start doing something — they need to work together. Maybe this will precipitate something, not further the chasm."
Supporters of the president's immigration policies noted that the case is expected to be appealed.
"We're obviously disappointed," said Nora Preciado, staff attorney with the Los Angeles-based National Immigration Law Center. "We also know that this is only the first step in a long legal battle and we remain confident that in the end, the expanded DACA and DAPA programs will go into implementation. We remain confident the president has acted within his authority and is on solid legal ground."
The president has been supported by about a dozen states led by Washington state Attorney General Bob Ferguson. In addition, groups representing cities have filed friend-of-the-court briefs supporting Obama. The mayoral backing included the country's largest five cities, New York, Los Angeles, Chicago, Houston and Philadelphia.
___
(Staff writers Michael Muskal in Los Angeles and Kathleen Hennessey in Washington contributed to this report.)
Photo: ndlon via Flickr