Judge Overturns Texas Ban On Gay Marriage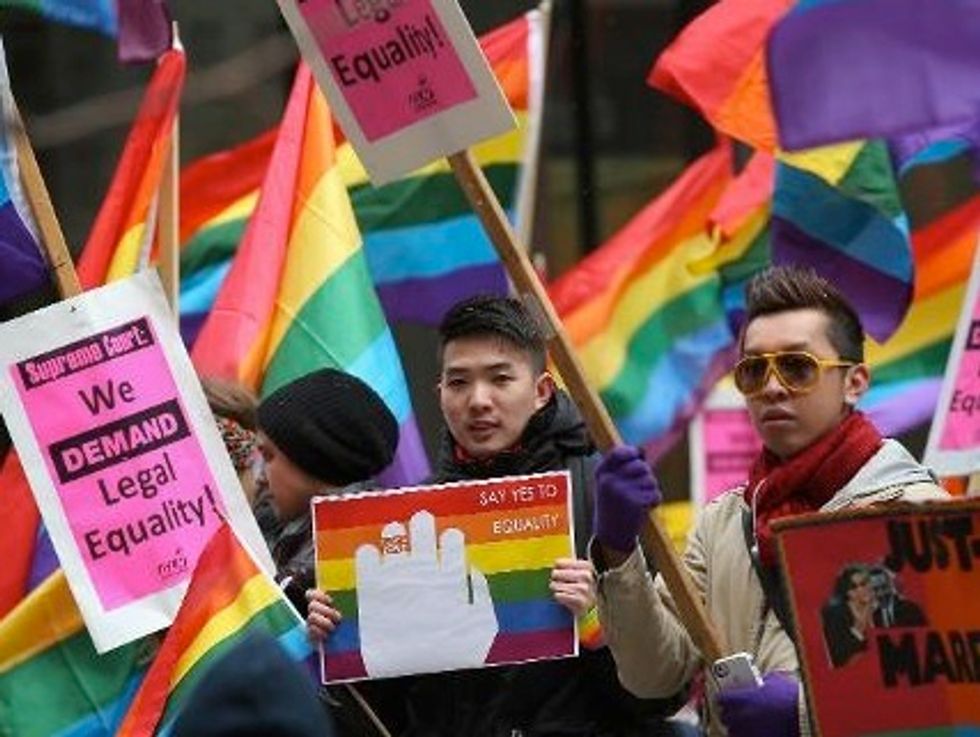 By Chuck Lindell, Austin American-Statesman
AUSTIN, Texas — The Texas ban on same-sex marriages is unconstitutional, a federal judge in San Antonio ruled Wednesday.
U.S. Judge Orlando Garcia issued an injunction barring Texas from enforcing a law and constitutional amendment that prohibit same-sex couples from marrying and ban the state from recognizing same-sex marriages that were legally performed in other states.
There will be no rush to the altar in Texas, however. Garcia stayed his ruling, delaying its implementation while Texas officials appeal to the 5th U.S. Circuit Court of Appeals, which oversees courts in Texas, Louisiana and Mississippi.
"Without a rational relation to a legitimate government purpose, state-imposed inequality can find no refuge in our United States Constitution," Garcia, appointed by President Bill Clinton in 1994, said in a 48-page order.
Garcia joins federal judges who have voided gay-marriage bans in Utah, Oklahoma and Virginia, ruling that the prohibitions unfairly demeaned and stigmatized gay couples in violation of the U.S. Constitution's guarantee of equal protection under the law. Those rulings also were stayed while appeals continue.
In narrower rulings along the same equal-protection lines, U.S. judges recently ordered Kentucky to recognize same-sex marriages legally performed in other jurisdictions and forced Ohio to recognize out-of-state same-sex marriages on death certificates.
Lawsuits are pending in about 20 states that ban gay marriage, including Michigan, where a federal court trial is underway over a constitutional amendment that limits marriage to opposite-sex couples.
Seventeen states and the District of Columbia allow same-sex marriages.
In Texas, Garcia rejected arguments from state Attorney General Greg Abbott's office, which argued that each state has the right to define marriage as best fits the traditions of its citizens, that traditional marriage best supports the state's interest in promoting responsible procreation and child rearing, and that same-sex marriage is a recent innovation that cannot be seen as a fundamental right that must be protected by the courts.
The Texas ban on same-sex marriage, passed into law in 2003 and added to the Texas Constitution by 76 percent of voters in 2005, also is being challenged by two federal lawsuits in Austin that are in the early stages of litigation.
The San Antonio lawsuit was filed by Cleopatra De Leon and Nicole Dimetman of Austin, who want Texas to recognize their 2009 marriage in Massachusetts, and Vic Holmes and Mark Phariss of Plano, who have been together for 16 years and wish to be married in Texas.
Like the legal challenges in other states, their lawsuit relied heavily on last summer's U.S. Supreme Court ruling that overturned the federal Defense of Marriage Act, enacted in 1996 to limit marriage, under federal law, to the union of one man and one woman.
Writing for the 5-4 majority in U.S. v. Windsor, Supreme Court Justice Anthony Kennedy said the law, known as DOMA, violated the core constitutional principle that people are entitled to equal protection under the law.
DOMA's main purpose was to demean and stigmatize homosexuals, relegating them to second-class status and humiliating the children they are raising, Kennedy wrote, concluding that there can be no legitimate government purpose for a law intended to "disparage and to injure."
In a blunt dissent, Justice Antonin Scalia warned that the ruling would lead to inevitable attacks on similar state laws.
"By formally declaring anyone opposed to same-sex marriage an enemy of human decency, the majority arms well every challenger to a state law restricting marriage to its traditional definition," Scalia wrote.
The first lawsuits were filed weeks later.
AFP Photo/Scott Olson