Judiciary Committee Summons Former White House Counsel McGahn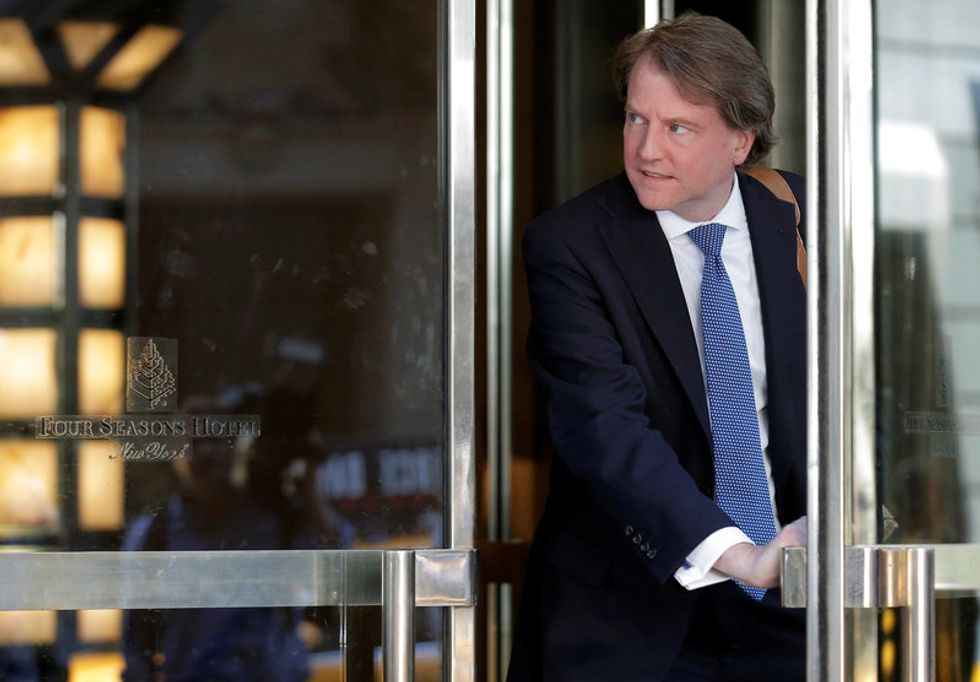 When Trump ordered Don McGahn to fire special counsel Robert Mueller, McGahn threatened to quit his job as White House counsel because of the "crazy shit" Trump asked him to do, according to the Mueller report.
Now, Congress wants to hear from McGahn personally about Trump's efforts to obstruct justice.
Rep. Jerry Nadler (D-NY), chair of the House Judiciary Committee, issued a subpoena on Monday to McGahn — who started cooperating with Mueller in August of 2018 and formally departed the Trump administration in October — for both documents and testimony related to Trump's obstruction attempts.
McGahn "is a critical witness to many of the alleged instances of obstruction of justice and other misconduct described in the Mueller report," Nadler said in a statement about the subpoena.
The subpoena requires the former White House counsel to turn over relevant documents to the Judiciary Committee no later than May 7, and compels his testimony before the committee on May 21.
Nadler said McGahn's testimony will "help shed further light on the President's attacks on the rule of law, and his attempts to cover up those actions by lying to the American people and requesting others do the same."
McGahn was a key witness during Mueller's investigation. According to the Mueller report, Trump ordered McGahn to fire Mueller sometime in 2017. Trump called him twice, saying, "Mueller has to go." McGahn refused, and was prepared to resign from his position, telling one colleague he was doing so because Trump kept asking him to do "crazy shit."
In March, Nadler sent a letter to McGahn and 80 other individuals and entities requesting information related to Trump's activities. The subpoena legally compels McGahn to both turn over those requested documents, and to testify before the committee.
Nadler is lining up a series of high-profile hearings during the month of May to build the case of obstruction against Trump. Attorney General William Barr is expected to testify on May 2, and Nadler is also in contact with the Justice Department to arrange a time for Mueller himself to publicly testify before the end of May.
Even in its redacted form, the Mueller report, released last Thursday, "outlines substantial evidence that President Trump engaged in obstruction and other abuses," Nadler says.
Nadler added that it is the role of Congress, as a co-equal branch of government, to hold Trump accountable.
Hearing from key witnesses — including but not limited to McGahn, Barr, and Mueller — is all a part of Congress fulfilling this constitutional duty.
Published with permission of The American Independent. 
IMAGE: Former White House counsel Donald McGahn, at the Four Seasons Hotel in New York City, U.S., June 9, 2016. REUTERS/Brendan McDermid