Justice Department Seeking To Block Trump Critics On Twitter
@Snipy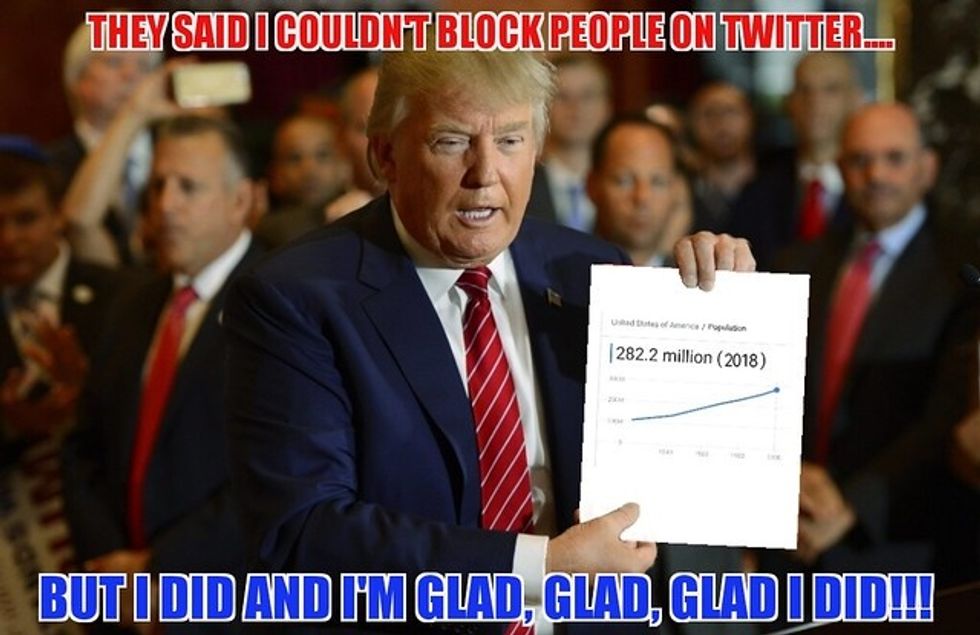 A federal appeals court told Trump he couldn't block users on Twitter, but he isn't going to take no for an answer. He's now appealed the decision to the entire 2nd Circuit Court of Appeals, asking the full court to reconsider the case.
In July, a three-judge panel ruled that the plaintiffs in the case had a First Amendment right to engage in speech — via Twitter — with Trump on Twitter, upholding an earlier district court decision. Though Trump's Twitter handle, @realDonaldTrump, pre-dates his election, he uses it as a vehicle for official pronouncements, including announcing the firing of officials and imposing the ban on transgender people serving in the military.
Because of that, people have the right to interact with him, even if they disagree with him. Put another way, the government couldn't ban a newspaper that was critical of Trump or stop someone from criticizing him by protesting outside one of his rallies because people have the right to criticize and protest. They even have the right to try to make sure the president himself is aware of those criticisms.
But Trump hates that idea. He wants his Twitter to be a place where he can air his grievances, bully others, and scream about fake news. But he can't stand anyone talking back to him in anything but a flattering way.
Because of that, the Department of Justice (DOJ) is spending taxpayer money to argue, confusingly, that they must defend Trump's Twitter account because his account "is his personal account and will remain his handle after he leaves office."
This is called trying to have it both ways. On the one hand, the government is arguing that this is a matter of "exceptional importance" to the government — in other words, that they're representing Trump in his official capacity as president. On the other hand, the very crux of their argument is that they need to represent Trump so he can keep his blocklist for his personal Twitter account once he's no longer president.
The DOJ absurdly compared Twitter to Trump's "personal residence" and argued that Trump could certainly block someone from his house, even if he gave official statements there.
Of course, Twitter is not a house. It's a public platform, and it's one that Trump is using for political communication. Trump has also called for Twitter to be more tightly regulated, making it more akin to a public utility like electric companies. That argument may come back to haunt him. It's awful hard to say that on the one hand Twitter is a vehicle available to everyone and must be regulated to allow all viewpoints, and on the other hand, argue the president is so delicate he must be shielded from competing viewpoints.
In the end, this is just the behavior of a bully. Trump can dish it out, but he can't take it.
Published with permission of The American Independent.