Justice Department To Investigate Chicago Police: Source
@reuters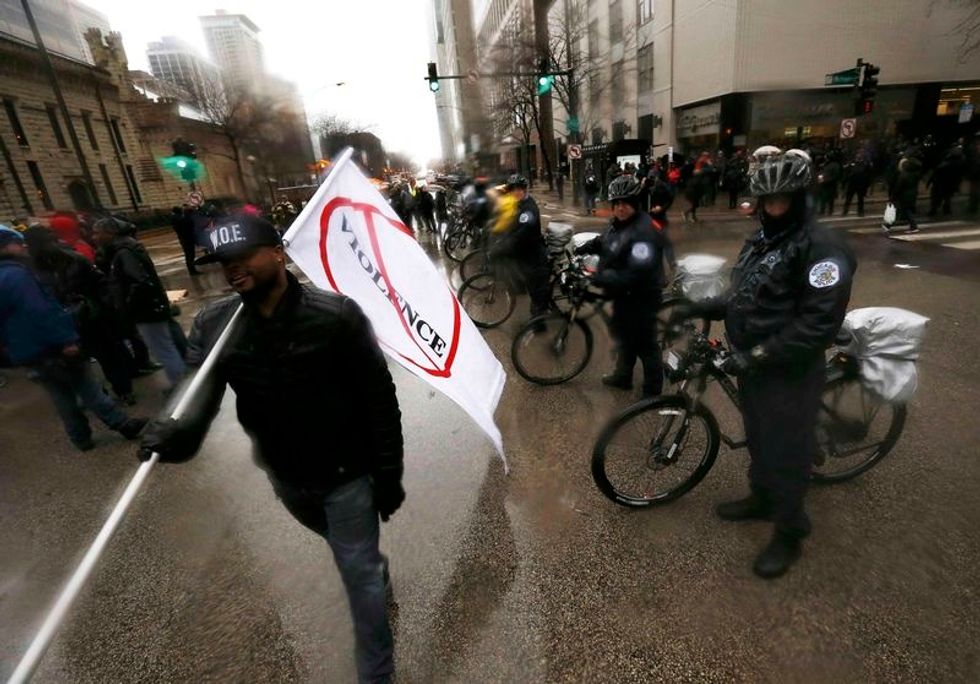 By Julia Edwards
WASHINGTON (Reuters) – The U.S. Justice Department will open an investigation into the Chicago Police Department after protests over how it handled the case of a black teenager shot by a white police officer, a person familiar with the matter said on Sunday.
The "patterns and practices" investigation will determine whether the department systematically violates constitutional rights. The source, who spoke on condition of anonymity, would not elaborate on the investigation.
The Chicago Police Department said it was expecting to release a statement regarding the investigation later on Sunday.
The civil probe follows murder charges filed against the police officer in the October 2014 killing. The shooting was caught on videotape, which was not released until the charges were filed last month.
Officer Jason Van Dyke was charged with first-degree murder in the death of 17-year-old Laquan McDonald, who was shot 16 times. Shortly after that, the city released a patrol car video of the shooting. Van Dyke fired all the shots.
Protests erupted afterward in the third most populous U.S. city, culminating in the firing on Tuesday of Police Superintendent Garry McCarthy by Mayor Rahm Emanuel. Critics of the mayor and local prosecutor have complained it took too long for the McDonald tape to be released and for charges to be filed.
The release of the video comes at a time of heightened debate in the United States over police use of lethal force, especially against black people. Over the past year, protests over the issue have rocked a number of U.S. cities.
A patterns and practices investigation does not criminally charge individuals, but often results in a consent decree between a police department and the Justice Department to agree to new practices and accountability measures.
A lawyer for the McDonald family and a spokesman for Emanuel were not immediately available for comment regarding the federal investigation.
The Justice Department launched an investigation in May into the Baltimore Police Department's use of force and whether there were patterns of discriminatory policing after the death of Freddie Gray, a 25-year-old black man, who suffered fatal injuries while in police custody.
A Justice Department investigation of police in Ferguson, Missouri, where a white officer fatally shot an unarmed black teenager last year, concluded in March that the department routinely engaged in racially biased practices.
The investigation of the Chicago Police Department was requested by the Illinois attorney general.
(Reporting by Julia Edwards and Brendan O'Brien; Writing by Doina Chiacu; Editing by Jonathan Oatis, Alan Crosby and Peter Cooney)
A demonstrator carrirs a flag under the watchful eye of Chicago Police Department officers as they gather to protest last year's shooting death of black teenager Laquan McDonald by a white policeman and the city's handling of the case at an intersection in the downtown shopping district of Chicago, Illinois, November 27, 2015. REUTERS/Jim Young