Justice Dept Data Shows Trump Lied About Terrorism And Immigrants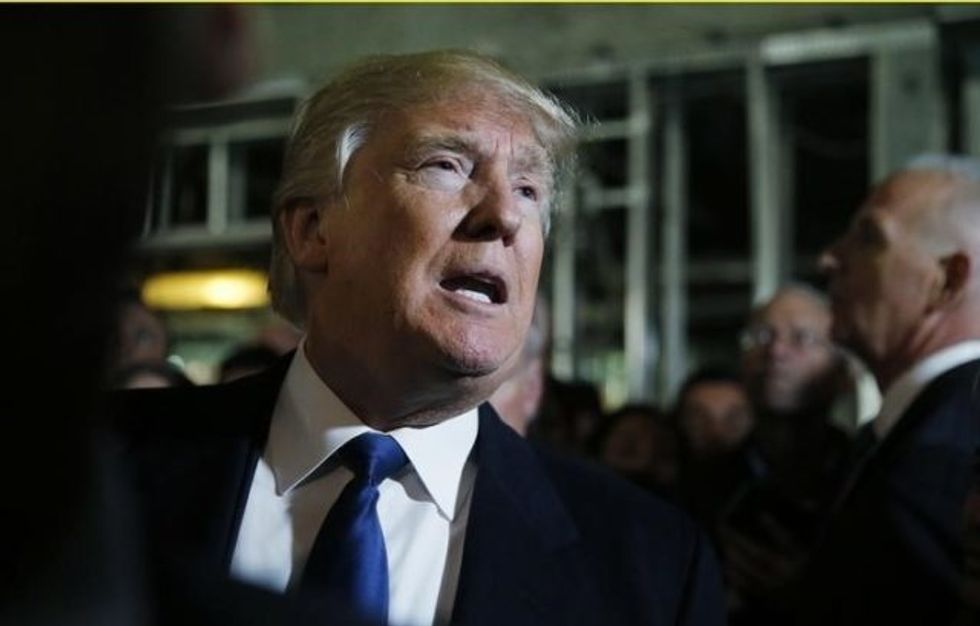 Reprinted with permission from Shareblue.
It's no secret that Trump lies a lot, about matters big and small.
There are daily newspaper sections dedicated to tracking his lies, countless articles devoted to explaining and debunking his lies, entire books focused on discussing his history of lies, a Twitter hashtag created to catalogue his lies, a raging debate about what to call his lies — and as of this week, there's now an official government statement confirming that he lies.
In a letter responding to a Freedom of Information Act (FOIA) request and subsequent lawsuit filed by Lawfare's editor in chief Benjamin Wittes, the Department of Justice (DOJ) admitted that Trump lied to Congress just a month after taking office, during his first speech before a joint session.
In the Feb. 28, 2017, speech, Trump falsely claimed that, according to DOJ data, "the vast majority of individuals convicted of terrorism and terrorism-related offenses since 9/11 came here from outside of our country."
At the time, Trump was trying to sell his Muslim ban to the American public after losing his first series of court battles over the bigoted policy. Since then, he has peddled the same lie repeatedly, often in an effort to gin up support for his agenda. For example, this lie, and others like it, have been used to justify the cruel practice of separating families at the border under the guise of national security.
When Wittes heard Trump make the claim the first time, he was instantly suspicious for several reasons. As he noted, the DOJ doesn't keep the type of data on the birthplace of criminal defendants that would be needed to come up with the statistic Trump cited.
Furthermore, Wittes wrote, the number of domestic terrorism cases — including white supremacist violence, anti-abortion terrorism, and militia violence — is not reflected in Trump's claim, and it's unlikely that career DOJ professionals would produce such a misleading statistic.
After two of his colleagues conducted a three–part analysis that disputed Trump's assertion about the terror threat posed by people coming here from outside of the U.S., Wittes concluded "that Trump was lying about the supposedly high number of terrorism convictions involving foreign-born defendants."
"And just as important, he was probably also lying about whether career Justice Department officials at NSD [National Security Division] — who are not the kind of people to distort facts for partisan ends — provided him with any data to support his claim," Wittes wrote.
To figure out what was going on, Wittes filed two FOIA requests for "any records supporting the president's claim before Congress, along with any records 'relating to the nationality or country of origin of individuals convicted of terrorism-related offenses'; correspondence between the Justice Department and the White House related to that data; and correspondence related to preparation for and reaction to the February 2017 joint address."
When the DOJ failed to respond, Wittes filed a lawsuit for more information. In February 2018, he received 57 pages of material that revealed, among other things, that the White House had ignored explicit instructions from the DOJ about the types of terrorism convictions included in the dataset from which Trump's statistic was drawn. Still not satisfied that he had gotten the answers he needed, Wittes filed another request for additional information.
Ultimately, the DOJ told Wittes it would perform a search for any records that the Trump administration could be using to support the claims about terrorism. Specifically, the DOJ agreed to the following:
The offices of the attorney general, the deputy attorney general, legislative affairs, and public affairs would each conduct a search "for records containing data of (i) all individuals convicted of all terrorism-related offenses (domestic and international) between 2001 and the date of the initial search, or (ii) all individuals convicted of all domestic terrorism-related offenses between 2001 and the date of the initial search."
The results of that search were made clear in the DOJ's letter: "[N]o responsive records were located."
"It isn't every day that the U.S. Department of Justice acknowledges formally that the President of the United States lied in a speech to Congress," Wittes wrote of the letter.
"No, the Justice Department letter does not come out and say what it clearly means: that President Trump, early in his tenure, was untruthful both about the role of foreigners in terrorism and terrorism-related crimes and about Justice Department data on the subject," he added. "But that is what the letter says if you read between the lines."
The official government record shows that Trump lied — about the statistics on terrorism and again about the DOJ, which never produced the evidence he said it did. And then he lied again each time he repeated this lie.
While all of Trump's lies are his corrosive, this set is particularly egregious because they not only wrongly demonize immigrants, refugees, and others coming to the U.S., but they also downplay the threat of homegrown terrorism" — including white supremacist and right-wing violence, which have become a bigger threat since Trump took office.
Even worse, experts say the Trump administration isn't doing anything about it — and by claiming that the greatest terrorism threat comes from outside the border, Trump is laying the groundwork to continue ignoring the much greater threat that comes from within.
Given that Trump has told a whopping 4,229 lies since he took office — an average of seven to eight lies per day — a few more lies might not seem like a big deal. But falsifying government statistics during an address to Congress is not just an off-the-cuff remark. And now, it's not an off-the-record remark, either.
Published with permission of The American Independent.