Kansas Must Send Kris Kobach To Political Oblivion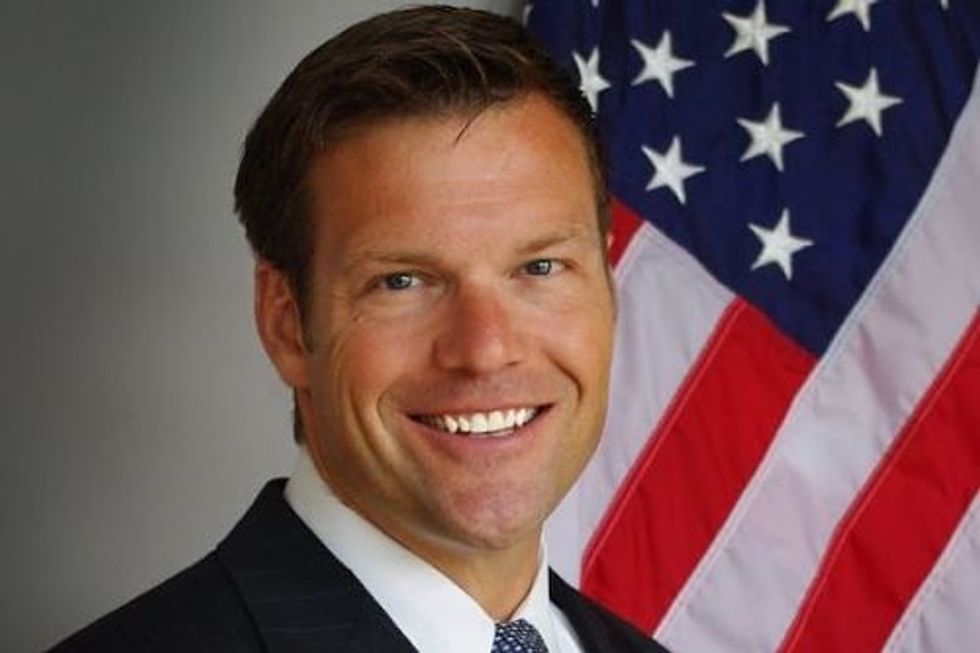 By Steve Rose, The Kansas City Star
If Sam Brownback wins re-election as Kansas governor, the world will not end.
If Pat Roberts wins re-election to the U.S. Senate, for sure the world will not end.
If independent candidate Greg Orman upsets Roberts for the U.S. Senate, again the world will not end.
If Kris Kobach wins re-election as Kansas secretary of state…well, that's another story.
Kobach would fill the secretary of state's seat for four more years, where he will continue to ignore his duties and spend his time in courts fighting one thing after another. But that's only the beginning of the havoc he would to wreak.
Kobach, who is only 48, would then find himself in the catbird's seat to run for governor in four years or to seek in six years the U.S. Senate seat that either Roberts or Orman would hold.
Kobach has to be nailed by the electorate in such a way that he goes away. Long, long away into political oblivion.
Of all the politicians I have covered in more than four decades, starting with a campaign trip with Richard Nixon in 1968, I have never run across a meaner, nastier, more egomaniacal politician than Kris Kobach.
Kobach is also the most brilliant and clever politician I have ever covered. The man is dripping with Ivy League degrees.
The combination of his traits is lethal, which makes him so dangerous.
I have known Kobach since he was first elected to the Overland Park City Council in 1999, when on his questionnaire he stated he was in favor of abortions. Four years later, when he ran unsuccessfully for U.S. Congress, he switched to a pro-life position.
Kobach knows how to play the public like a fiddle, although there is hope that Kansans have finally figured out that they have been played for saps.
He stokes anti-immigration fears by championing the most vicious laws and then travels from state to state, spewing his hate through the laws he writes — for huge fees. It is one thing to fret over undocumented immigrants, but Kobach seeks with his obsessive plots to make their lives as miserable as possible, while he personally gains.
But because he presents himself as waging a heroic battle, too many Kansans have, at least until now, met his grandstanding with oohs and aahs.
The handsome, charismatic candidate in 2010, running for secretary of state, told Kansans he was going to stamp out voter fraud. More oohs and aahs. Who wouldn't be for that?
But there had been, on average, only a dozen cases of voter fraud each year between 1997 and 2010, despite Kobach's best efforts to dredge up more. He was scamming the electorate, plain and simple.
That did not stop Kobach from ramrodding through legislation that has disqualified almost 20,000 would-be voters because the state now requires them to come up with identification papers such as passports or birth certificates. The secretary of state, who is supposed to encourage voter turnout has, instead, crushed it. Between 2008 and 2012, voter turnout in Kansas declined more than other comparable states. A federal report finds this was likely due to Kobach's voter registration laws.
Because of a quirk in the court rulings on Kobach's scheme, it has left Kansas with a two-tiered voting system. New voters who have not presented their passports or birth certificates can only vote for federal candidates but cannot vote for state officials
Kobach's swan song, I hope, was his creepy efforts to keep Democrat Chad Taylor on the ballot for U.S. senator, thereby splitting the vote with independent Orman, which, in turn, undoubtedly would have elected Roberts through the back door. Fortunately, the Kansas Supreme Court stomped on his shenanigans in a unanimous vote. Both Republicans and Democrats on the bench rejected Kobach's attempt to mastermind the outcome of the vote.
After the courts ruled against him, Kobach attempted to intervene in a subsequent lawsuit that would have forced Democrats to put someone else on the ballot. The courts said Kobach could not intervene, and then ruled against the Kobach position.
Kansans, this man is truly from the dark side.
Kris Kobach must be stopped now, before we find him in an even more powerful position to ply his diabolical schemes.
Steve Rose is a longtime columnist based in Johnson County, Kansas. He wrote this for the Kansas City Star.
Photo via Wikimedia Commons