Kanye's 5 Craziest Comments During His Oval Office Visit
@AlterNet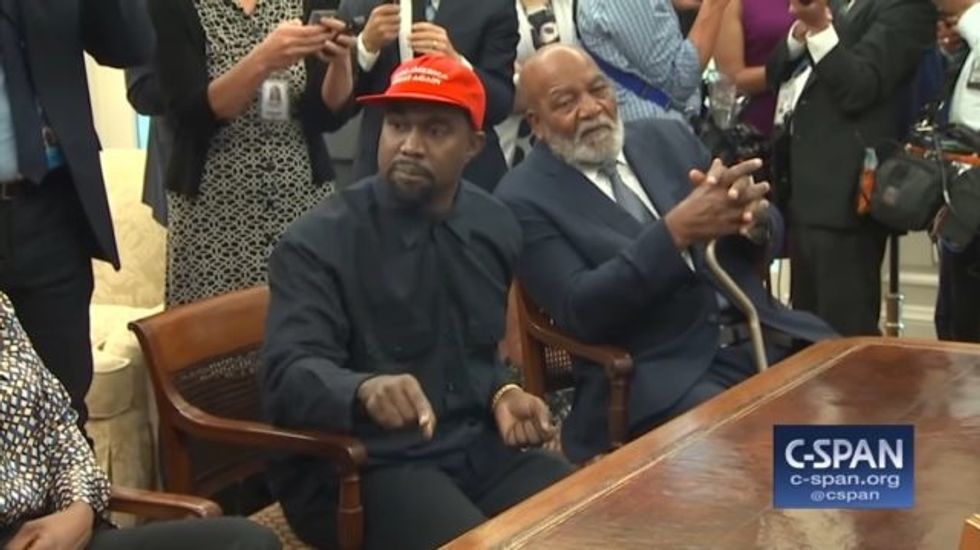 Reprinted with permission from AlterNet.
By Sarah Burris / Raw Story
President Donald Trump received Kanye West in the Oval Office Thursday in the White House before they had lunch with former NFL player Jim Brown.
The conversation was so high-energy it bordered on manic. Here are the most bizarre things said during the press availability.
1. The MAGA hat gives me power 
According to West, he doesn't have a lot of male energy in his home and he didn't grow up with a father in his house so he didn't have that either. He told Trump that the hat gave him "male energy" that he couldn't get from Hillary Clinton's campaign "I'm with her." He called the hat his "Superman cape."
West seems to view Trump as a kind of father figure.
2. West addresses his mental health issues.
If West seems to be dramatically swinging all over the place with his emotions, there's a reason for it. The rapper told the president that he has been diagnosed with bipolar disorder.
West "is currently on an extended soliloquy that included saying he has been diagnosed with bipolar disorder. Said that was a misdiagnosis and he is sleep-deprived," the pool report said.
3. West drops the f-bomb in the Oval Office.
"He might not expect to have a crazy motherf*cker like Kanye West support him," West told the press in the room.
4. West ran into the Oval Office and literally threw his arms around the president.
The germaphobe president was probably a little unnerved by the physical affection, but he responded with a grin.
Kanye runs up to President Trump to give him a hug. pic.twitter.com/2HF8R1qlmc

— Vivian Salama (@vmsalama) October 11, 2018
5. Trump was quieter with West than we've seen him be with many other guests. 
West's soliloquy was so loud and he bounced around from issue to issues in a seemingly breathless declaration about every issue that came to mind.
It was obvious the president was uncomfortable.
"I'll say that was pretty impressive," the president responded when West stopped talking.
Watch the video below:
"People expect that if you're black you have to be Democrat," Kanye West says to Trump. "They tried to scare me to not wear this hat. This hat gives me power" #tictocnews pic.twitter.com/cfIi8pi29P

— TicToc by Bloomberg (@tictoc) October 11, 2018