Scorning Democracy, Trump Demands Lake Be 'Installed' As Arizona Governor
@next2godwin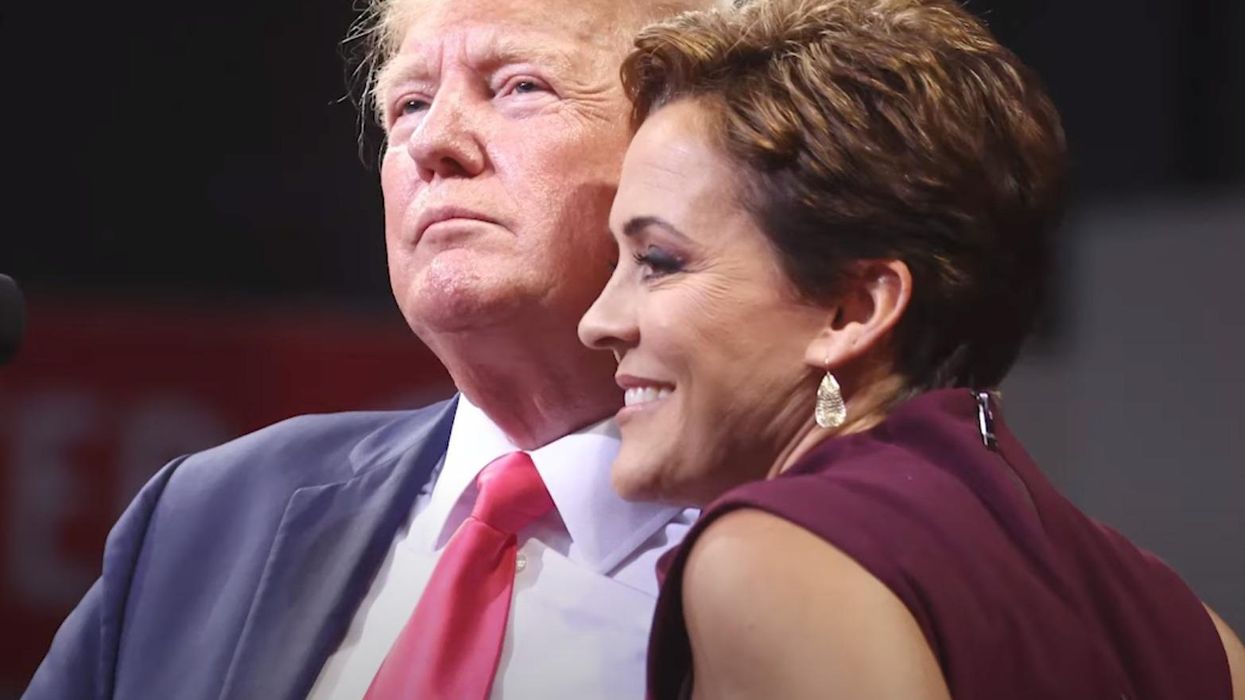 T
Former President Trump, the loser of the 2020 presidential election, has demanded that the loser of Arizona's 2022 gubernatorial election, Kari Lake, be crowned governor of the Grand Canyon State after falsely blaming her defeat on "yet another criminal voting operation."
"Massive numbers of 'BROKEN' voting machines in Republican Districts on Election Day. Mechanics sent in to 'FIX' them made them worse," Trump claimed without evidence on his disinformation platform, Truth Social.
"Kari had to be taken to a Democrat area, which was working perfectly, to vote. Her opponent ran the Election. This is yet another criminal voting operation - SO OBVIOUS. Kari Lake should be installed Governor of Arizona. This is almost as bad as the 2020 Presidential Election, which the Unselect Committee refuses to touch because they know it was Fraudulent!"
\u201c2:30 AM post: \u201cKari Lake should be installed Governor of Arizona.\u201d\u201d

— Ron Filipkowski \ud83c\uddfa\ud83c\udde6 (@Ron Filipkowski \ud83c\uddfa\ud83c\udde6) 1669636146
Trump's hoax-filled diatribe was a response to Lake's tirade on Truth Social, blaming "incompetent" election officials and "Fake News" for "Arizonians hav[ing] no Faith and Trust in our Elections."

Despite trailing her Democratic opponent by about 17,000 votes, with 99 percent of the ballots in Arizona reported, Lake, a 2020 election denier who committed to accepting the election only if she won, has refused to concede to Governor-elect Katie Hobbs more than two weeks after the race was called.
Last week, Lake lashed out at Arizona's departing Republican governor, Doug Ducey, for christening the election a "democratic process," congratulating Hobbs on her victory, and promising an orderly transition from his administration to hers.
"This is just beyond 2020. I mean what they did in 2020, looks like they did it again, and then some. And for the Governor (@DougDucey), if he says he's going to certify this, and @KatieHobbs to certify this, I think they really better think long and hard," Lake tweeted, alluding to the Big Lie — the false claim that a state-wide voter fraud operation, orchestrated by Democrats, had cost Trump the 2020 elections.
\u201c.@KariLake: "This is just beyond 2020. I mean what they did in 2020, looks like they did it again, and then some. And for the Governor (@DougDucey), if he says he's going to certify this, and @KatieHobbs to certify this, I think they really better think long and hard."\u201d

— Kari Lake (@Kari Lake) 1669240189
Amid the flood of false election fraud claims promoted by Lake and Trump, the firebrand sued the election administrators she had repeatedly assailed -- Maricopa County's Republican election officials -- alleging electoral wrongdoing in what she branded "the shoddiest election ever."

The lawsuit — which Lake announced last Wednesday on "War Room," indicted Trump ally Steve Bannon's podcast — demanded the Maricopa County Superior Court compel the county's election officials to provide Lake's campaign with various public records, including the number of ballots sent to voters overseas and their verification process.
Citing Maricopa County's "printer/tabulation problem[s]" — an Election Day malfunction with some printers across the county, which election technicians identified and fixed in a few hours — Lake's suit is also demanding contact information of voters at polling sites with printer malfunctions and the number of spoiled Election Day ballots.
In a scathing report issued Sunday, Maricopa County rebuffed the false claims of election malpractice and blamed Republican politicians for casting doubt on a secure alternative the county made available for voters inconvenienced by the voting glitches.
A "root cause analysis" of the now-infamous printer issues, which prevented some tabulators from taking ballots on Election Day, was underway; however, all printers "had updated firmware, were installed with uniform settings, and used the same settings that were used in prior elections" the county noted in its report.
Despite providing a "legal, secure, and reliable" voting alternative for people whose ballots tabulators could not read — a secure dropbox option called "Door 3" — "many high-profile and influential individuals instructed voters to not deposit their ballots in Door 3," Maricopa County wrote in its report.
Tom Liddy, the Republican head of Maricopa County's civil division, noted that eight other counties utilized only secure drop boxes, whose contents would be tallied at a centralized location, because "[the counties] lacked any tabulators in their polling locations at all."
The county's Republican-controlled board unanimously voted to certify its 2022 election results even as the lifelong Republican chairman of the county's board of supervisors, Bill Gates, was relocated to an undisclosed location for safety after several threats to his safety appeared in far-right Internet spaces.
However, several counties hesitated in approving their election canvass ahead of Monday's state deadline stipulated by law, and several attorneys warned Republican county election supervisors of criminal charges if they ignored their obligation to certiify, according to the Associated Press.
One such jurisdiction, Mohave County, reluctantly certified its election on Monday, with its election-denying board of supervisors chairman, Ron Gould, attributing the delay to "a question" he had about "how our election is run."
But rural Cochise County, another deep-red stronghold, delayed its certification vote until Friday, despite having no election hiccups, buying time to hear more about the far right's "concerns over the certification of ballot tabulators," Jonathan Cooper of the Press reported Tuesday.
Those concerns were pitched to the county's elections board by a trio of conspiracy theorists — Tom Rice, Brian Steiner, and Daniel Wood — all of whom participated in at least four Arizona Supreme Court cases challenging the results of the 2020 elections, according to the Washington Post.
Hobbs sued Cochise County on Monday, asking the court to compel the county to comply with Arizona law, which demands county elections be certified by November 28.
Barring the court's intervention, Hobbs spokesperson Sophia Solis said, the secretary of state would "have no choice" but to complete a statutory certification of the state-wide canvass without Cochise County's votes by December 8.
Ironically, Cochise County's failure to certify could flip the results of two races, including a U.S. House seat, from Republican to Democrat, the
Press
noted, pruning the GOP's meager House majority even further.