Karl Rove Has A Blistering Message For Defenders Of January 6
@alexvhenderson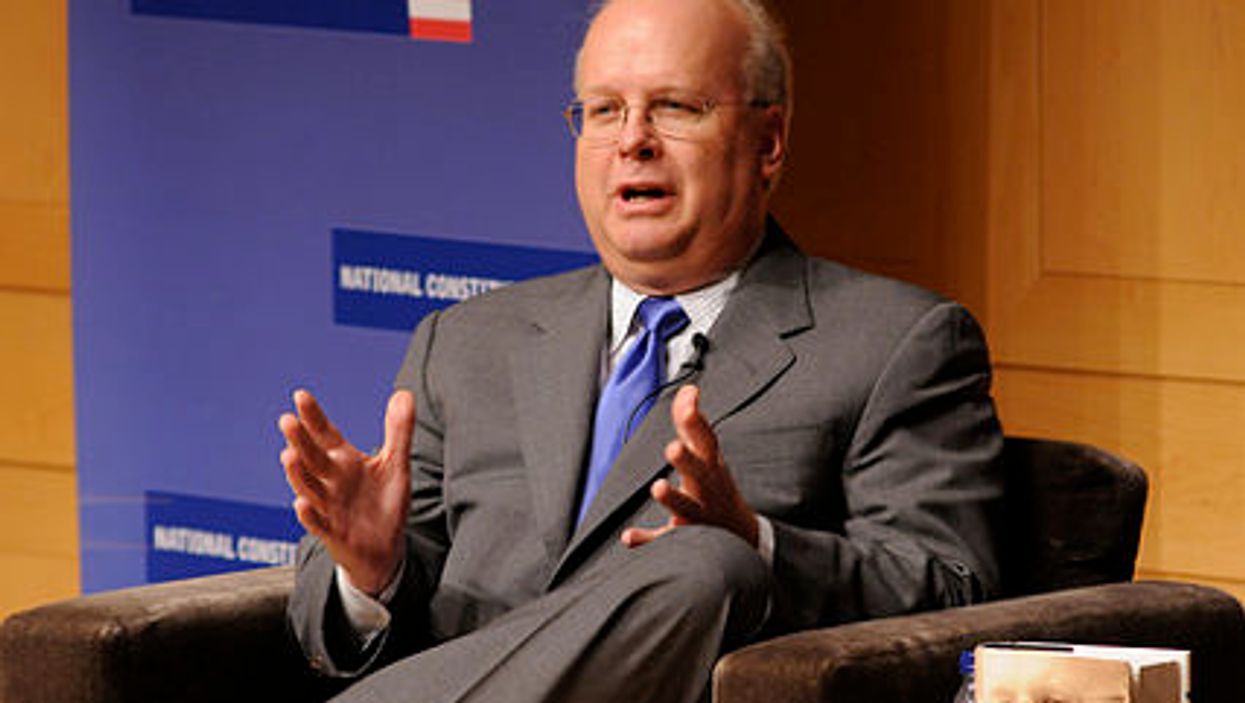 When the one-year anniversary of the January 6, 2021 assault on the U.S. Capitol Building was approaching, many Republicans were downplaying the insurrectionist violence that occurred — and Fox News' Tucker Carlson has even defended the rioters. But veteran GOP strategist Karl Rove forcefully condemned the attack in a Wall Street Journal op-ed published the day before the anniversary. And Election Law Blog's Ned Foley is applauding Rove's willingness to ask Republicans how they would have responded if the rioters had been Democrats rather than supporters of former President Donald Trump.
"Karl Rove's column yesterday is noteworthy for its strong condemnation of his fellow Republicans who refuse to condemn the attempt at election subversion perpetrated last January 6," Foley observes his Election Law Blog post. "It is especially valuable for its invocation of a device that is essential when any of us, given our own partisan feelings and affiliations, strive to determine what fair electoral competition requires from an impartial perspective: what if the shoe were on the other foot, so to speak, and roles were reversed?"
Some far-right conspiracy theorists have been claiming that the militant leftist movement Antifa was behind the January 6, 2021 insurrection — something there is absolutely zero evidence of. It was a MAGA crowd, not leftists, who attacked the U.S. Capitol Building in the hope of preventing Congress from certifying now-President Joe Biden's Electoral College victory over Trump.
Rove didn't sugarcoat the truth in his Journal op-ed, and he had enough intellectual honesty to say that Republicans wouldn't be giving Democrats a pass if they had attacked the Capitol.
"On this anniversary, here's a simple thought experiment: What if the other side had done it?" Rove wrote. "What if, in early January 2017, Democrats similarly attired and armed had stormed the Capitol and attempted to keep Congress from receiving the Electoral College results for the 2016 presidential election? What if Democrats claimed that Donald Trump's razor-thin victories in Michigan, Pennsylvania and Wisconsin resulted from extensive voter fraud and should be rejected, despite having failed to establish in a single court that extensive fraud had actually occurred?"
Rove continued, "What if some of these Democrats breached the Capitol defenses and threatened violence against the Republican speaker, Paul Ryan, and Republican Senate Majority Leader Mitch McConnell? What if they insisted that in his role as Senate president, then-Vice President Joe Biden had sole authority to seat Hillary Clinton's electors from any contested states and thereby hand her the presidency? If this happened, would some of my fellow Republicans have accepted it as merely a protest? Would they have called patriots those charged with violent acts against our country, its laws and Constitution? Would they have accepted such extralegal means to change the outcome of a presidential election? No, they would not. I'm certain of that."
According to Rove, "If Democrats had done what some Trump supporters did on that violent January 6, Republicans would have criticized them mercilessly and been right to do so."
"Kudos to Rove for saying this," Foley emphasizes. "In the days, weeks, and months ahead, every incumbent Republican should be measured by whether they can meet Rove's test."

Reprinted with permission from Alternet
Related Articles Around the Web