Granted Immunity In Documents Case, Trump Aide Patel Must Talk -- Or Else
@LucianKTruscott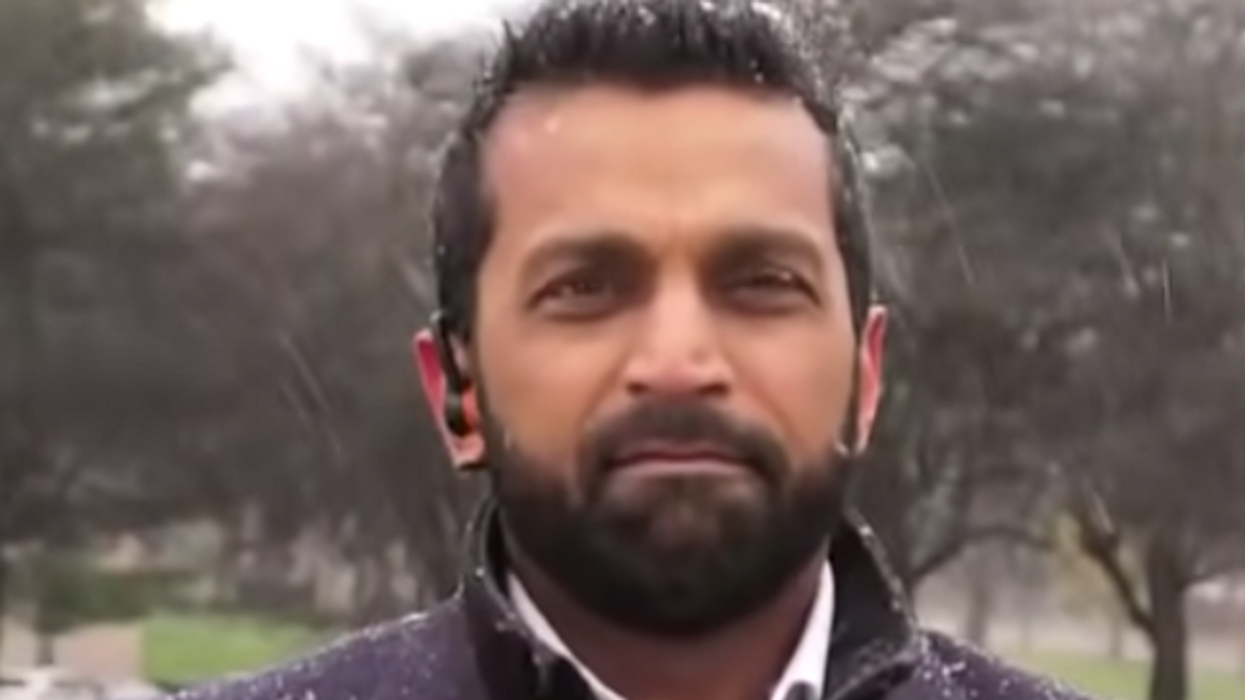 Youtube screenshot
How does an obsessively loyal Trumpazoid like Kash Patel, who once swaggered down the wide halls of the E-Ring in the Pentagon as chief of staff to the acting secretary of defense (an enormously powerful position even if he held it for only two months) find himself between a rock, the Department of Justice, and a hard place, Donald Trump, on this sunny day in November?
Well, he was put there by the men he served, Donald Trump at the top of all of them. Yes, they were all men – from Devin Nunes, whom Patel served when he was Chairman of the House Intelligence Committee; to John Bolton, Trump's third National Security Adviser, under whom he served as a "senior director" in a position created especially for him; to Richard Grenell, Acting Director of National Intelligence, whom Patel served as a principal deputy; to Acting Secretary of Defense Christopher Miller, who was appointed after Patel reportedly urged Trump to fire the previous Secretary of Defense, Mark Esper, for being disloyal to the president by refusing to have active duty troops deployed to put down protests after George Floyd was killed in the summer of 2020.
I realize that's an unusual number of acting directors Patel served under, but hey! It was the Trump administration, and he couldn't be bothered with meddlesome stuff like the Senate confirmation process, so Trump just kept appointing acting directors, letting them serve the time they were statutorily permitted and then moving them along in favor of the next acting director. So, Patel himself did a lot of acting, too, serving in senior positions in important places in the government like the Department of Defense and the Office of National Intelligence. Indeed, "acting" is a good name for Patel's jobs, because what he did in those positions was not really to serve as a deputy, or whatever the other jobs he held were called, but rather to keep the acting director he reported to in line for his real master, who was always Donald Trump.
In that way, Patel was like one of the party enforcers Stalin sprinkled throughout his government and military, whose jobs were never to, say, carry a rifle in the army, or push papers in some corner of the bureaucracy, but rather to report back through the Communist Party chain of command to Stalin himself on whether the department head they nominally worked for were adequately loyal to the great man himself. Under Stalin, this led to a series of purges of top government officials. With a few tweaks and tucks, something of the same thing happened repeatedly throughout the Trump administration, as officials were continually forced out of their jobs. Their replacements were invariably less qualified than the people they succeeded, but far more loyal to the man at the top.
The problem with this kind of system is that it creates a paper tower of power, a structure of leaders who are not leaders at all, but rather what we might call loyals -- underlings dedicated to carrying out the orders of one man, in this case, Donald Trump. Kash Patel was an enforcer within Trump's house of cards administration, and in order to be trusted with such an important job, Patel's own loyalty had to exceed the loyalty of those he was not only reporting to, but reporting on. Thus, Patel found himself, or more likely wormed himself into, positions where his loyalty to the big boss at the top ended up giving him unusual access to what that big boss was doing, and not only that, but to the motives behind the orders he gave.
The thing that governments and large organizations like corporations or even academic institutions have in common when they are driven by leaders who demand excessive quantities of loyalty is simple: The point is never really to do the job at hand but to do what you're told no matter what. If you are part of such an organization or government you know at all times that if you don't toe the party line, or more likely, the line of the authoritarian leader at the top, you're out.
What such authoritarian leaders have in common is that they hardly ever do the hard work of governing or, say, in an academic institution, teaching. What they do is give orders. Orders are words, and for them to be become the actual work of the organization, someone must carry them out.
Enter Kash Patel and water carriers like him. Because of his intense loyalty to Trump – he was among a very few loyalists who followed Trump into civilian life and has worked for him since he left the presidency – Patel was trusted with overseeing some of the products of one of the former president's chief obsessions – the investigation of the Trump campaign's ties to Russia. Trump appointed him as one of his representatives to the National Archives, where much of the work-product of the Russia investigation resides. And according to Patel himself, Trump involved him in the decisions he made about the classified documents he removed from the White House and took to Mar a Lago.
Patel has told reporters that Trump declassified all the documents he took from the White House, a claim that neither he nor Trump has backed up with any documentation. Whether or not Trump declassified the documents may not matter in the investigation by the Department of Justice into Trump's handling of the documents, because two of the criminal statutes Trump is thought to have violated do not require that the documents in question be classified. One statute involves obstruction of justice, and the other involves the removal and mishandling of so-called "national defense information," which need not be classified to be subject to the statute.
This is why Patel today finds himself on the horns of a very, very difficult dilemma. The DOJ is intensely interested in the documents Patel claims to have knowledge about. Because Trump, like other authoritarian leaders gives orders, he must rely on others to carry them out. Patel is one of those who was apparently given orders concerning the documents of concern in the DOJ investigation, so he is thought to have knowledge about what Trump intended to do with the documents he took from the White House, and he may even know what Trump's motive was for taking them.
When he previously testified before the grand jury, Patel claimed his protections under the Fifth Amendment against self-incrimination, doubtlessly leading the DOJ to conclude that he has something to hide, which if he revealed might subject himself to prosecution. Yet now that he has been granted immunity from prosecution, Patel can't claim the Fifth. He must answer questions from the grand jury truthfully or subject himself to prosecution for perjury, if not for the offenses he may have committed that he had avoided talking about by taking the Fifth the first time he testified before the grand jury.
How do you stay loyal to a man like Trump when you know if you tell the truth about what he did and why he did it, you might contribute to his being charged with federal crimes?
The New York Times reported yesterday that Patel has "told associates that he was expected to take on an even more central role in Mr. Trump's legal defenses, currently coordinated by another Trump adviser, Boris Epshteyn, according to a person familiar with his comments." Epshteyn has testified before the Georgia grand jury that is investigating Trump's attempts to put together fake slates of electors and the former president's call to Georgia Secretary of State Brad Raffensperger asking him to "find" enough votes for Trump to be declared winner of the presidential election in Georgia. Federal investigators looking into Trump's attempts to overturn the results of the 2020 election seized Epshteyn's cell phone in September.
So how about that? The two lawyers Trump has put in charge of his defense against potential charges in multiple investigations in multiple jurisdictions are themselves the recipients of grand jury subpoenas and themselves are potentially subjects of criminal investigations.
Not to worry. Patel appears to be counting on Trump winning the 2024 presidential election, which would return him to the White House and give him the power to pardon Patel, Epshteyn, and everybody else involved in both the documents case and attempts to overturn the 2020 election. Not only that, Patel is counting on his loyalty to Trump paying off big-time. On Monday, Patel appeared on "The Benny Show," a pro-Trump podcast, where he was asked – get this – if he would accept an appointment to be Director of the Federal Bureau of Investigation if Trump wins in 2024.
That would be the same FBI that is investigating not only Trump but Patel himself and is behind his subpoena to testify at the grand jury in Washington that is looking into Trump's mishandling of top secret documents he took from the White House in 2021 and refused to give back to the government for more than 18 months, defying a subpoena and having one of his lawyers lie on an official document certifying that she had turned over all the documents he took to Mar a Lago.
The New York Times quoted Patel as telling the interviewer on "The Benny Show" this: "I'm all in with the boss, and you know that. First, I tell people, let's win the midterms. And then let's see what he does and, you know, you and I think I know what he's going to do. And then it's a two-year lift and you know what, they're going to come after us."
Patel would know. "They" are already after "the boss" and Patel himself, who now faces a grand jury appearance where he will be forced to tell what he knows about "the boss" or he, too, will face indictment.
How about that for a dilemma horn up your ass, huh?
Lucian K. Truscott IV, a graduate of West Point, has had a 50-year career as a journalist, novelist, and screenwriter. He has covered Watergate, the Stonewall riots, and wars in Lebanon, Iraq, and Afghanistan. He is also the author of five bestselling novels. You can subscribe to his daily columns at luciantruscott.substack.com and follow him on Twitter @LucianKTruscott and on Facebook at Lucian K. Truscott IV.
Reprinted with permission from Lucian Truscott Newsletter