Kasich Pops Up In Places Vital To 2016 Race He Hasn't Yet Joined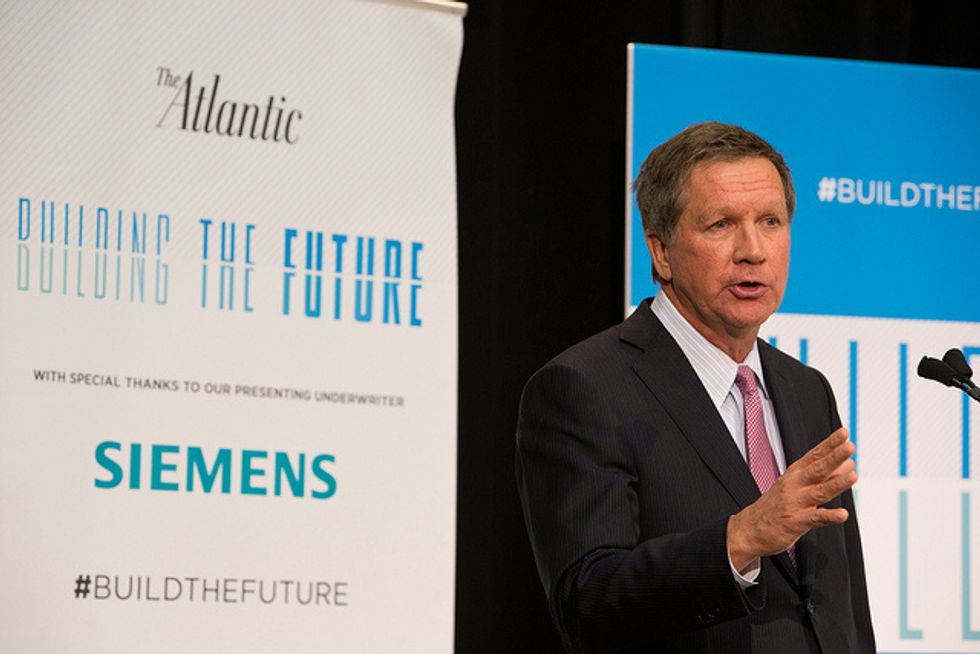 By Mark Niquette, Bloomberg News (TNS)
COLUMBUS, Ohio — While Ohio Governor John Kasich decides whether to run for president, he's been to nine states to push for a federal balanced-budget amendment. He went to Washington, D.C., for Israeli Prime Minister Benjamin Netanyahu's speech to Congress. He's off to New Hampshire and New York City next week.
Kasich, a Republican who ran for president in 2000, said he's keeping his options open about the 2016 nomination. In the meantime, he's staying in the conversation by advocating the amendment, touting what's billed as "Ohio's comeback model" and downplaying suggestions that he's waiting too long to get serious.
"I appreciate what other people say, I appreciate all their advice, but, at the end of the day, I'm going to decide it when I decide to decide it," Kasich said in a telephone interview.
Besides the states Kasich has visited seeking resolutions endorsing the amendment (26 of the necessary 34 have acted), he is traveling to Maine next week to meet with lawmakers. The governor also is touting his Ohio record in New Hampshire, site of the first primary. He'll hit a tax-policy dinner at New York's 21 Club, make an April speech to the Detroit Economic Club and visit South Carolina, an early primary state.
That grand tour is the bare minimum to keep his name in the mix, and Kasich can't wait much longer to secure donors and campaign talent, said Charlie Cook, editor of the Cook Political Report in Washington. Cook said he considers him unlikely to run because of his "lackadaisical" approach.
"You can't walk for president; you have to run," Cook said. "Anybody who is serious about running for president had better be making very concrete moves right now."
The governor said that while the ability to secure donations and build an organization would figure into a decision, he doesn't think he's "anywhere near" that.
"I'm not trying to play cat-and-mouse with anybody," the governor said. "I honestly don't know what I'm going to do."
The governor said he's been passionate about the amendment since his days in Congress, when he was chairman of the House of Representatives Budget Committee the last time spending was balanced, in the 1990s.
He's also making the case that other states can copy his approach in Ohio, where after becoming governor in 2011 he cut income taxes even as he addressed a shortfall of about $8 billion. Kasich said last week that the state has recovered all the private-sector jobs it lost from the recession that ended in June 2009.
While some Republicans oppose Kasich's decision to expand Medicaid under President Barack Obama's health care overhaul, they are receptive to his fiscal record and call to help "people in the
shadows," said Steve Duprey, a national Republican committeeman from New Hampshire who was a senior adviser to Senator John McCain's failed 2008 presidential bid.
The governor also won re-election last year with 64 percent of the vote in a swing state that voted for Obama twice. No Republican has won the White House without carrying Ohio.
If he ran, Kasich would compete among so-called establishment candidates such as former Florida Governor Jeb Bush and New Jersey Governor Chris Christie, and conservatives including Wisconsin Governor Scott Walker and former Texas Governor Rick Perry, Cook said. Kasich also could be considered as a running mate, he said.
Kasich is running a "peek-a-boo" campaign that may work to his advantage, said Curt Steiner, a Republican consultant in Columbus. It doesn't require him to criticize other candidates, doesn't make him a target and keeps his options open.
"It's basically a kind of strategy that allows for any choice to be made for a pretty long time," Steiner said.
Kasich's travel for amendment events, typically on a private jet, is being funded by Balanced Budget Forever, a Columbus nonprofit group started by friends and supporters that can raise unlimited sums of money and doesn't publicly disclose its donors. The Ohio Republican Party is paying for the other travel, and two former Kasich staff members are handling the arrangements, Kasich spokesman Rob Nichols said.
Kasich has barely registered in recent polls. He was the first choice of only 2 percent of New Hampshire Republican voters in a Bloomberg Politics/Saint Anselm New Hampshire survey in February and wasn't even included in a NBC News/Wall Street Journal poll released last week.
Duprey, who is hosting a "Politics and Pies" event for Kasich in New Hampshire, said he needs to start making the case for himself.
"If he just comes up here and says, 'Here's what I've done in Ohio,' people go, 'Great, we had two people last week who came in and told us what they did.'"
Photo: Ohio Governor John Kasich is seen at the Atlantic hosted "Building the Future: Manufacturing's Software Revolution" event on Wednesday, February 19th, 2014 in Norwood, OH. The governon addersses the audience in the Siemen's motors manufacturing facility. (Siemens PLM Software via Flickr)