Kemp's Worry: If Georgians Exercise Their Rights, He'll Lose
@alexvhenderson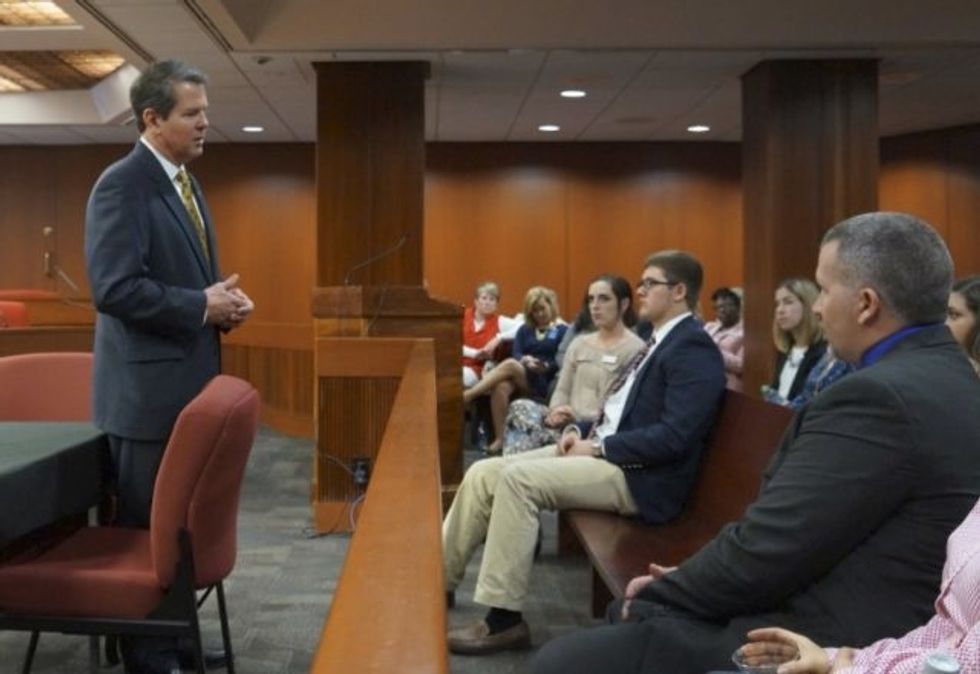 Reprinted with permission from AlterNet.
In Georgia, Republican Brian Kemp—who is in a close gubernatorial race against Democrat Stacey Abrams—has come under fire for his efforts to suppress non-white voters. And in a leaked audio that Rolling Stone has obtained, Kemp (who is Georgia's secretary of state) can be heard saying that he fears losing the election "if everybody uses and exercises their right to vote."
In recent polls from WXIA-TV/Survey USA and the Atlanta Journal-Constitution, Kemp was leading Abrams by only 2%—which is a statistical dead heat. And in the recording that Rolling Stone obtained, Kemp expressed his fear that Abrams could win thanks to "the literally tens of millions of dollars that" her campaign is "putting behind the get-out-the-vote effort to their base."
Kemp, in the audio, is also heard expressing his concerns that absentee ballots could favor Abrams. Kemp laments, "They have just an unprecedented number of (absentee ballots), which is something that continues to concern us, especially if everybody uses and exercises their right to vote—which they absolutely can—and mails those ballots in. We gotta have heavy turnout to offset that."
The recording was made on Friday, October 19 at the Blind Pig Parlor Bar—which is near Atlanta's upscale Buckhead area—at an event for the group Georgia Professionals for Kemp.
Abrams has called for Kemp to step down as Georgia's secretary of state, stressing that it is a major conflict of interest for him to be scrutinizing either ballots or voting applications while he is running for governor. The far-right Republican (an ardent supporter of President Donald Trump) has drawn plenty of criticism for his recent decision to suspend over 53,000 voter applications—about 70% of which came from African-Americans, who are more likely to vote for Abrams. Given that voters of color have been Kemp's main target, the Rev. Al Sharpton has asserted that "Jim Crow would blush" over his actions.
In July 2017, Kemp cut more than half a million Georgia residents from the state's voter rolls—and according to APM Reports' analysis, an estimated 107,000 of them were cut simply because they hadn't voted in the previous election. Further, 595 absentee ballots have been rejected in Gwinnett County, Georgia, which just happens to have a high number of black residents.
A lawsuit filed by the Coalition for Good Governance is demanding that voters in Gwinnett County be notified within a day if their ballots are rejected. And the American Civil Liberties Union (ACLU) has filed a lawsuit as well, denouncing the ballot rejections as a "constitutional train wreck."
Rolling Stone's Jamil Smith contacted Abrams' campaign about the leaked audio—and Abigail Collazo (the campaign's director of strategic communications) asserted, "Brian Kemp is barely trying to hide the shameful fact that his strategy is to win through voter suppression. The idea that he, as secretary of state, would be 'concerned' that hardworking Georgians are exercising their right to vote is disgraceful and outrageous."
Alex Henderson is a news writer at AlterNet and veteran political journalist. His work has also appeared in Salon, Raw Story, Truthdig, National Memo, Philadelphia Weekly, Democratic Underground, L.A. Weekly, MintPress News and many other publications. Follow him on Twitter @alexvhenderson.