Ken Cuccinelli Named New President Of Senate Conservatives Fund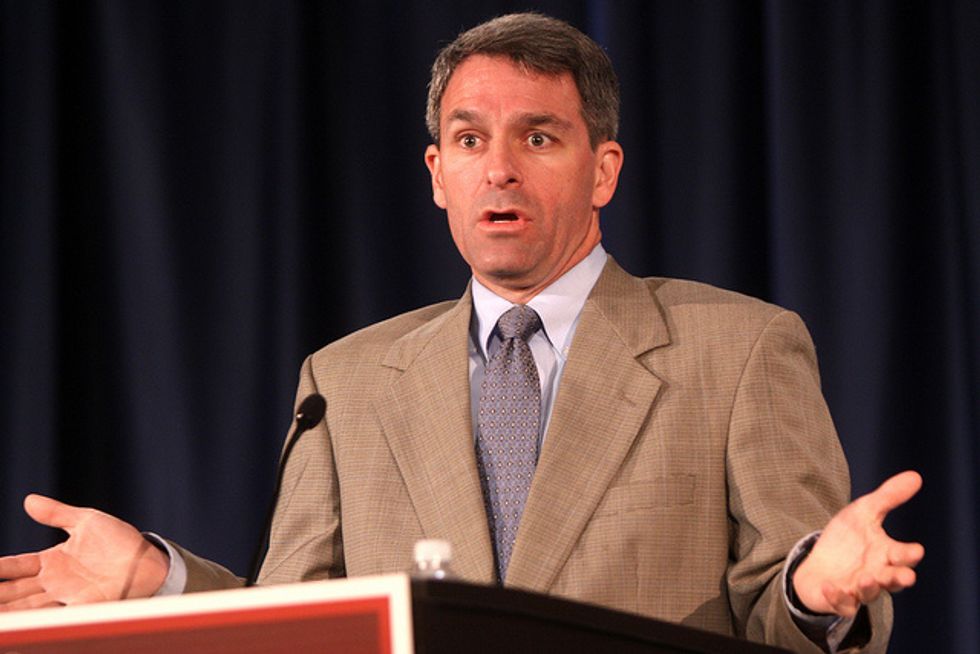 As Tea Partiers rejoice over Dave Brat's shocking primary victory over House Majority Leader Eric Cantor (R-VA), another conservative Virginia politician who was not as lucky in last year's elections is getting a chance to advance the movement.
Former Virginia attorney general Ken Cuccinelli — who lost to Democrat Terry McAuliffe in the commonwealth's 2013 gubernatorial race — will be the next president of the Senate Conservatives Fund, a right-wing political action committee founded by former senator Jim DeMint (R-SC).
Cuccinelli says he is prepared "to take on Republican incumbents who've lost their way" as president of the SCF, a group that has spent millions assisting Tea Party-aligned candidates in primary races against establishment or moderate Republicans.
"I'm honored to serve as the next president of the Senate Conservatives Fund. I've always had tremendous respect for this organization and applaud its members for working to elect principled conservatives," Cuccinelli said in a statement on the SCF website. "SCF has given our nation's grassroots a powerful voice and I'm excited to join them in the fight. I look forward to working with the hundreds of thousands of SCF supporters across the nation to help change Washington."
Despite his 2013 loss and ties to the corrupt Bob McDonnell administration, Cuccinelli remains a well-admired politician in conservatives circles. Cuccinelli used the months following his failed campaign helping to represent Senator Rand Paul's (R-KY) NSA-related lawsuit against the Obama administration. Aside from making news with the lawsuit, which even the National Review deemed "frivolous" — and which also grew controversial when Cuccinelli was accused of having stolen the case filing from another attorney — the former attorney general has, for the most part, stayed out of the headlines.
Matt Hoskins, executive director of the SCF, calls Cuccinelli a "principled fighter who is respected by the grassroots and is passionate about electing the next generation of conservative leaders."
The SCF's current congressional leaders include well-known conservative senators Ted Cruz (R-TX), Marco Rubio (R-FL), and Mike Lee (R-UT).
As president of the SCF, Cuccinelli will throw his support behind Tea Party-backed senatorial candidates Chris McDaniel (R-MS) and Joni Ernst (R-IA).
In a video up on the SCF website, Cuccinelli told supporters that "standing up to the Washington establishment isn't easy, but it's the right thing to do," which means "continuing to stand up to the status quo" and "continuing to support conservative candidates" — as long as they stand to the right of the conservatives already in Congress, of course.
Photo: Gage Skidmore via Flickr

Interested in U.S. politics? Sign up for our daily email newsletter!