Kentucky Cockfighting Enthusiasts Jab Mitch McConnell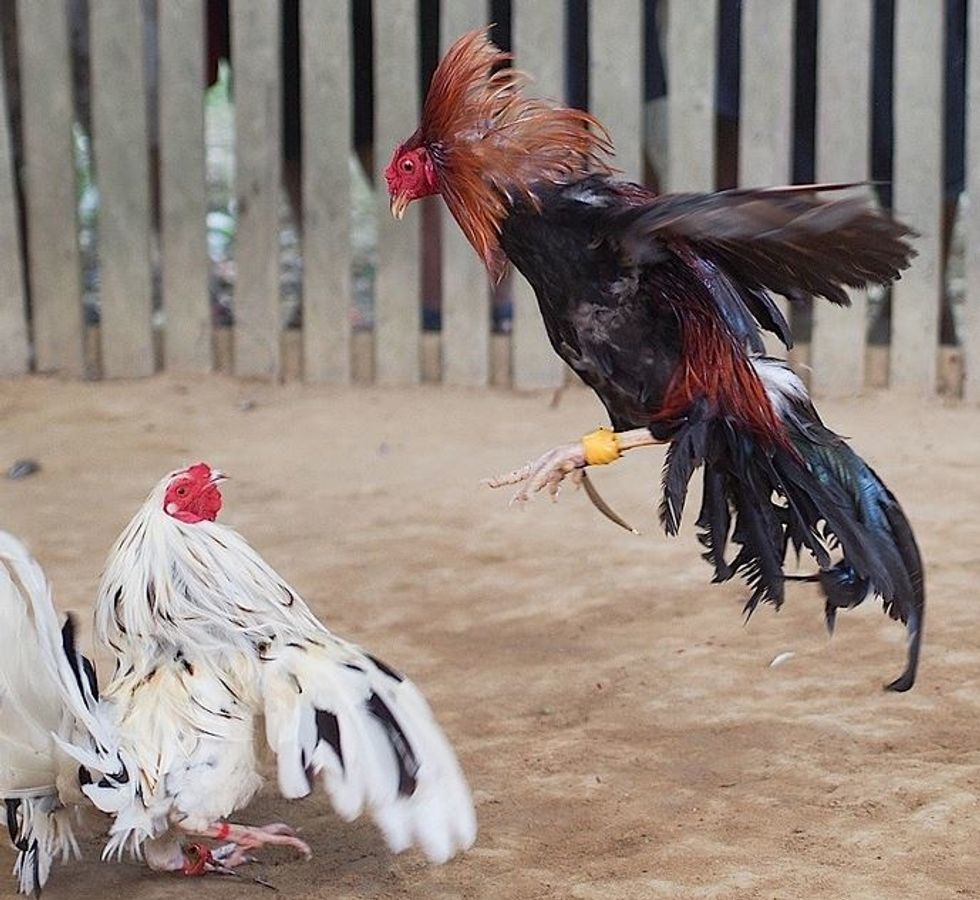 Senate Minority Leader Mitch McConnell (R-KY) made an unlikely political enemy when he cast his vote in favor of the federal farm bill: the Kentucky cockfighting lobby.
The farm bill included an amendment that made it a federal crime to be a spectator at an animal fight. Under the new law, attending a cockfight or a dogfight is now a federal misdemeanor — punishable by up to a year in prison and a $100,000 fine. Bringing a minor to a fight is now a federal felony, punishable by up to three years in prison and a $250,000 fine.
Kentucky cockfighting enthusiasts say they aren't going to stand idly by as the law makes criminals out of average people. They're energized, and prepared to throw their weight behind McConnell's Tea Party challenger, Louisville businessman Matt Bevin.
Craig Davis, president of the United Gamefowl Breeders Association, told the Lexington Herald-Leader: "This will destroy Mitch McConnell in Kentucky." He further explained how McConnell's support for the law pins the senator against rural Kentuckyians: "When you make a law like that, you take good taxpaying people and you turn them into criminals overnight. The grassroots on this are not playing games anymore. They've been beaten and battered for 30 years. They're rural people. They want to be left alone."
McConnell faces a primary challenge from Bevin and a tough Democratic opponent in Kentucky secretary of state Alison Lundergan Grimes. Recent polling of the race shows Grimes holding a narrow lead over McConnell, who has now opened himself up to new criticism from right-wing Republicans.
Bevin previously said he would have voted against the farm bill, citing the U.S. deficit. Because of Bevin's opposition to the bill, Davis explained, many members of the Gamefowl Breeders Association are now supporting him in the May primary. He also warned if they are further ignored by Senator McConnell, he could move as many as 60,000 votes against the minority leader. "He's thrown us in the gully for 30 years," Davis told the Herald-Leader. "If Mitch McConnell doesn't help us now, then we're going to drag him down into the gully with us on Election Day."
Despite the rift between McConnell and the gamefowl breeders, the five-term incumbent remains very unlikely to lose the Kentucky Republican primary. McConnell leads Bevin by more than 20 percentage points, according to recent polls; he also enjoys a formidable financial advantage, with about $10 million cash on hand. Even 60,000 votes would not be enough to "drag him into the gully."
Nevertheless, it may be the latest good news for Democratic nominee Alison Lundergan Grimes, who ultimately benefits from any infighting in the Kentucky Republican Party.
Photo: Ferdz Decena via Flickr