Kerry On Second Day Of New Mideast Peace Push
@AFP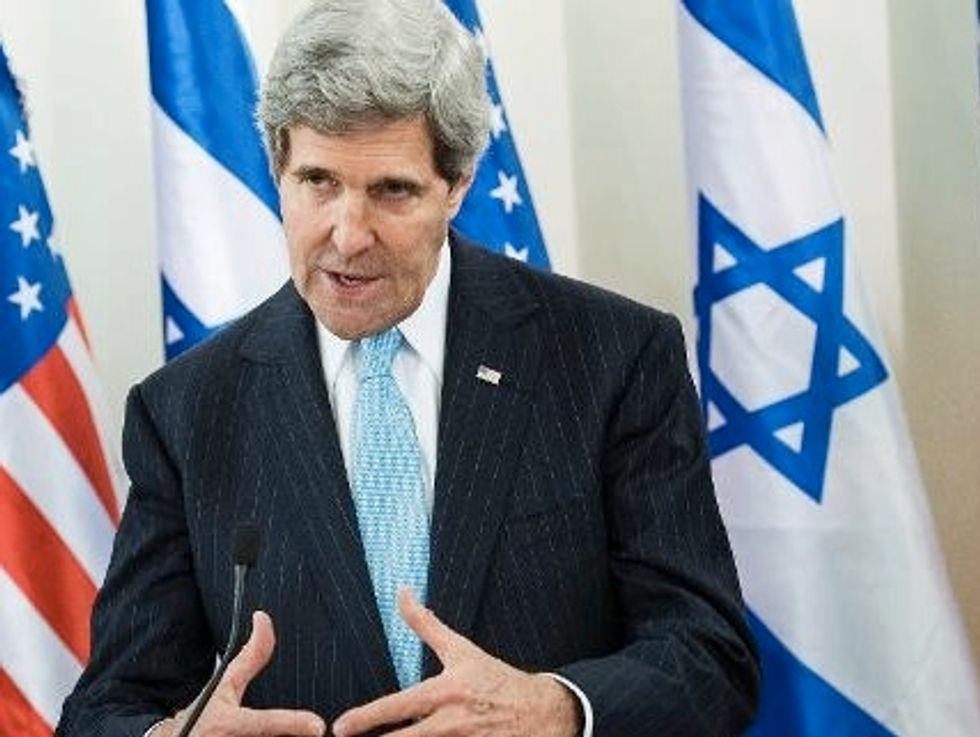 Jerusalem (AFP) – U.S. Secretary of State John Kerry launched a second day of talks with Israelis and Palestinians on Friday, seeking to hammer out a framework to guide negotiations towards a peace deal.
American officials have privately said they believe the direct talks resumed in July after a three-year hiatus have reached a new phase, as an April deadline for an accord looms, but are struggling to overcome fierce opposition from both sides to any compromises.
Kerry returned to Israel on Thursday for his 10th trip as secretary of state, and went straight into five hours of meetings with Israeli Prime Minister Benjamin Netanyahu.
The two men were to meet again around noon on Friday, after Kerry and his team first held breakfast talks at his Jerusalem hotel with Israeli Foreign Minister Avigdor Lieberman.
The top U.S. diplomat will later head to Ramallah for discussions with Palestinian president Mahmud Abbas at his headquarters in the occupied West Bank.
But Netanyahu on Thursday was downbeat on progress so far, launching a scathing attack on Abbas and casting doubt on whether he and the Palestinians were genuine in their desire for peace.
"I know that you're committed to peace, I know that I'm committed to peace. But unfortunately given the actions and words of Palestinian leaders, there's growing doubt in Israel that the Palestinians are committed to peace," Netanyahu told a grim-faced Kerry.
Referring to Israel's release of long-serving Palestinian prisoners as part of the talks, the Israeli leader said Abbas had "embraced terrorists as heroes. To glorify the murderers of innocent women and men as heroes is an outrage.
"He can't stand against terrorists, and stand with the terrorists."
But Kerry vowed the United States was committed to working with both sides "to narrow the differences on a framework that will provide the agreed guidelines for permanent status negotiations".
"This will take time and it will take compromise from both sides. But an agreed framework would be a significant breakthrough."
U.S. officials have refused to go into specific details about the framework, but have said they hope to conclude it soon.

The core issues
The U.S. administration has also not yet decided whether it will be made public, but it is unlikely to be signed by both sides.
Kerry stressed the framework was building on ideas put forward by both sides over five months of talks, and would set out the agreements and disagreements on the core issues.
These include the contours of a future Palestinian state, refugees, the fate of Jerusalem, security, "mutual recognition and the end of conflict and of all claims", Kerry said.
"It would address all of the core issues. It would create the fixed, defined parameters by which the parties would then know where they are going and what the end result can be," he added.
The Palestinians want borders based on the 1967 lines of before the Six-Day War, when Israel captured the West Bank, including now annexed Arab east Jerusalem.
But Israel wants to retain existing settlements it has built inside occupied Palestinian territory since then.
Israel also wants to maintain a military presence in the Jordan Valley, where the West Bank borders Jordan, under any peace deal.
The Palestinians have insisted there be no Israeli troops in their future state, but are open to the idea of an international force to guarantee security.
Warplanes launched a series of strikes on the Gaza Strip early Friday, after a rocket from the Palestinian enclave struck Israel.
Gaza is ruled by the Islamist Hamas movement, which is committed to Israel's destruction and rejects the peace process.
An army statement said "aircraft targeted a terror infrastructure site in the central Gaza Strip and three concealed rocket launchers in the northern Gaza Strip."
"Direct hits were confirmed," it said.
There were no immediate reports of casualties, but Palestinian medics said a 16-year-old shot near the border fence Thursday had died from his wounds.
Kerry's visit also came as Israeli former prime minister Ariel Sharon's health was deteriorating, according to the hospital where he has been comatose for eight years.
"Tests show a slow, gradual deterioration in the functioning of his vital organs… his life is in danger," Tel Hashomer hospital director Zeev Rotstein was quoted by public radio as saying.
AFP Photo/Brendan Smialowski