Kerry In Southeast Asia Seeking Support Against IS Group
@AFP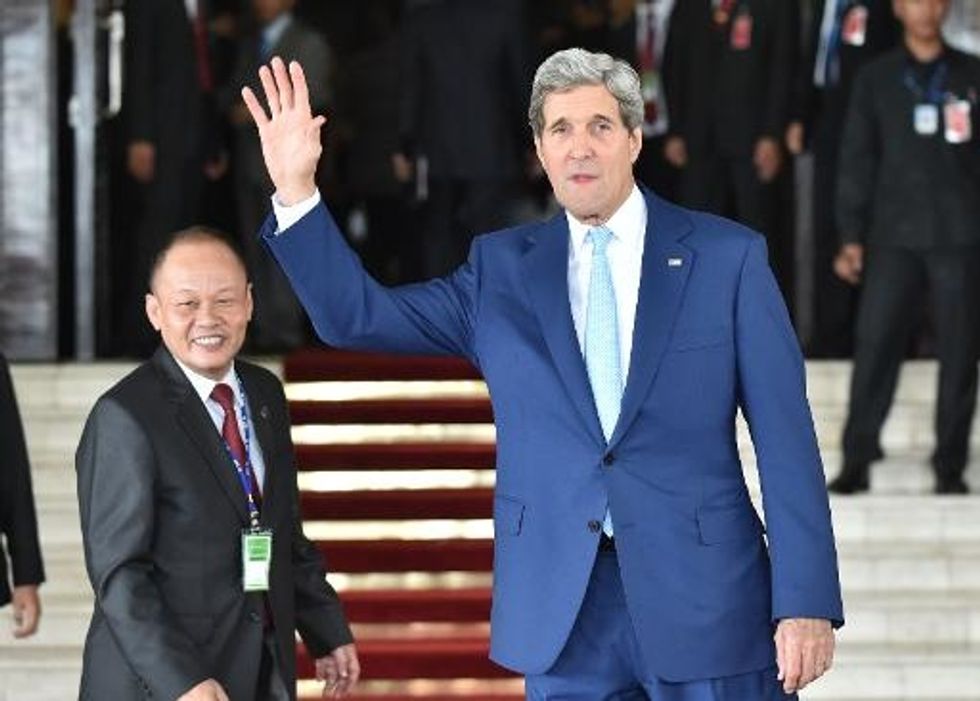 Jakarta (AFP) — U.S. Secretary of State John Kerry on Monday visited Indonesia, home to the world's biggest Muslim population, to press Southeast Asian nations to step up efforts in the fight against the Islamic State (IS) group.
Kerry was among foreign dignitaries in Jakarta for the inauguration of President Joko Widodo, a former furniture exporter who is the first leader of the world's third-biggest democracy to come from outside the country's political and military elites.
On the sidelines of the event, the top U.S. diplomat was using a series of bilateral meetings to urge Widodo, known by his nickname Jokowi, and other Southeast Asian leaders to take more action against the growing threat from IS militants, officials said.
IS's jihadist appeal is fanning fears that it could serve as a potent rallying cry for extremists in the region, who had been largely brought to heel following a run of deadly attacks.
A senior State Department official said discussions on combating the IS group were "at the top of the list" for the meetings.
During talks with Najib Razak, the prime minister of Muslim-majority Malaysia, Kerry thanked the leader for "Malaysia's strong public comments" condemning the IS organisation and support for a United Nations resolution aimed at tackling the threat of radicals who join the extremist group, said another senior U.S. official.
"They also discussed the need for the international community to continue to do more to crack down on foreign fighters," said the official.
As well as Widodo, Kerry was meeting Singaporean Prime Minister Lee Hsien Loong, the sultan of Brunei Hassanal Bolkiah and Philippine Foreign Secretary Albert del Rosario on Monday.
– Growing alarm –
There is particular concern about the influence of the IS group in Indonesia, which has a population of some 250 million Muslims and a history of Islamic militancy, and in neighboring Malaysia.
Authorities in those countries have watched with alarm as scores, possibly even hundreds, of their nationals have gone to Syria and Iraq to join the fight for a hard line Muslim caliphate.
Malaysian police have arrested a total of three dozen people this year for suspected IS-related activities.
Jakarta has sought to ban support for IS ideology while police believe up to five Indonesians — including two suicide bombers — have died fighting with radical groups in the Middle East this year.
Indonesia launched a crackdown on extremists more than a decade ago after a series of attacks on Western targets, and managed to weaken major militant networks.
In the Philippines, the Al-Qaeda-linked Abu Sayyaf group that recently pledged allegiance to IS militants last week released a German couple after a harrowing six-month hostage ordeal.
The extremists had threatened to behead one of the hostages unless Berlin pay them a $5.6-million ransom and withdraw its support for U.S. offensives against IS jihadists in Syria and Iraq.
During his meetings Kerry will press Southeast Asian countries on areas "where we believe and hope that the individual countries can do more", a State Department official said.
Territorial disputes in the South China Sea, climate change and the Ebola virus will also be on the agenda during the meetings, officials said.
Following his visit to Indonesia, Kerry will head to Germany to attend events marking the 25th anniversary of the fall of the Berlin Wall.
AFP Photo/Bay Ismoyo
Interested in more national and political news? Sign up for our daily email newsletter!