Key Senator Undecided On Hearing For Obama High Court Pick
@reuters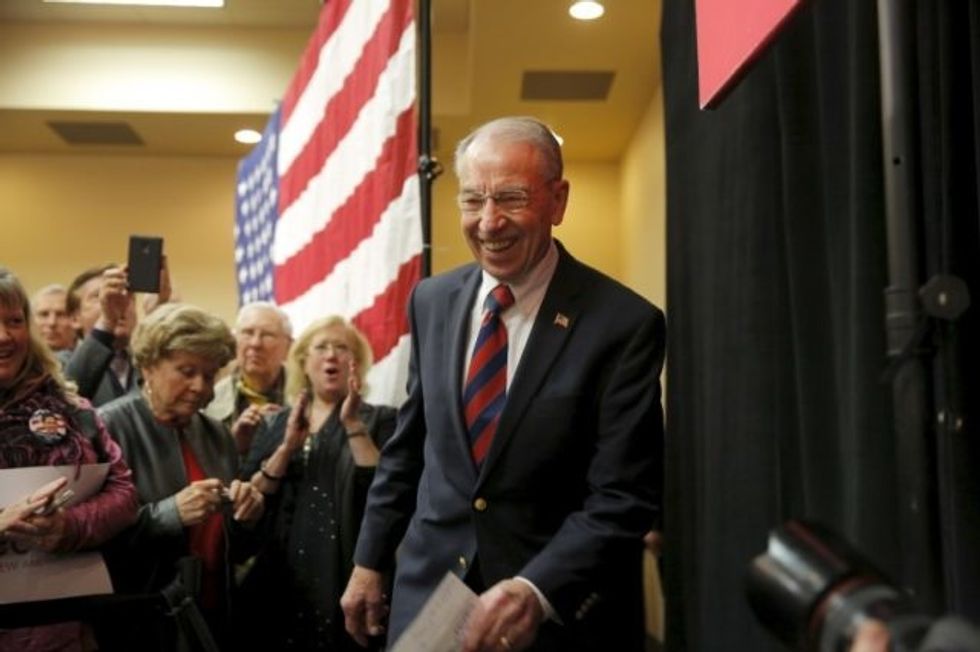 By Lawrence Hurley
WASHINGTON (Reuters) – The Republican head of the Senate panel that weighs Supreme Court nominations said on Tuesday he will wait until President Barack Obama names his pick to fill the vacancy left by Justice Antonin Scalia's death before deciding whether to hold confirmation hearings.
Republicans have threatened not to act on any nominee put forward by the Democratic president for the Supreme Court seat. Obama's nominee could alter the court's balance of power. Before Scalia's death, it had five conservatives and four liberals.
Republicans control the Senate, which the U.S. Constitution assigns responsibility for confirming a president's nomination to the court.
"I would wait until the nominee is made before I would make any decisions" about confirmation hearings, Judiciary Committee Chairman Chuck Grassley said, according to Radio Iowa. "In other words, take it a step at a time."
Senator Patrick Leahy, the committee's top Democrat, prodded Republicans to act on whomever Obama nominates for a lifetime appointment to the court.
"The advice and consent role enshrined in our Constitution was not designed to allow a blanket prohibition of any potential nominee, but that is exactly where the Republican majority leader is trying to take us," Leahy wrote in an opinion piece in USA Today, referring to Senator Mitch McConnell of Kentucky.
McConnell said on Saturday the vacancy should not be filled until Obama's successor takes office in January so voters can have a say on the selection when they cast ballots in the Nov. 8 presidential election.
Obama was expected to face questions on the Supreme Court later on Tuesday during a news conference in Rancho Mirage, California at the close of a two-day meeting with leaders from Southeast Asia.
"This is a very serious position to fill and it should be … debated during the campaign and filled by either Hillary Clinton, Senator (Bernie) Sanders or whoever's nominated by the Republicans," Grassley added.
Scalia, 79, was found dead on Saturday at a Texas hunting resort.
Funeral arrangements have not yet been announced but National Public Radio reported that his body will lie in repose at the Supreme Court building on Friday and his funeral will be held on Saturday at the Basilica of the National Shrine of the Immaculate Conception in Washington.
Scalia's chair in the court's ornate chamber has been draped with black wool crepe in accordance with court tradition following a justice's death.
(Reporting by Lawrence Hurley, Richard Cowan and Doina Chiacu; Writing by Will Dunham; Editing by Cynthia Osterman)
Photo: Senator Chuck Grassley (R-IA) walks on stage at an event for Republican presidential candidate Senator Marco Rubio (R-FL) at the Ramada Hotel in Urbandale, IA, January 30, 2016. REUTERS/Aaron P. Bernstein