Keystone Debate To Test Waters Of New Senate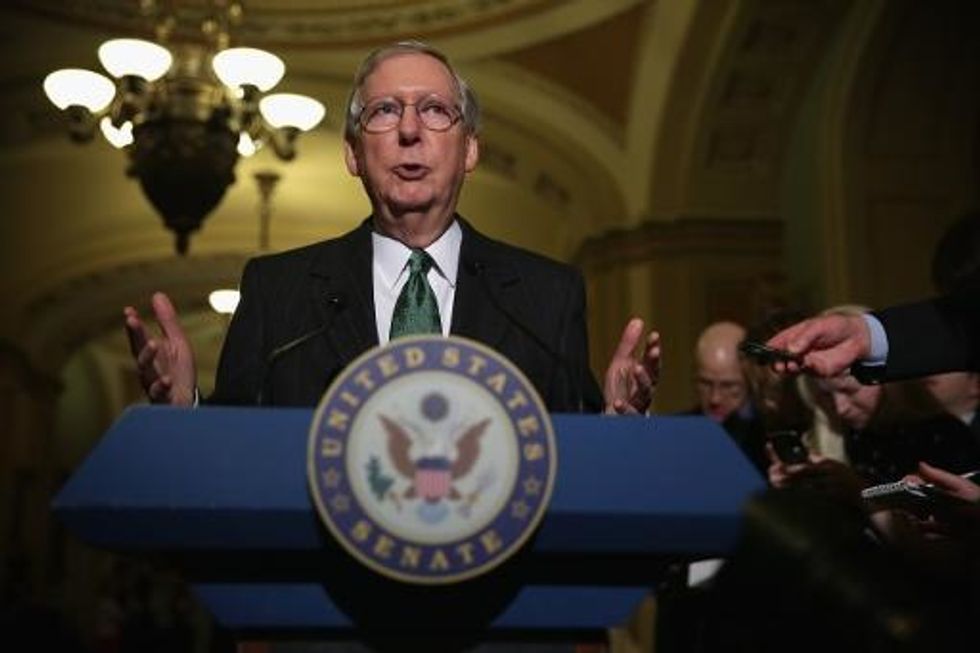 By Niels Lesniewski and Humberto Sanchez, CQ Roll Call (TNS)
WASHINGTON — Sen. Mitch McConnell has waited years for the moment he'll take the reins of a dysfunctional chamber and try and show Republicans can govern.
He'll face tests right off the bat — from how to handle the filibuster rules changes that have divided his conference to keeping the Senate on topic as he looks to clear a series of bipartisan bills to kick off the year, starting with approving the Keystone XL pipeline.
"We'll hope that senators on both sides will offer energy-related amendments, but there will be no effort to try to … micromanage the amendment process," the Kentucky Republican said last month, when announcing his plan to bring Keystone to the floor first.
It's part of a plan, nearly a year in the making, to get the new majority off to a fast start.
Substance of the energy and environment debate aside, just staying on topic with amendments would be a rather novel development. Republicans in the minority of the previous Congresses had a propensity to float unrelated hot-button issues, such as repeated efforts by Sen. David Vitter to nix taxpayer-paid health insurance benefits for members of Congress and their staff.
While allowed under the Senate's rules, such amendments contributed to derailing legislation altogether, with then-Majority Leader Harry Reid (D-NV) using his prerogatives to shut down the process.
The Keystone bill will be the first test of the McConnell era — both on the majority leader's pledge to hold votes on Democratic amendments and of the new minority's own approach after they ripped Republicans for years as obstructionists.
Democrats are planning to offer five amendments to the Keystone bill in an effort to highlight their contention that the project won't create many lasting jobs and is designed to benefit oil companies.
"Our amendments will help point that out," a senior Senate Democratic aide said. Those amendments include a proposal to ban export of the oil carried by the pipeline, a requirement that the iron and steel for the pipeline be American-made and a proposal requiring investment in clean energy jobs.
Other amendments are possible, said the aide, who characterized the five amendments as "a starting point."
Schumer teamed up with Sen. Debbie Stabenow (D-MI) on a letter to colleagues highlighting a few amendment ideas and the importance of having a unified message on the first bill to reach the floor as a minority.
"Consideration of this bill will provide us with the first opportunity to demonstrate that we will be united, energetic, and effective in offering amendments that create a clear contrast with the Republican majority," Schumer and Stabenow wrote. "Below are summaries of five relevant amendments that the (Democratic Policy and Communications Center) believes can be tied together by a common theme — that we are working hard to make the average American family better off while Republicans are helping narrow special interests."
Of course, the pipeline is expected to clear the 60-vote threshold needed to overcome a filibuster. The same is true for additional Iran sanctions, and likely a few bills nibbling at the edges of the Affordable Care Act, such as repealing the medical device tax.
But there's no telling how the process will work when McConnell brings up measures that aren't as ripe with Democratic supporters.
Democrats remain hopeful that McConnell will govern as he has said he would. An effort that could keep party conservatives such as Sen. Ted Cruz (R-TX) at bay and keep the government open could be tricky.
"If McConnell puts reasonable proposals on the floor, he would find plenty of willing Democrats," the aide said.
But that could be McConnell's biggest challenge, especially as the race for the Republican nomination for president heats up later in the year. Cruz, and Sens. Rand Paul (R-KY) and Marco Rubio (R-FL) are all weighing a possible 2016 run.
"Once the GOP nominating race gets underway, the pull to the right will be as strong as it's ever been," the Democratic aide said.
That would also give some Democrats leverage, since McConnell will need at least six Democratic votes to pass most things aside from the budget resolution and possible budget reconciliation. Republicans will control 54 votes in the new Congress and Democrats would hold 46 votes.
The Democratic aide predicted that on many issues, Republicans will have trouble keeping their votes together, requiring even more bipartisan support.
For example on trade, one of the areas that is often cited as a potential area for bipartisan cooperation, some conservatives have signaled their opposition to Trade Promotion Authority, also known fast track, which ensures congressional consideration of trade deals on an up-or-down vote with no amendments.
Nineteen Republicans wrote to Speaker John Boehner (R-OH) last month opposing the TPA.
Reid has said he too opposed fast track, which has also met with resistance from labor unions, part of the Democratic base.
A tax overhaul has been another area discussed as possibly ripe for a bipartisan deal. But the two parties have often been at loggerheads over the details, let alone whether the effort should net new revenue for the government or simply redistribute the tax burden.
McConnell will also face an early test with the nominations of Loretta Lynch to be attorney general and Ashton Carter to be secretary of Defense. Lynch will get grilled over her position on President Barack Obama's executive action granting deportation relief and work permits to millions of undocumented immigrants.
"That's going to come up in the questioning … the president's actions on amnesty," Sen. John Barrasso (R-WY) said Sunday on NBC's Meet the Press.
Carter's nomination doesn't appear as contentious.
"I intend to get Ash Carter's nomination through very quickly … to show that we want to move forward," said Sen. John McCain (R-AZ), the incoming chairman of Armed Services Committee.
Even if the first work period goes well for Senate Republicans, the big test looms just after the Presidents Day recess, when funding for the Department of Homeland Security is set to expire.
___
(Steven T. Dennis contributed to this report.)
AFP Photo/Alex Wong