Khodorkovsky Flies To Germany After Release
@AFP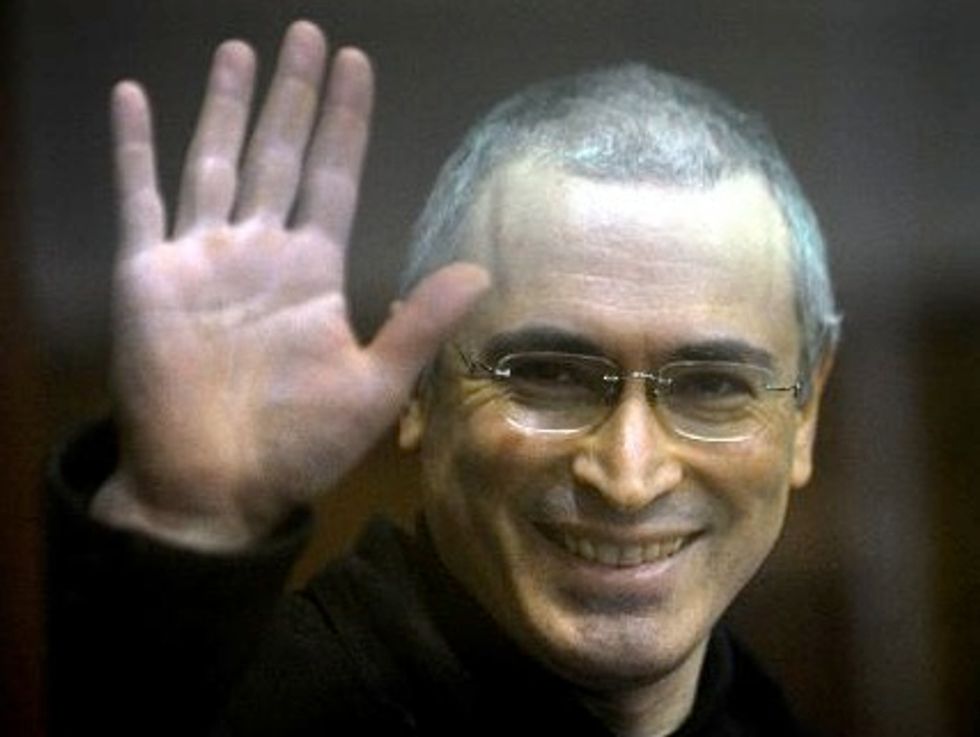 Moscow (AFP) – Russia's most famous prisoner and Kremlin critic Mikhail Khodorkovsky on Friday walked out of jail after more than 10 years behind bars, immediately flying to Germany following his surprise pardon by President Vladimir Putin.
The former oil tycoon was quitely escorted out of his prison in northwestern Russia in a low-key operation, depriving journalists of any image of the former convict leaving his remote penal colony.
In a dizzying succession of events, several hours later, Khodorkovsky flew to Germany, the prison service said, with the RAPSI legal news agency saying he was on his way to Berlin.
"After his release he flew to Germany where his mother is undergoing treatment," the prison service said in a statement, saying he had requested permission to travel abroad.
Khodorkovsky's ailing mother Marina, 79, has been undergoing treatment in Germany, but her current whereabouts are unclear. A source told AFP his wife Inna is currently in Switzerland.
Putin pardoned Khodorkovsky, once Russia's richest man, a day after stunning the country on Thursday by saying he asked for clemency on humanitarian grounds as his mother was ill.
"Guided by humanitarian principles, I decree that Mikhail Borisovich Khodorkovsky… should be pardoned and freed from any further punishment in the form of imprisonment," said the decree signed by Putin on Friday.
Less than three hours after the publication of the decree, his lawyers confirmed that Khodorkovsky, 50, had left his prison colony in the town of Segezha in the Karelia region.
'Unprecedented in Russian history'
The release drew the curtain on the highest profile criminal case in post-Soviet Russia which has harmed the country's investment climate and become a symbol for the selective persecution of Kremlin foes under Putin.
By accident or design, the release has coincided with a major amnesty for prisoners convicted of non-violent crimes that is expected to see the Pussy Riot punk rockers freed in the next days.
Thirty foreign and Russian Greenpeace activists, arrested on hooliganism charges after their protest against Arctic oil drilling are also expected to escape prosecution.
"It's an unprecedented case in the history of modern Russia," said political analyst Valeria Kasamara. "It was not worked out what to say and how — that is why they are hiding him."
"It has not sunk in yet," Marina Khodorkovskaya, the former tycoon's mother, told Russian state television. Speaking in a shaky voice, she said she was taking sedatives to calm her nerves.
What role Khodorkovsky will play in Russia after his release is unclear, but it appears certain that Putin would never had allowed his freedom if he was seen as a threat.
"God, he had mercy," exclaimed mass-circulation newspaper Moskovsky Komsomolets in a banner headline.
'Secret services met Khodorkovsky'
Khodorkovsky had been due to be released in August 2014 but Russian prosecutors earlier this month raised the threat of a third trial for him tycoon on money-laundering charges.
Putin told reporters on Thursday that he saw no prospects for the third case.
The former chief of the Yukos oil company had repeatedly said he would not ask Putin for a pardon because it would be tantamount to admitting guilt.
But the Kommersant broadsheet, citing unnamed sources, said on Friday Khodorkovsky had decided to seek a pardon after a recent meeting with representatives of Russia's security services.
Members of the security services told Khodorkovsky the health of his mother, who has cancer, was worsening and warned him about a possible third case against him, the newspaper said.
Russian opposition leader Alexei Navalny praised the former businessman on his LiveJournal blog for carrying himself "with such astonishing dignity all these 10 years."
'Putin's trump card'
Economists and political analysts put the release down to the Kremlin's bid to improve its dismal rights record and international image ahead of the Winter Olympic Games that Russia is hosting in Sochi in February.
"In and of itself it will not change anything but it will give hope to investors," prominent economist Sergei Guriev, who co-authored a critical report on Khodorkovsky's second conviction in 2010, told AFP by email.
Vedomosti business daily compared the announcement to "a trump card" Putin pulled out of his sleeve at a critical moment. But the release would not "heal the wounds inflicted on the economy and society 10 years ago," it added.
Supporters have said that Khodorkovsky had been thrown into jail and found guilty in two separate trials for daring to finance opposition to the Russian strongman.
He was snatched off his corporate plane in 2003 soon after Putin warned oligarchs against meddling in politics. He has been held in detention ever since.
He and his business partner Platon Lebedev were convicted of fraud and tax evasion in 2005.
Khodorkovsky was convicted of embezzlement in a second trial in 2010 and had been due for release in August. Lebedev's lawyers have said their client may also seek a pardon.
AFP Photo/Dmitry Kostyukov