Kindness In The Face Of Horror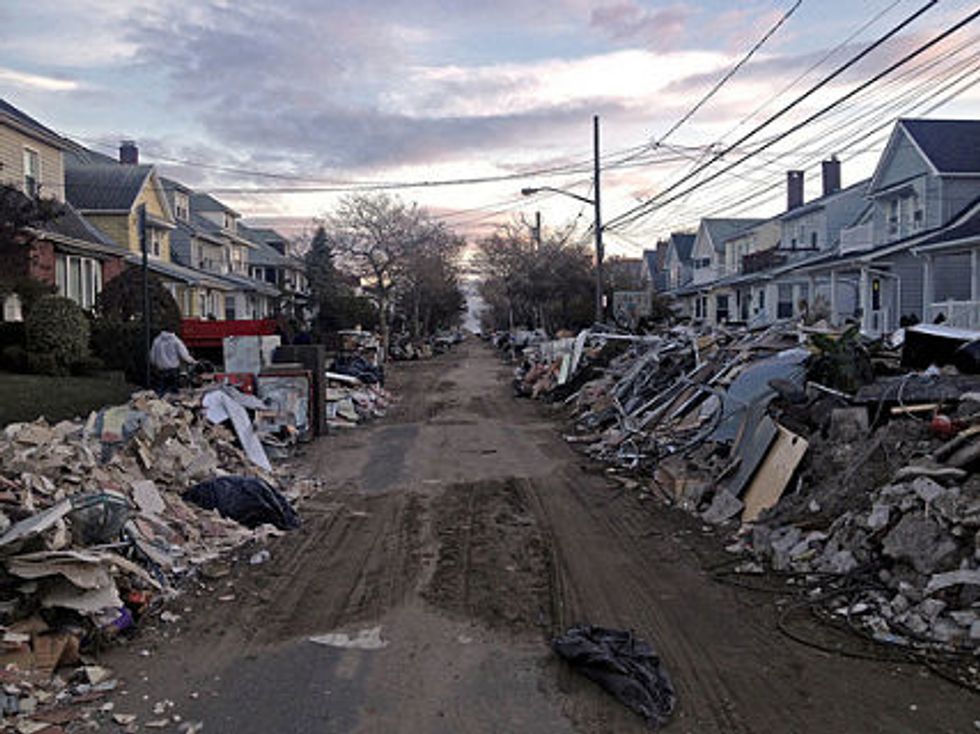 ROCKAWAY BEACH, N.Y. — The boardwalk where generations strolled along one of the world's great urban beaches is gone, twisted and then tossed into neighborhood streets by an unforgiving storm called Sandy.
Off-season devotees of the Atlantic are bound together in homage to the waves even after the temperatures have dropped and bathing suits have given way to fleece. But now, the joy of a winter's day walk along the ocean between Beach 120th and 130th Streets quickly gives way to sorrow at the sight of collapsed roofs, mounds of rubble, front porches warped into unnatural shapes, and homes blown from their foundations, now perching at perilous angles.
Still, the human spirit cannot be blown away. The highlight of my beach walk was etched on a plywood barrier protecting an empty lot. Someone had scrawled the words: "NO retreat. NO Surrender. Not now. Not Ever. Rockaway."
For political junkies, the meaning of 2012 was defined by an electoral verdict rendered by a richly diverse electorate on behalf of President Obama. History may well judge the election as the year's decisive event, a turning point in our national argument.
Yet it was also a year that ended in twin tragedies.
First came the devastation of Hurricane Sandy in Rockaway, and in New Jersey, Long Island, Staten Island, parts of Manhattan, and Connecticut. Sandy taught me something troubling about the limits of my own empathy. Of course I felt for those elsewhere whose lives were wrecked and whose communities were torn apart in other natural disasters. Televised reports seared New Orleans, and especially its Lower Ninth Ward, into the consciousness of all Americans.
But television pictures are less powerful than ties to a particular place and to the people who live there. My mother-in-law Helen Boyle and the families of two of my brothers-in-law, Brian and Kevin Boyle, were all displaced by the storm. They inspire my love for Rockaway, a place that was also home to so many firefighters, police officers and others who perished in the Twin Towers on Sept. 11, 2001.
We can't forget Rockaway's times of sadness, but these cannot wipe away so many moments of delight. Whenever we arrive for one of our frequent visits, my wife Mary, our three kids and I are immediately drawn in as if we have spent our whole lives here. Old-fashioned places are like that. Community is not a philosophical abstraction in the blocks of the Belle Harbor neighborhood where my extended family lives.
An experience like Sandy dissolves ideology. My sister-in-law Kathy Boyle, part of the management team that helped keep South Nassau Communities Hospital open during the storm, offered a view of the role of private and public action so filled with common sense that it would never enter Washington's debate.
In politics, we debate, uselessly, whether government agencies or nonprofits are "better." Her conclusion is that not-for-profits with ties to people and neighbors — from Catholic Charities and a slew of other religious groups, Team Rubicon, local charitable organizations like Rockaway Wish, Rockaway Help, and the Graybeards — were absolutely vital in the earliest days after the storm, before government help was up and running.
Then, government could kick in with larger-scale aid and basic services, notably a New York City Sanitation Department that cleared away mountains of sand and debris.
Kathy, more conservative than I, has no illusions about government, yet she also has no illusions that we can live without it. At the same time, none of us should pretend that government, without community, religious and nonprofit associations, can solve our problems all by itself. Our authentic tradition is to bring the public and voluntary spheres together, not divide them.
And surely government has no more important role than in protecting its citizens, young children above all, from violence. However much we identify with Sandy's victims, we can probably never fully fathom the desolation felt by the parents in Newtown, CT. A hurricane has no face. Nature has no conscience. The loss of a child to random violence committed by another human being is an inexplicable evil.
We must act forcefully to contain gun violence, and that is a political matter. But a year that ended on notes of heroism in response to natural disaster and endurance in response to human horror brings to mind George H.W. Bush's challenge: We need to become "a kinder, gentler nation." That seems a worthy resolution for 2013.
E.J. Dionne's email address is ejdionne@washpost.com.
(c) 2012, Washington Post Writers Group
Photo by "ma neeks" via Flickr.com