What We Know About The Canadian Parliament Suspect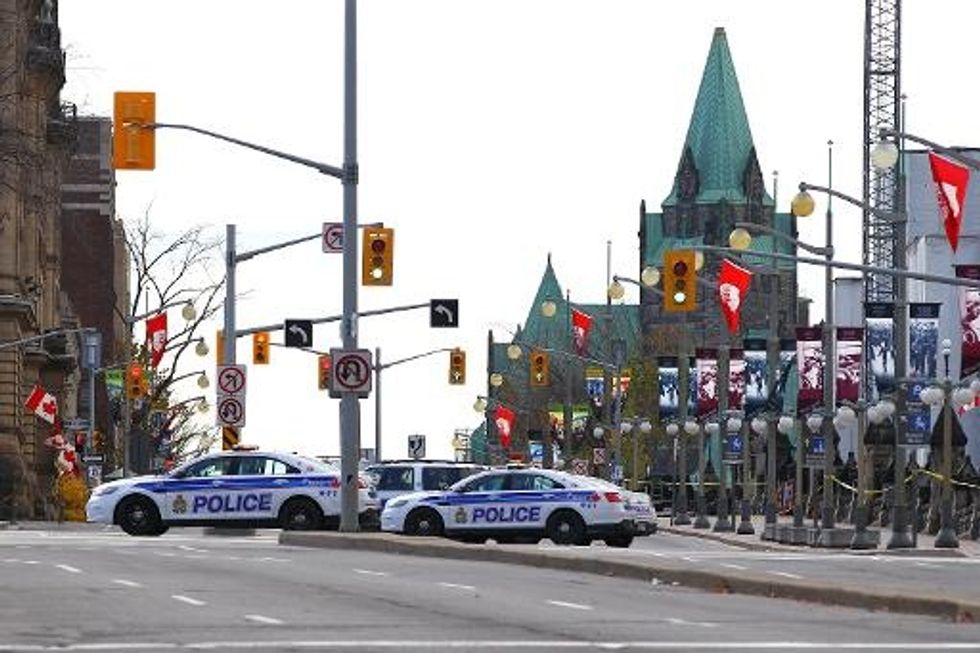 By Matt Pearce and Raja Abdulrahim, Los Angeles Times (MCT)
Michael Zehaf-Bibeau, the 32-year-old gunman believed to have killed a Canadian soldier and then stormed the country's Parliament on Wednesday, reportedly had a lengthy criminal record and drug problems.
Police investigators were told that he may have held extremist Islamist beliefs and wanted to go to Syria.
He frequently spoke of devils and demons, according to a friend, who said he sometimes behaved erratically.
Though Zehaf-Bibeau's motives remain unclear, some details are beginning to emerge about the man involved in the assault that Canadian Prime Minister Stephen Harper labeled a terrorist attack — the second this week.
Police officials said Thursday that Zehaf-Bibeau was born in Montreal, had lived in Calgary and Vancouver, and may also have held Libyan citizenship. He had been in Ottawa since at least Oct. 2, hoping to get a passport to travel to Syria, they said.
Investigators have found no link between Zehaf-Bibeau and the man described as a radicalized Muslim who ran down two Canadian soldiers with his car Monday in Quebec, killing one of them, before being shot to death by police. But they did find one connection that raised questions.
"This individual's email was found in the hard drive of someone who we've charged with a terrorist-related offense," Bob Paulson, commissioner of the Royal Canadian Mounted Police (RCMP), said at a Thursday news conference. "But what does that mean? We need to understand what that means."
Here is what we know so far.
Friend Thought 'He Must Have Been Mentally Ill'
Dave Bathurst told the Globe and Mail newspaper that he met Zehaf-Bibeau at a Burnaby, British Columbia, mosque about three years ago and learned that he had grown up in eastern Canada and also spent time in Libya.
Bathurst said Zehaf-Bibeau did not appear to have extremist views, but he thought he might have had mental health issues.
"We were having a conversation in a kitchen, and I don't know how he worded it: He said the devil is after him," Bathurst was quoted as saying, adding that such talk of devils and demons was common with Zehaf-Bibeau. "I think he must have been mentally ill."
Bathurst said Zehaf-Bibeau had been asked not to attend prayers at the mosque because of his "erratic" behavior.
When Bathurst last saw Zehaf-Bibeau six weeks ago, the latter spoke of wanting to go to Libya to study, Bathurst told the paper.
He added that Zehaf-Bibeau knew Hasibullah Yusufzai, a British Columbia man who was charged in July with traveling to Syria with the intent to join a terrorist group.
More recently, Zehaf-Bibeau had been staying at a homeless shelter in Ottawa, where a volunteer said he was battling a drug addiction with prayer and constantly carried a Koran.
"I knew him for two weeks," Abdel Kareem Abubakir told the the Globe and Mail. "I noticed some problems with him, some issues with faith. He was very pious. I tried to discuss with him these issues. But he seemed very extreme."
A shelter resident, Lloyd Maxwell, told the Associated Press that Zehaf-Bibeau had come to Ottawa to get a passport.
"He didn't get it, and that made him very agitated," Maxwell told the AP, adding that when he suggested that Zehaf-Bibeau might be on a no-fly list, "he kind of looked at me funny, and he walked away."
Paulson said Thursday that he thought the passport was "central to what was driving him." When Zehaf-Bibeau applied for the document, officials thought he wanted to go to Libya. But after Wednesday's shooting, investigators learned from his mother that he wanted to go to Syria.
Parents: A Canadian Bureaucrat And A Libyan Rebel?
Zehaf-Bibeau's mother, Susan Bibeau, is a senior official at the Immigration and Refugee Board of Canada. She offered a tearful apology for her son's actions in a phone interview with the AP.
"Can you ever explain something like this?" she said. "We are sorry."
The news agency also received an email from Bibeau and her husband in which she said she had little insight to offer about her son's actions.
"I, his mother, spoke with him last week over lunch, I had not seen him for over five years before that," the email said.
Canadian media reported that Zehaf-Bibeau's father is a businessman, Bulgasem Zehaf, who may have fought in Libya's 2011 civil war against the country's longtime dictator, Moammar Kadafi.
An August 2011 report from Libya by the Washington Times quoted a "Bulgasem Zahaf" who had recently returned to Montreal from Libya after spending more than a month in detention.
The man told the Washington Times that he had been arrested in his native city of Zawiya.
"Mr. Zahaf said the main prison in the city was overflowing with inmates who were forced to live in subhuman conditions and routinely tortured by their captors," the paper reported.
Lengthy Arrest Record
Zehaf-Bibeau had faced at least 11 criminal charges in various cities, according to court records dating to 2001 obtained by the Toronto Star.
The charges included credit card fraud, drunk driving, assault, theft, possession of a dangerous weapon, escaping custody (twice) and possession of marijuana and PCP, according to the Star.
Zehaf-Bibeau was charged in a Dec. 16, 2011, robbery in Vancouver but pleaded guilty to a lesser charge of uttering threats, according to the Vancouver Sun.
Court records uploaded by the Sun did not include details of the robbery but showed that Zehaf-Bibeau was ordered to undergo a psychiatric assessment after his arrest. That assessment found him "fit" for court but did not provide further details.
After Zehaf-Bibeau pleaded guilty to making threats, he was credited with time served for spending 66 days in custody and was sentenced to one additional day in jail in February 2012.
Paulson said Thursday that despite media reports, Zehaf-Bibeau was not one of the 93 "high-risk travelers" that the Royal Canadian Mounted Police is investigating as part of efforts to prevent Canadians from traveling abroad to join extremist groups such as Islamic State, which has seized large parts of Iraq and Syria.
Little Impression Made At Mosque
The chairman of the Masjid Al Salaam mosque in Burnaby, Daud Ismail, remembered Zehaf-Bibeau as someone who offered to help around the mosque and not as someone who raised any alarms.
"During Ramadan, he would volunteer to help during the iftar," or breaking of the fast, Ismail told the Los Angeles Times. "And we said, 'Thank you, brother, but we have our team who does this.' We appreciated his help.
"But other than that he was like any other worshiper. He would come and pray and leave," Ismail said. "He never shared his views on anything."
When reports first came out linking Zehaf-Bibeau to the mosque, Ismail didn't know who he was.
"Thousands of people come to the mosques – you can't identify each one," he said. "We have done some investigation in our community and masjid, and now we know which person we are talking about."
Congregants in the mosque often don't use full names, he said, mostly referring to each other as "brother" or "sister."
Ismail said the mosque didn't foster an environment conducive to expressing political views, radical or otherwise. Private meetings are prohibited, even small gatherings of two or three people for the purpose of scripture reading.
"That's how vigilant we are — we mean serious business," Ismail said. "If anyone shares radical views, we report it. We work closely with the RCMP."
___
LA Times staff writers W.J. Hennigan in Ottawa and Alexandra Zavis in Los Angeles contributed to this report.
AFP Photo/Lars Hagberg