Koch Brothers' Dark Money Targets Detroit Bankruptcy Deal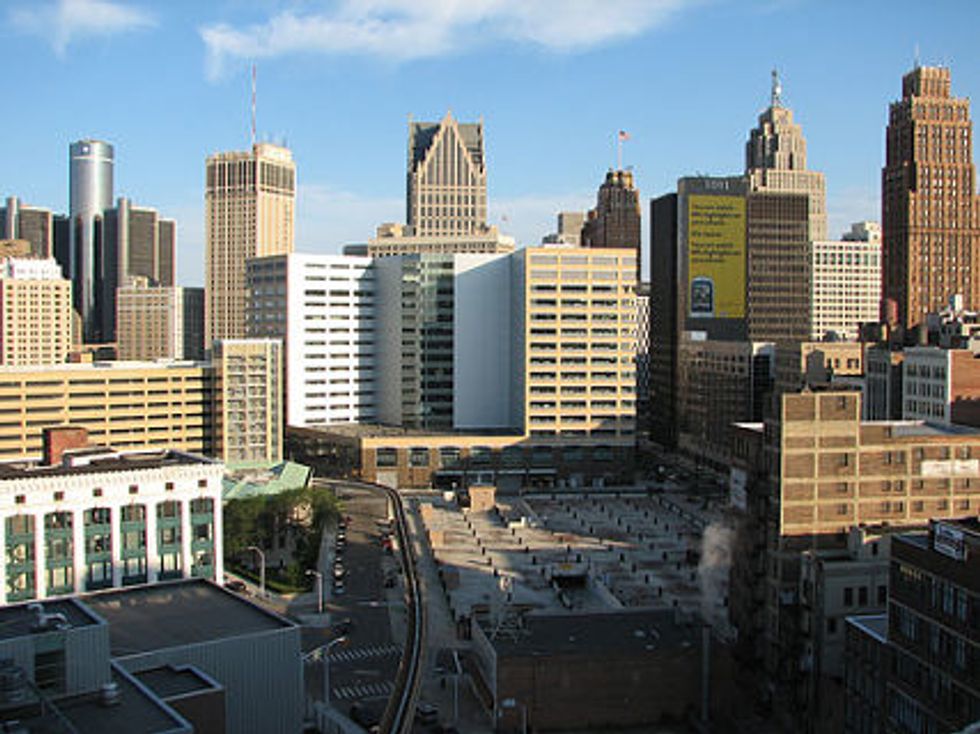 Americans for Prosperity (AFP) — the right-wing 501(c)(4) "dark money" group backed by billionaire brothers Charles and David Koch — has singled out its latest target: Detroit, Michigan.
Specifically, the group is mobilizing opposition to the proposed settlement reached in the Detroit municipal bankruptcy case. The settlement, which is the only promising compromise after months of negotiation, now faces the wrath of the same group responsible for millions of dollars of anti-Obamacare propaganda. AFP now vows to spend millions on advertisements against the deal, and to pen threatening letters to lawmakers who vote in favor of the series of bills, which would limit the cuts that threatened over 300,000 workers' pensions, and prevent the selling of artwork belonging to the city's museum.
According to CNN, Michigan director of AFP Scott Hagerstrom claims the opposition stems from the deal's resemblance to a "bailout" rather than an actual settlement.
"Detroit has behaved like this for 30 years. Politicians there won't change their behavior if they keep getting bailouts from the hardworking taxpayers of Michigan," Hagerstrom says, referencing Detroit's long and well-known history of corrupt — and, as those on the right often note, primarily Democratic — rule.
Despite AFP's opposition, state Republicans are leaning toward advancing the bills.
Republican governor Rick Snyder maintains the deal is a "settlement," not a "bailout," stressing: "I want to be very, very clear about that."
Still, AFP has no plans of backing down, arguing that the "grand bargain" is unfair to the state's residents, that its reliance on public money to achieve its goals is "very toxic…especially to out-state and Republican, conservative-leaning individuals."
On AFP's new website for the effort, the group assumes a "divide and conquer" approach, demanding Michigan voters "tell Lansing politicians that Detroit has gotten enough of our tax dollars."
Because conservatives are still somewhat hesitant about the settlement, there's a good chance that AFP could block the bills' passage in the coming weeks.
Representative Robert VerHeulen (R) admits that he and many on the right worry that the legislation could set a negative precedent for future cities facing economic troubles, but concedes that it must still be considered. Even Snyder acknowledges the high costs, but tells AFP that "it would be more positive to get this behind us."
The state's Republican House Speaker Jase Bolger has also introduced a condition for the deal's passage requiring that city workers' unions agree to pour cash into the settlement.
Support for the deal from many of Michigan's most powerful labor unions and retiree groups also complicates the situation, because AFP cites them as a major source of the bankruptcy in the first place, and therefore an illegitimate player in the negotiations.
With the bargain's future already fogged by partisan fears in Michigan's legislature — Democrats are wary of Snyder's use of executive powers as a means of controlling Detroit's finances — AFP has added further hurdles to the passage of the only serious legislation capable of helping and protecting Detroit's families, workers, and even culture.
AFP's alternatives are provisions already rejected by Michigan's legislature: selling Detroit's art and other assets, and ditching traditional pension plans in favor of 401(k)-type plans — even if it means risking hundreds of lawsuits against the embattled city. Though Republicans and Democrats voice different concerns over the proposed deal, members of both parties tend to agree on one thing: The AFP-backed measures are out of the question.
Photo: Ifmuth via Flickr

To stay updated on the Detroit bankruptcy case, sign up for our daily email newsletter.