Kremlin Says Putin Conquest Vow On Ukraine 'Taken Out Of Context'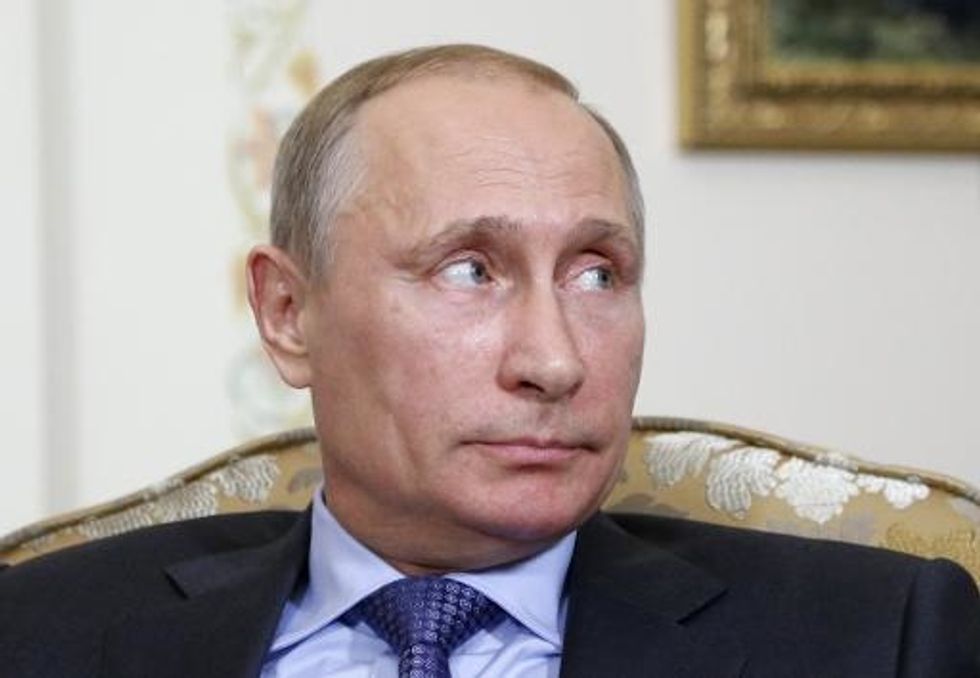 By Carol J. Williams, Los Angeles Times
Ukrainian security officials accused Russia of sending more troops and equipment into eastern Ukraine as controversy ensued Tuesday over Russian President Vladimir Putin's reported boast that he could conquer Kiev in two weeks if he wanted.
A Kremlin spokesman lashed out at European Commission President Jose Manuel Borroso, the reported source of Putin's bellicose vow, saying the Russian leader's words were taken out of context and that disclosure of his conversation with Borroso was "beyond the bounds of diplomatic practices."
"If that was really done, it looks not worthy of a serious political figure," Putin aide Yuri Ushakov told the Itar-Tass news agency after European newspapers reported Borroso's disclosure to a weekend meeting of European Union leaders. "Irrespective of whether these words were pronounced or not, this quote was taken out of context and had a very different meaning."
According to Italy's La Repubblica and the British tabloid Daily Mail, Borroso reported to the EU leaders in Brussels on a telephone conversation he had with Putin just prior to their gathering Saturday.
"If I want to, I can take Kiev in a fortnight," Putin reportedly told Borroso in the conversation, in which he also was said to repeat denials that Russia has armed forces on its neighbor's territory.
Last week, NATO released satellite images of Russian tanks and other armored vehicles rolling into separatist-held areas of eastern Ukraine. The Western military alliance also said there were at least 1,000 Russian troops in the area when the previously peaceful town of Novoazovsk was overrun a week ago, opening a new front in the 5-month-old battle between the pro-Russia separatists and Ukrainian government forces.
At his daily briefing in Kiev, the Ukrainian capital, Col. Andriy Lysenko of the National Security and Defense Council said more Russian troops had been spotted in the separatist strongholds of Donetsk and Luhansk.
Convoys flying white flags signaling a humanitarian mission and sporting signs reading "Children" crossed a bridge into the village of Rozdolne, where four trucks approached Ukrainian troops, Lysenko said.
"Armed people jumped out of the trucks and opened fire at Ukrainian servicemen," Lysenko said. "Large-scale combat started."
Russian armed forces continue to build manpower and military equipment in the occupied areas, Lysenko said, noting recent encounters between Ukrainian troops and Russian forces in Donetsk, Luhansk, and a broad array of smaller towns and villages between the rebel-held city centers and the Sea of Azov.
"According to our operational data, there are no fewer than four (Russian) battalion-tactical groups in Ukraine," Lysenko said, estimating that each comprised 400 men.
The buildup of Russian forces on Ukrainian territory has forced the government to revise its strategy from countering an insurgency to confront what is now an attack by a foreign invader, Ukrainian Defense Minister Valeriy Heletey said on his Facebook page.
"This is our Great Patriotic War," he wrote, alluding to the Soviet Union's costly victory over Nazi Germany in World War II.
AFP Photo/Maxim Shipenkov
Interested in world news? Sign up for our daily email newsletter!